Become a Field Partner Today
As disaster, conflict and disease continue to threaten lives daily in the places we work, support for the impartial medical response we provide has never been more urgently needed.
The nature of our work is fast-paced and unpredictable, and we can never know what the coming weeks and months will bring. Being able to respond immediately for people in crisis, thanks to the incredible generosity of our supporters, is what drives us daily.
In the past year, we responded rapidly in Mozambique for people devastated by Cyclone Idai, scaled up emergency treatment for injured and war-wounded patients in Yemen, and assisted hundreds of thousands of people displaced by violence in Ethiopia.
This type of emergency medical response would be impossible without the generosity of our Field Partners. The regular support of our Field Partners is one of the most effective ways for us to plan our operations and build capacity to respond quickly to emergencies while remaining flexible and independent. 
The need to always be prepared to act was reinforced last year, when an upsurge in violence in southern Ethiopia caused hundreds of thousands of people to flee. Many received no warning, forced from home in the middle of the night.
Médecins Sans Frontières rapidly set up emergency support to access families who had fled across the region. Many were sleeping in the open, suffering from diarrhoea, intestinal diseases, skin and respiratory tract infections.
Doctor Annie Gilmour was in charge of the malnutrition, paediatric and neonatal wards in Guji, at the epicentre of the crisis. Her first challenge was to find a way of delivering quality care to children in this low-resource context. Annie recalled:
"The children were sicker than any I had seen back home – severely malnourished, co-infected with tuberculosis or HIV, or in severe respiratory distress. They needed tertiary level intensive care, but we didn't even have x-ray or blood tests. We had to use our ingenuity to find solutions, like using wire to hang intravenous fluids from the roof of a Landcruiser as we transferred them to hospital."
Between July and December 2018, our teams provided nearly 80,000 medical consultations and treated 6,000 children under five for severe acute malnutrition. We also vaccinated over 103,000 children against measles.
It was Field Partner support that enabled our teams to mount a rapid disaster response in Mozambique this year, as Cyclone Idai destroyed homes and threatened lives. In one of the worst-affected areas, Beira, we ran mobile clinics to treat wounded patients, and helped prevent the spread of waterborne diseases like cholera and diarrhoea, as half a million people were cut off from clean water and power.
Gert Verdonck was the Emergency Coordinator in Beira:
"Given how many of our patients and their families have lost everything, our mobile clinics are not just about providing primary healthcare but also about showing up and being there for a community that is desperately in need."
By being prepared with equipment, medicines and supplies, our teams can greatly minimise loss of life.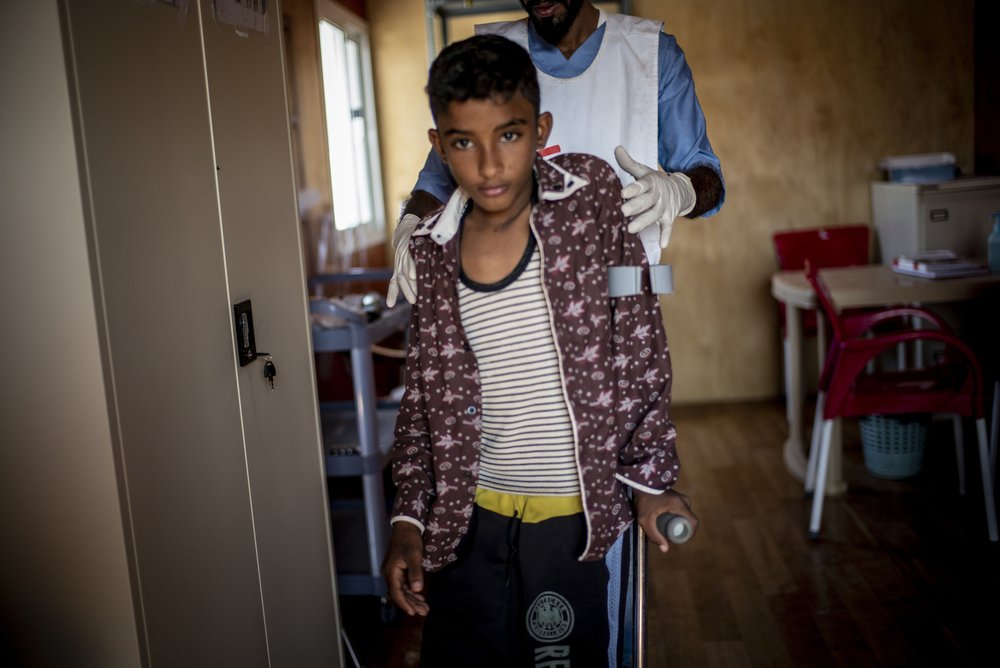 One of our largest programs right now is Yemen, where four years of relentless war have devastated the health system. Médecins Sans Frontières doctor, Chris Hook, helped set up a hospital close to the frontline in Hodeidah, for people struggling to access medical care. He recalled a 15-year-old boy with a fractured leg:
"He'd been living with an external fixator for six months, when it should have been taken off after two. He couldn't walk. We gave him some crutches and told him we'd remove the fixator in a week if he was walking."
However, as the conflict intensified, the family was trapped at home for three weeks. Tragically, the boy's father and one of his brothers were killed. Chris continued:
"Despite the horror he experienced, the boy had kept to his program of rehabilitation. We examined his leg and gladly told him and his mother that it was strong enough to have the metal removed. There was lots of weeping. They were clearly very grateful that we were there to help, and hopefully make life a little easier for them again."
Thanks to the support of our Field Partners we can respond to emergencies at a moment's notice, and mobilise the staff, equipment, drugs and supplies we need to begin treating patients as soon as possible.
We can plan for the long term – and remain flexible enough to expand or modify our programs when circumstances change unexpectedly, such as when conflicts, disasters or outbreaks of disease suddenly strike.
With this ongoing support, we will be able to remain true to our origins as an independent, patient-focused organisation, work where we are needed, and reach the most vulnerable people – no matter who they are.
This is the world of Médecins Sans Frontières – will you join us?