Beirut: providing medical and psychological support after the blast
In the week since the devastating blast in Beirut, Médecins Sans Frontières (MSF) teams have been providing medical care and mental health support to those most impacted by the explosion. With the city already struggling with an economic crisis and a surge in COVID-19 cases, healthcare assistance is even more essential to those living in Lebanon.
Providing emergency care
On 4 August, a powerful blast ripped through the port warehouses near central Beirut in Lebanon, after highly explosive material stored there ignited. The blast generated shockwaves that shook the ground, shattered windows and destroyed buildings across the city. More than 6,000 people have been injured and 150 people killed.
Immediately following the explosion, MSF health workers
rushed to hospitals across the city to treat the injured
. Our teams donated first aid dressing kits and surgical masks to the Civil Defence and the Lebanese Red Cross on the night of the blast, and have since been working on providing additional medical supplies to local health authorities.
Currently, our emergency activities in Beirut include:
Providing mental healthcare through a team of nine psychologists, who are supporting survivors through psychological first aid as well as developing a long-term response for people in need
 
Providing wound care for those injured by the blast
 
Setting up two medical facilities in the neighbourhoods of Mar Mikhael and Karantina; the areas most affected by the explosion
 
Conducting door-to-door checks to better understand the needs of those living in the area
 
Distributing water and hygiene kits and installing water tanks
 
Preparing MSF's Bar Elias hospital in Beqaa Valley to support patients in need of post-surgical care
 
Donating first aid dressing kits and surgical masks to local health authorities
 
Assessing the needs of hospitals and emergency services and providing support in collaboration with the Ministry of Public Health and other public health organisations.
Can you support our work in Beirut and beyond?
Right now, Médecins Sans Frontières is providing much needed support and medical care to those injured by the Beirut explosion, while also caring for COVID-19 patients throughout Lebanon. In addition to these emergency services, our teams continue to provide healthcare to refugee communities across the country.
Your support helps us ensure that we can be there to provide medical assistance during times of crisis in places like Lebanon, Yemen and Bangladesh.
 
A city in crisis
The tragedy in Beirut comes at a time when the country is already overwhelmed. Lebanon is facing both an economic collapse and the continued spread of COVID-19, stretching healthcare services thin. More than 1,500 new cases of COVID-19 have been reported in a week—almost 25 per cent of all COVID-19 cases reported in Lebanon since the beginning of the pandemic. 
"Before the explosion, the public system was struggling to handle the increasing number of COVID-19 cases," says Julien Raickman, Head of Mission in Lebanon. "Since then, there has been a very steep rise in reported COVID-19 cases in Lebanon, especially in Beirut.
"On the night of the explosion, there was a huge influx of patients into health facilities across the capital, and infection and prevention measures could not be implemented properly, which eventually led to this increase. Over 300,000 people lost their homes and have had to find other places to stay. This rise of cases is a major concern for us and we're trying to see how to best adapt our projects under such circumstances." 
This latest incident has added an extra layer of trauma for the people of Lebanon.
In addition to the increased transmission of COVID-19, MSF staff are particularly concerned about the impacts on mental health. 
"This latest incident has added an extra layer of trauma for the people of Lebanon," Raickman says. "Based on our experience, we know that this will have a tremendous impact on the psychological wellbeing of the people and will stay for years to come."
Continuing care in Lebanon
MSF began working in Lebanon in 1976, and currently provides free medical care with the help of more than 600 MSF staff across the country. In our regular programs, our teams provide treatment for acute and chronic diseases, sexual and reproductive healthcare, and mental health support. We operate a paediatric unit in a government hospital and run mother and child health centres for vulnerable communities across the country, with a particular focus on refugees.
Lebanon is home to 6.8 million people, with an estimated refugee population of 1.5 million. Despite the efforts of the Lebanese Ministry of Public Health in supporting primary and secondary healthcare for refugees, the cost of consultations, laboratory tests, and medication remains a barrier for a significant number of refugees. MSF provides free, high quality healthcare to those who would otherwise be unable to access these essential services.
The challenge of this latest disaster, in addition to the ongoing coronavirus pandemic, has made providing healthcare both more difficult and more essential. We continue to explore ways in which we can provide support through this difficult time, while also continuing our work to contain the spread of COVID-19 and provide healthcare to those in need.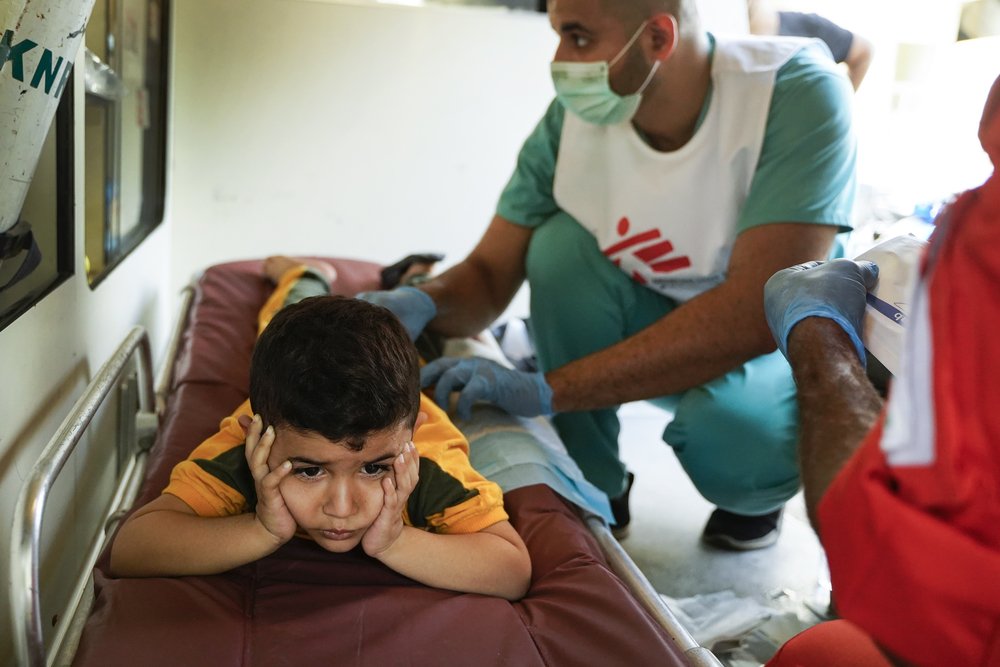 Can you help support our crisis response work?
Médecins Sans Frontières is responding to the aftermath of the disastrous chemical explosion in Beirut, treating the wounded, providing continuity of care for chronic disease patients, and mental healthcare for people affected by the explosion.
Being an independent, impartial medical humanitarian organisation, Médecins Sans Frontières can respond rapidly to emergency situations and deliver urgent medical treatment to people in need – no matter who they are.
By making a donation, you can help ensure that we can be there to provide medical assistance during times of crisis in places like Lebanon, Yemen and Bangladesh.