COVID-19: Ensuring Critical Vaccine Access
With the worrying terms of COVID-19 vaccine deals coming to light, Médecins Sans Frontières (MSF) is calling on governments to urgently demand transparency from pharmaceutical corporations on all licensing agreements, clinical trial costs, and data. 
MSF is also calling for suspension of monopolies on intellectual property and private deals on any COVID-19 vaccines or treatments. Funded by billions of dollars of taxpayer money globally, it is essential that these vaccines be available for those who need them at affordable costs.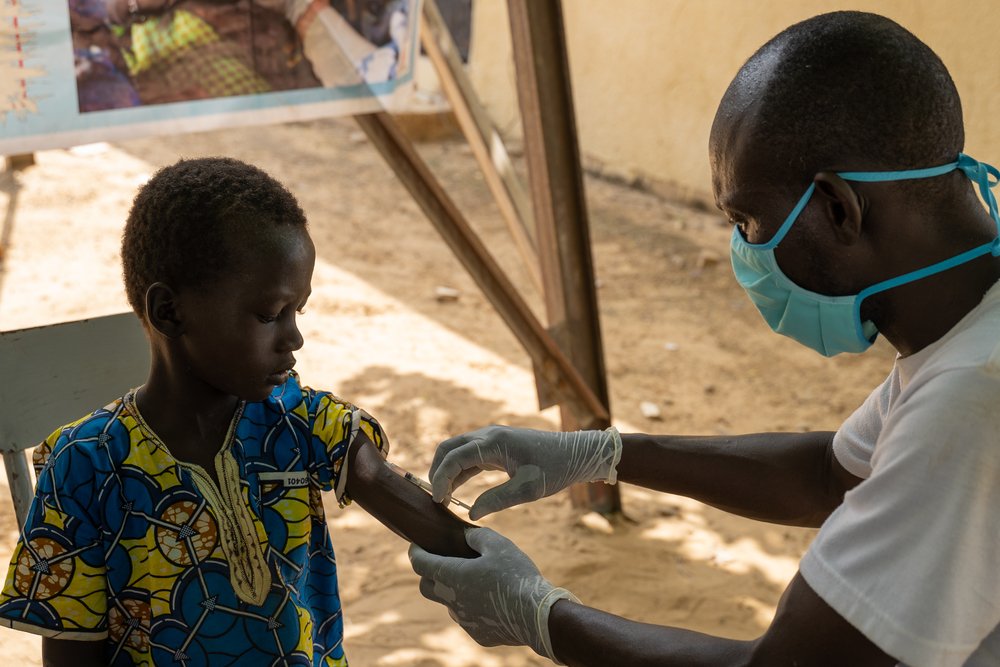 Monopolies kill
MSF Australia is urging the Australian government to back a landmark proposal that would make any COVID-19 drugs or vaccines more accessible, ahead of World Trade Organization talks later this month. 
The World Trade Organization is considering a landmark request put forward by India and South Africa to waive certain intellectual property rights during the COVID-19 pandemic. A total of 99 countries have supported this proposal – but Australia is not one of them. 
"We are strongly urging the Australian government to put people over profits in this pandemic," says Jennifer Tierney, MSF Australia's Executive Director. "We're calling on the Ministers for Trade and Health, Simon Birmingham and Greg Hunt, to get behind the proposal for a waiver that recognises the need for collective global action. This waiver is key to ensuring that all treatments, vaccines and diagnostics for COVID-19 are accessible and affordable, based on needs alone."
The request by India and South Africa mirrors one made at the height of the HIV/AIDS epidemic in 2001 which allowed affordable generic HIV drugs to be produced, saving the lives of millions. 
"Overriding monopolies on COVID-19 medical tools will allow global collaboration to scale-up manufacturing, supply and access for everyone," says Dr Khosi Mavuso, Medical Representative for MSF in South Africa. 
"With more than 1.3 million lives already lost to COVID-19, governments cannot afford to waste any more time waiting for voluntary moves by the pharmaceutical industry."
Since the start of the pandemic, pharmaceutical corporations have maintained their standard practice of rigid control over intellectual property rights while pursuing secretive deals that exclude many developing countries. Gilead Sciences has entered into restrictive licensing for remdesivir, one of the only drugs to have shown potential in treating COVID-19, excluding nearly half of the world's population from the option of affordable generic versions of the treatment.
"Not even a global pandemic can stop pharmaceutical corporations from following their business-as-usual approach," says Dr Sidney Wong, Executive Co-Director of MSF's Access Campaign. "All COVID-19 health tools and technologies should be true global public goods, free from the barriers that patents and other intellectual property impose."
"This waiver is key to ensuring that all treatments, vaccines and diagnostics for COVID-19 are accessible and affordable, based on needs alone."
Private deals and big paydays
While pharmaceutical corporation AstraZeneca has publicly made 'no profit' commitments around the development of a COVID-19 vaccine, the recent publication of a memorandum of understanding with Brazilian manufacturer Fiocruz has uncovered loopholes in this commitment. 
The agreement gives AstraZeneca the right to declare an end to the pandemic as soon as July 2021—a declaration that could then allow them to charge governments and other purchasers high prices for a vaccine entirely funded by the public. It's a concerning development, and one that highlights the need for agreements like these to be made public. 
"As long as we don't know what's in these deals, pharma will continue to hold the power to decide who gets access when, and at what price," says Kate Elder, Senior Vaccines Policy Advisor for MSF's Access Campaign. 
"Without decisive action from governments demanding more transparency from companies, equitable access to COVID-19 vaccines is in jeopardy." 
Those with knowledge of the exclusive AstraZeneca-Oxford license, the terms of which largely determine deals with other vaccine manufacturers, have questioned AstraZeneca's 'no profit' commitment. Public scrutiny of the terms of these deals is critical to ensure equitable and affordable access to these future life-saving vaccines.
No trust without transparency
Pharmaceutical corporations like AstraZeneca have a very poor track record of transparency across all aspects of their operations—from licensing deals and technology transfers to costs of research and development and clinical trial data. The little information that has been revealed around AstraZeneca's not-for-profit promises is a warning sign that pharmaceutical companies alone cannot be trusted to act in the interest of public health.
"The public has the right to know what's in these deals," says Elder. "There is no place for secrets during a pandemic—there's too much at stake." 
AstraZeneca has stated that the development of the vaccine will have no financial implications for the company, since "expenses to progress the vaccine are anticipated to be offset by funding by governments and international organisations." 
MSF continues to urge COVID-19 vaccine developers to disclose clinical trial costs and data. Without this information, it is impossible for people, treatment providers and governments to demand affordable prices and scrutinise critical safety and efficacy data. With research and development and manufacturing costs largely—or entirely, in the case of AstraZeneca and Moderna—offset by public contributions, the public deserves to see a transparent breakdown of these costs and data. 
"Even with billions of dollars of public, taxpayer money paying for these vaccines, and billions of lives at stake, we continue to be left in the dark," says Roz Scourse, Policy Advisor for MSF's Access Campaign. 
The health of billions of people is at stake. Governments must take responsibility for the funding that has been granted to pharmaceutical corporations and demand that all licenses, agreements, clinical trial costs and data related to COVID-19 vaccines be made public.