Greece: Refugee camp burns, but harmful detention continues
Around 12,000 people were forced to evacuate Moria refugee camp on the Greek island of Lesbos after fire completely destroyed the camp on 8 and 10 September. 
Despite calls to end the containment of refugees and asylum seekers on Lesbos, the Greek government is currently constructing a new camp to house those left without shelter. The Médecins Sans Frontières/Doctors Without Borders (MSF) team in Lesbos continues to provide care to people, while urging authorities to immediately evacuate them to safety.
Trapped in despair
For the past five years, thousands of people fleeing violence and trauma have found themselves contained in camps on the Greek islands. Instead of finding freedom and safety, they have been trapped in appalling conditions, without access to regular healthcare or basic services. MSF teams have been working alongside other organisations to provide care in an environment that threatens peoples' physical and mental health.
Among these people are thousands of children, hundreds of whom have been victims of torture and violence. Their experiences in Moria and the other Greek refugee camps have only compounded their existing trauma, leading MSF doctors to repeatedly describe this situation as a mental health emergency.  
The arrival of the COVID-19 pandemic earlier this year added yet another layer of tension, as the Greek government imposed restrictions on several of the island camps. 
"The restrictions of movement for migrants and refugees in the camp have affected the mental health of my patients dramatically," said Greg Kavarnos, a psychologist in the MSF Survivors of Torture clinic on Lesbos, in July. "If you and I felt stressed and were easily irritated during the period of the lockdown in our homes, imagine how people who have endured very traumatic experiences feel now that they have to stay locked up in a camp like Moria.
"Moria is a place where they cannot find peace, they cannot find a private space and they have to stand in lines for food, for the toilet, for water, for everything."
MSF called for the Greek health and migration authorities to set up an adequate COVID-19 response plan for Moria, that would count on residents' collaboration and offer dignity to people. But following the confirmation of positive cases of COVID-19 among the Moria camp residents, a mass quarantine was put in place in the camp.
Then came the fire.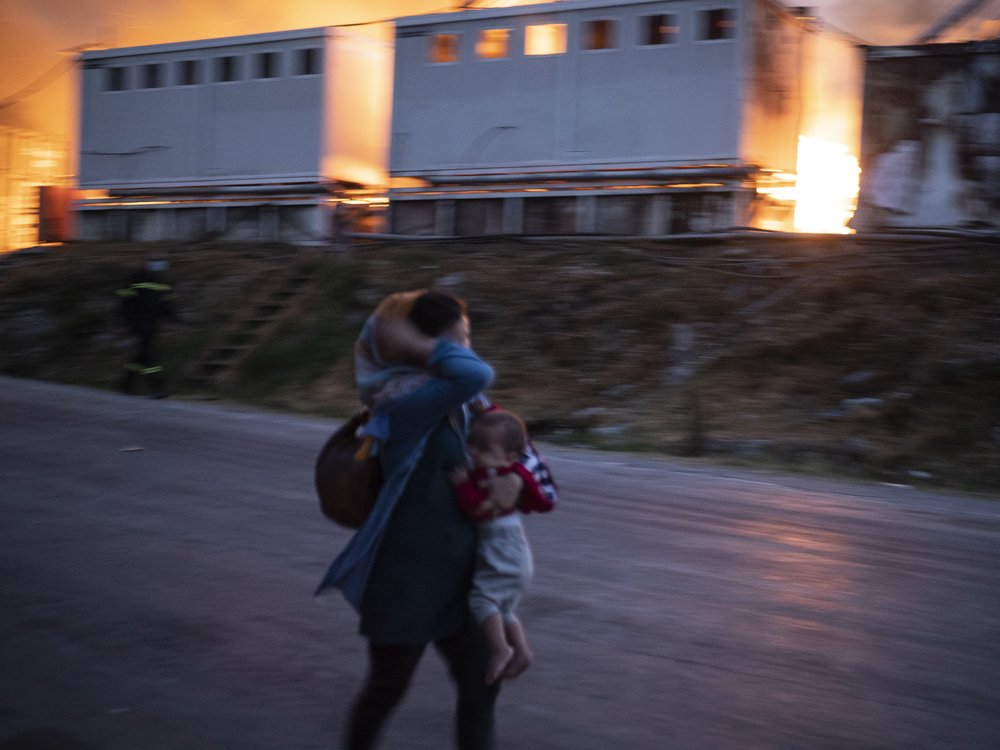 "The whole place was engulfed in flames"
With refugees and asylum seekers protesting against their confinement and locals angry about the presence of the camps on the island, the situation on Lesbos deteriorated after the implementation of strict COVID-19 restrictions. Tensions on the island increased in August, with several protests and clashes between refugees and asylum seekers and local community members becoming violent.
Following a number of severe attacks by anti-migrant protestors on MSF's paediatric clinic and a new COVID-19 treatment facility outside Moria camp, several fires on 8 and 10 September completely destroyed the camp, leaving 12,000 people on the streets and without shelter.
"Our teams saw the fire spread across Moria and rage all night long," says Marco Sandrone, MSF Field Coordinator in Lesbos. "The whole place was engulfed in flames. We saw an exodus of people from a burning hell. Children were scared, and parents in shock." 
We can only hope that the same system of inhumane containment will not be reborn from the ashes in Moria.
In the wake of the fire, thousands of people were forced to sleep in the streets without assistance, hygiene measures or sanitation facilities. With all healthcare services interrupted, MSF teams began working to address people's immediate needs.
A state of emergency was declared on Lesbos on 10 September, with an initial duration of four months. European nations are increasingly sending aid and support, but they have shown no intention to relocate people on Lesbos (other than move a number of unaccompanied minors to other locations in Europe), or to review their approach of containment. MSF stands against this decision, believing that further harm will be done if refugees and asylum seekers continue to be contained.
"The years-long orchestration of human suffering and violence produced by European and Greek migration policies are to blame for the fire," says Aurelie Ponthieu, MSF Humanitarian Advisor on Displacement. "We can only hope that the same system of inhumane containment will not be reborn from the ashes in Moria."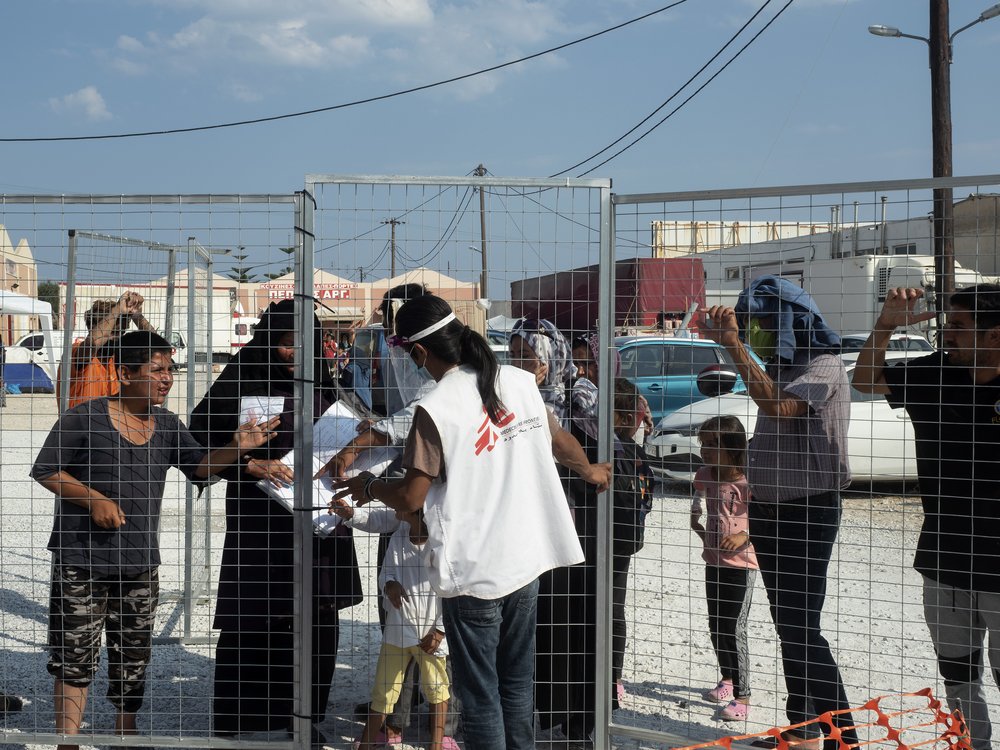 Continuing the cycle
Despite vocalised concerns from MSF and other organisations, the Greek government is continuing with its plans to build a new refugee camp on the island to house the people displaced by the Moria fire.
MSF believes the decision to keep refugees and asylum seekers contained on the islands is irresponsible and will have dire consequences.
"There is five years of publicly-available evidence proving that these unfair asylum procedures only lead to cyclical disaster and unmeasurable suffering," says Stephan Oberreit, MSF Head of Mission in Greece. "Year after year we read statements and declarations that the situation will improve, but on the ground we only see more misery, more human suffering; a routine of humiliation, xenophobia and violence. 
"Continuing with this model means perseverating in a deliberate mechanism of intentional violence, with full knowledge of its human cost."  
We continue to call for the evacuation of all people from Lesbos, and demand safe and legal pathways for those who seek a safe place to live and a better future for themselves and their families. While advocating for this evacuation, we are committed to providing our patients with access to adequate healthcare, which remains our main goal.
European leaders must now respond by providing efficient and regular relocation mechanisms to ensure safe and dignified accommodation of people on the Greek mainland and in other European countries. Any new camps established must be only for transit or pre-relocation purposes.
"Enough is enough. Decent solutions are possible," says Oberreit. "Many countries and communities in Europe have expressed their willingness to host people in search of safety. The time has come for EU countries to recognise the failure of deterrence policies and stop using immigration as a means of short-term political calculations."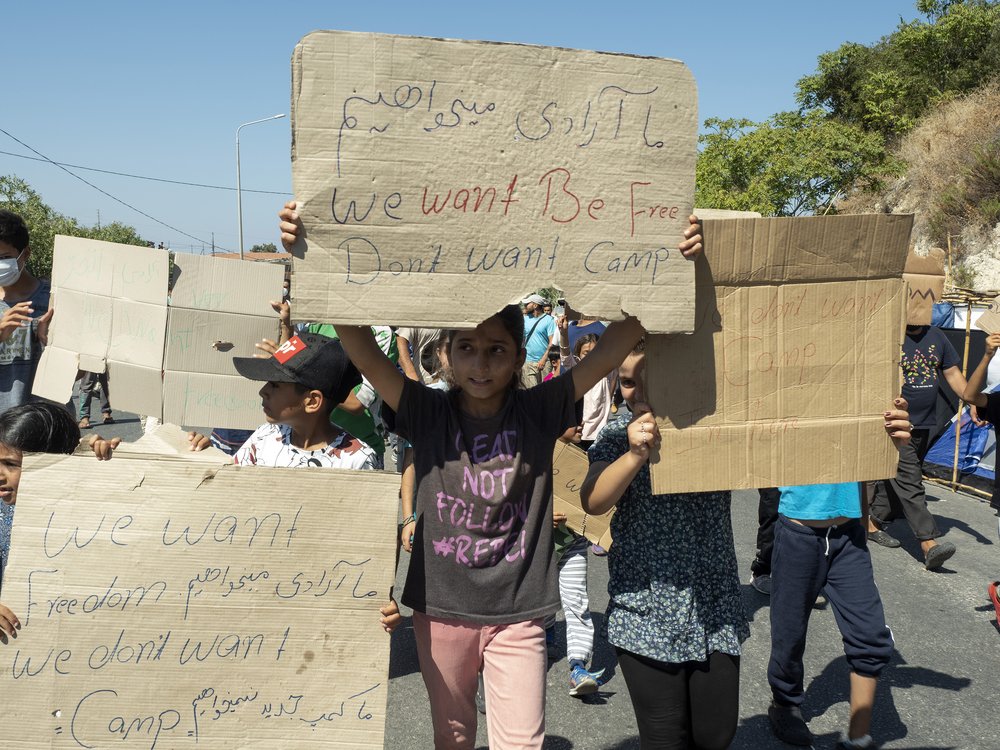 Join us in calling for the humane treatment of refugees in Europe
Refugees deserve to live with dignity and respect. Take action by signing our petition calling on European leaders to put an end to harmful migration polices that trap refugees and asylum seekers in inhumane conditions.