How is the coronavirus pandemic affecting refugees?
Right now, there are more than 70 million people around the world who have been forcibly displaced – and they are some of the most vulnerable in a global pandemic.
So how are refugees and other displaced people being impacted by, and enduring, the novel coronavirus (COVID-19), and how is Médecins Sans Frontières/Doctors Without Borders (MSF) responding in these communities?
How is coronavirus affecting refugees and other displaced people?
The public health advice we've heeded during coronavirus in Australia and New Zealand – to stay at home, physically distance and wash and sanitise our hands and belongings – is near impossible to follow in a refugee camp. 
As a refugee, asylum seeker or internally displaced person, you're often living in a shelter with multiple other families, with little access to running water or soap, let alone to medical care when you get sick.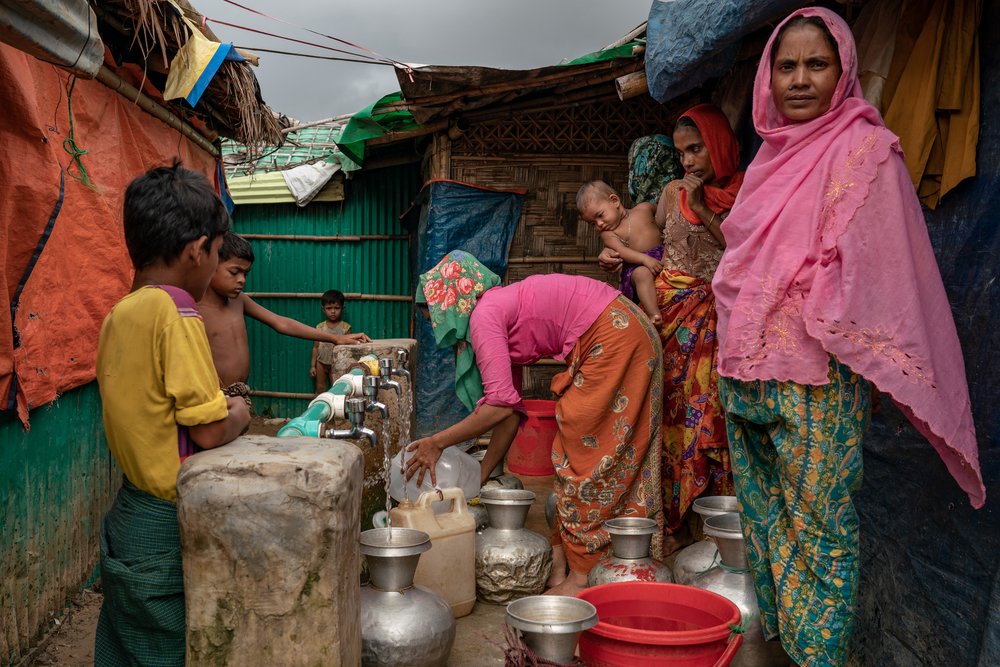 The conditions for people living in displacement camps are typically overcrowded and unsanitary: an ideal environment for infectious disease to spread very quickly. People who have fled war, violence, disaster or precarious situations have also often faced barriers to getting medical care while on the move and again in the country where they are seeking safety.
This means they may have other inadequately treated health conditions like diabetes or HIV, which can put them at greater risk of developing serious illness or dying if they contract coronavirus.
 MSF is beginning to treat COVID-19 patients in the Rohingya refugee camps in Bangladesh, while in Al Hol camp in northeast Syria, where there are no cases yet, our staff are bracing for the pandemic to spread.
Yet even as the virus is causing fear and devastation in communities across continents, displaced people are enduring and coping better than we might think.
Yet even as the virus is causing fear and devastation in communities across continents, displaced people are enduring and coping better than we might think. In a Greek island refugee camp, Frederic* told MSF teams how he has applied lessons learnt from his recovery from experiencing torture to help him cope with lockdown and fear of the virus; and in West Africa, a region used to outbreaks of diseases like Lassa fever and Ebola, communities are turning to skills, knowledge and resilience developed from past epidemic responses.
How is MSF responding to coronavirus in refugee and displacement camps?
Let's take a look at MSF's coronavirus response and preparations for displaced people in four countries: Bangladesh, Greece, Syria and Tanzania.
Bangladesh
In Bangladesh, MSF works in the Cox's Bazar refugee camps, where nearly one million Rohingya refugees live in densely-packed and unsanitary conditions. Coronavirus has reached the camps and our staff are treating a number of patients with the virus in dedicated isolation wards within our health facilities.
We are also monitoring people who are thought to have COVID-19 and have set up separate waiting areas for patients with symptoms of coronavirus in our clinics.
From MSF's experience in other infectious disease outbreaks, we know it is essential to reduce people's fear and prevent rumours by giving people access to correct information. Our outreach teams in Cox's Bazar are going door-to-door to educate people about COVID-19 and preventing its spread, as well as connecting with local community leaders to share information and build trust.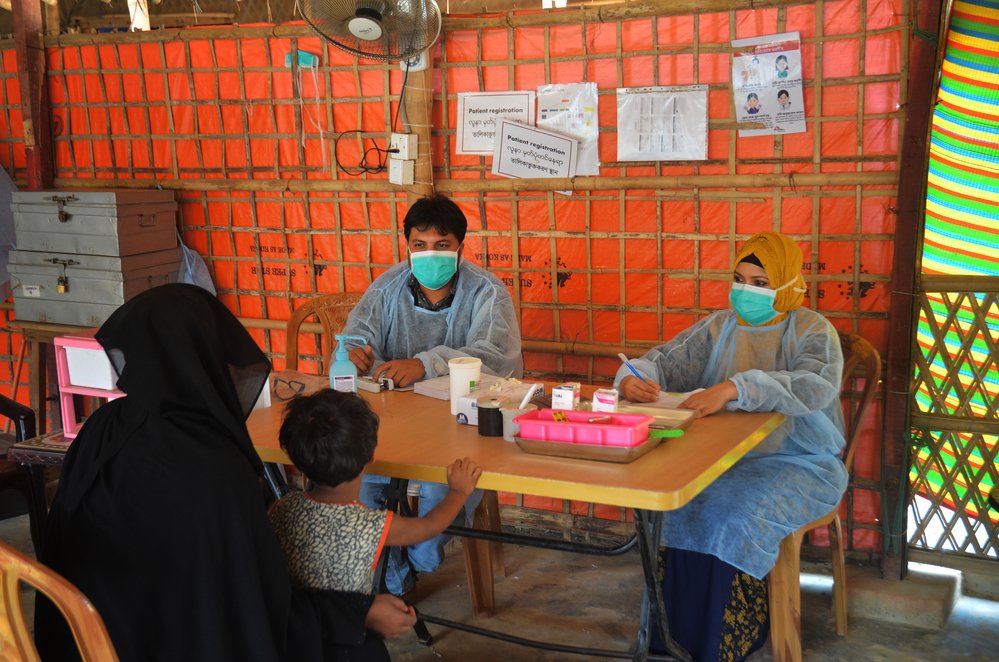 Greece
In the Greek islands, no one has yet been confirmed with coronavirus in any of the refugee camps, where over 17,500 people live in squalid conditions in tents or containers. But with overcrowding, little clean water and scarce sanitation, our teams are concerned the pandemic would spread quickly in these camps, and so we are working urgently to prepare.
In Lesbos MSF is operating an inpatient medical unit outside of Moria camp, where we are testing patients showing symptoms of COVID-19 to provide early detection and isolation of people thought to have the virus, as well as treatment for anyone with mild symptoms. No one has yet tested positive. We have adapted our facilities to ensure protection for our patients and staff, including supporting health workers with correct triage of patients.
In both Samos and Lesbos, we're scaling up our activities to deliver water and sanitation services in the camps, and we've recruited extra staff to increase both medical care and support work. In Samos, this includes an emergency preparedness team working on primary healthcare and screening.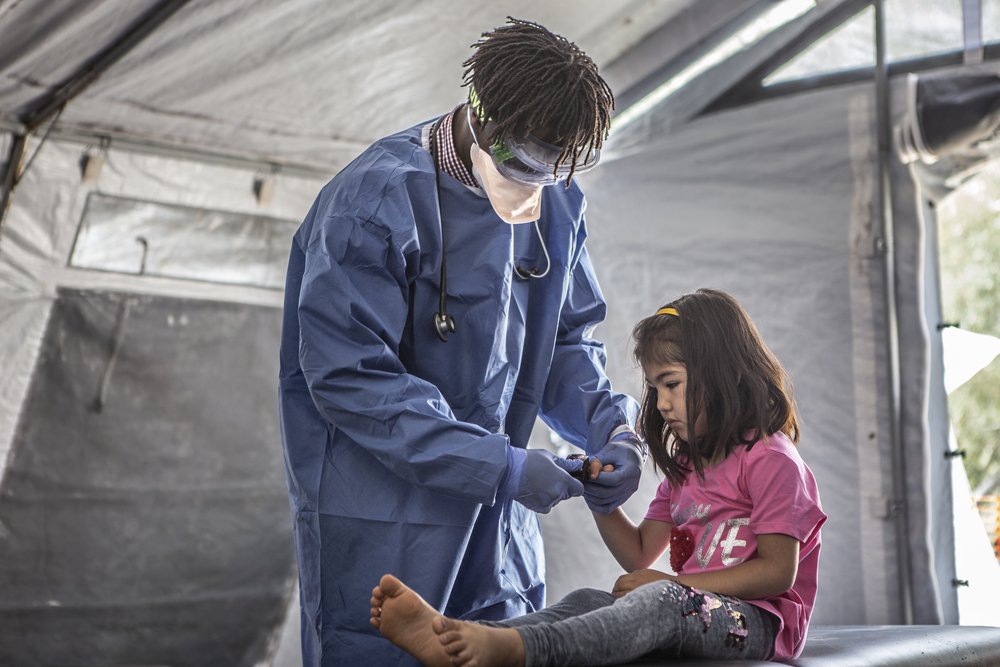 Syria
In Al Hol camp, northeast Syria, there are around 65,000 people – the majority women and children. Many have been displaced during the nine-year conflict which has devastated the country's health system, and they are not allowed to leave the camp. As coronavirus has spread across the Middle East region, MSF has continued running our inpatient therapeutic feeding centre, wound care program and water and sanitation services in the camp.
We are making plans to adapt the feeding centre to treat people with COVID-19, if needed, and teams are mapping the community for vulnerable people who are most at risk of becoming severely ill from coronavirus so we can support them with hygiene kits and health information.
In late May, MSF flew two charter flights packed with 46 tonnes of medical supplies for the coronavirus response in northeast Syria, as well as 14 MSF medical and technical professionals. The supplies arrived in Iraq and were transferred across the border to medical projects in urgent need.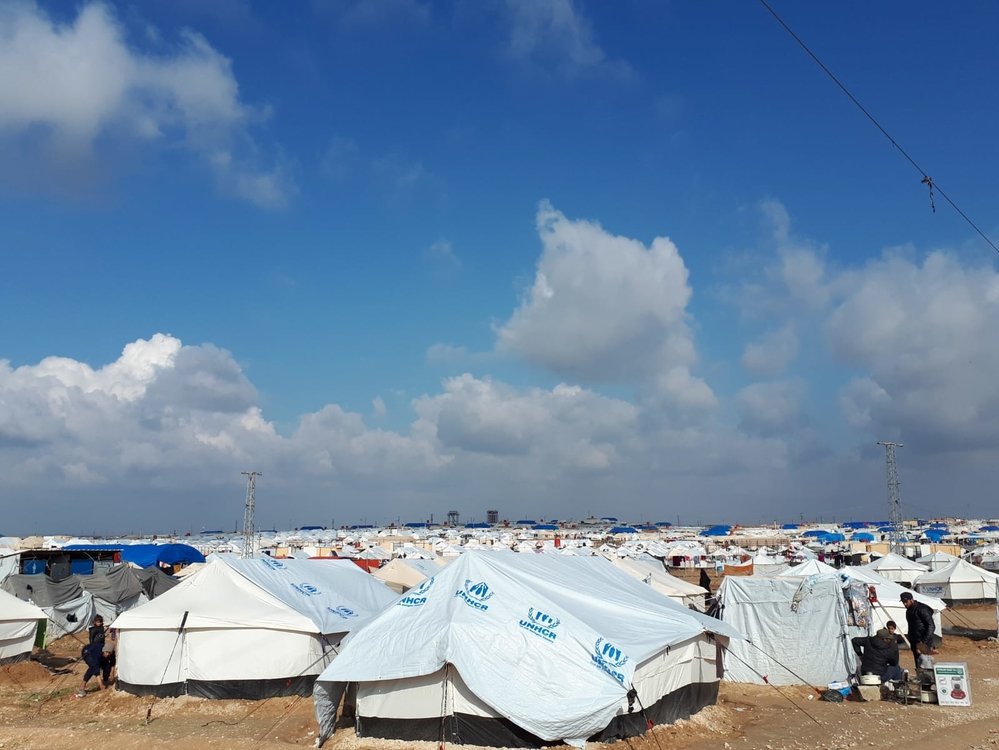 Tanzania
Nduta camp in western Tanzania is home to 75,000 Burundian refugees who have fled their homes due to violence, and who are the most underfunded refugee group in the world according to the UN Refugee Agency. MSF is the main provider of healthcare in the camp, which has ballooned to double its intended capacity.
People living in Nduta exist with only basic shelter and limited access to water and sanitation, and face regular outbreaks of diseases like malaria that spread rapidly in the overcrowded and unhygienic conditions. As our teams prepare for coronavirus, we are educating the community on hygiene and health practices to bolster their protection.
In the camp, MSF has built triage and isolation areas in each of our four health clinics. More than 250 MSF staff have been trained for the COVID-19 response, including in screening and triaging patients, safe isolation and transportation of people thought to have the virus to the nearby MSF hospital for testing, and use of personal protective equipment. In April, seven patients with suspected coronavirus were admitted to our isolation facilities, and all tested negative for the virus.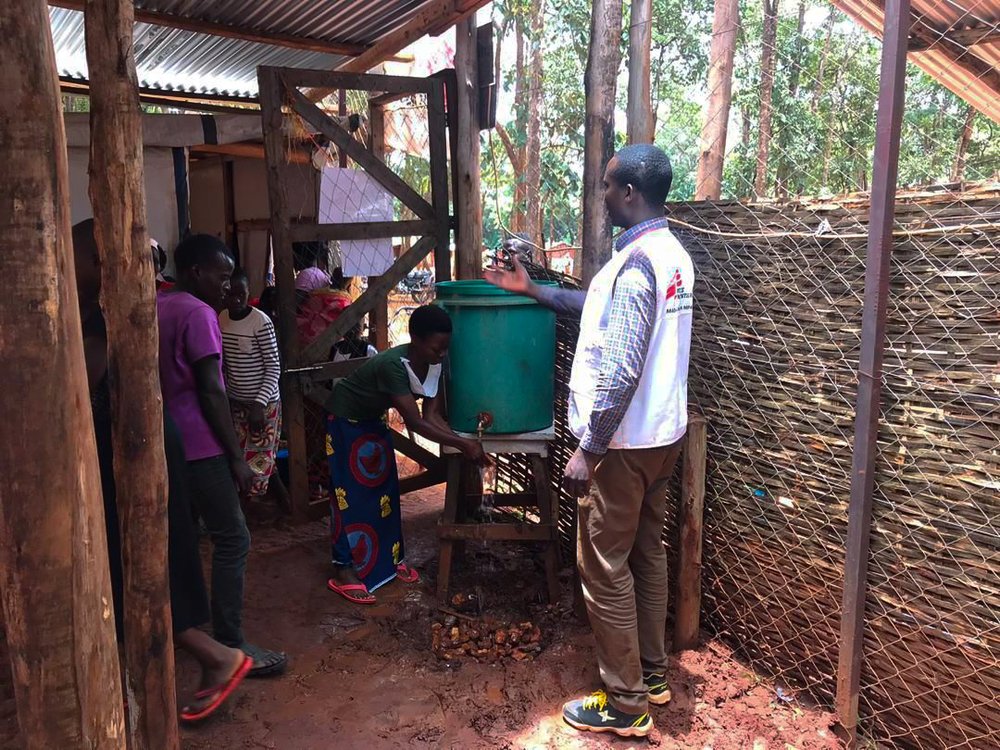 What more can be done?
In many places where MSF works, the coronavirus pandemic is being used as an excuse to further marginalise and punish people who are displaced. Many states are preventing people on the move from crossing borders to seek safety, or trapping them in dangerous overcrowded and unhygienic camps.
In the Greek island reception centres, MSF is calling for the most vulnerable people to be immediately evacuated, and for these sites to be decongested. In other regions, we are continuing to advocate for an urgent increase in medical and humanitarian supplies for displaced people, and for states to safeguard the entry of these supplies and staff into countries so that lives can be saved.
Can you make a donation to support our COVID-19 response?
Right now, Médecins Sans Frontières is providing much needed support and medical care in over 30 countries to counter the COVID-19 pandemic.
Our teams are also gearing up to confront potential outbreaks in the hundreds of areas we were already working before the pandemic struck. We are deploying medical staff, sending supplies and applying nearly 50 years of experience fighting epidemics to protect the most vulnerable and save lives.
 
Can you help increase our capacity to respond by making a donation to our COVID-19 Crisis Appeal?