Libya: MSF helps diagnose and treat patients with tuberculosis
Tuberculosis (TB) is a serious global public health concern and one of the top 10 causes of death worldwide. Rates of TB in Libya are on the rise, linked to an apparent lack of knowledge and awareness in the country about this health issue, which often leads to late detection and treatment. 
On World Tuberculosis Day, we look at one of our many projects focusing on TB care—a capacity building project to improve tuberculosis care in Libya, with special consideration for drug-resistant tuberculosis.
"I got scared when I was diagnosed with TB," says Samih. "All I knew about it was that it's extremely contagious and it can easily kill you."
Samih is being treated for tuberculosis (TB) in Abu Sitta public hospital, in Tripoli, by a team from Médecins Sans Frontières/Doctors Without Borders (MSF). His symptoms started mildly but rapidly got worse. "It started with a cough, which later intensified, alongside a constant headache and sweating at night," he says. "I lost 9 kg during that time."
Libya is classified as a middle burden country by the World Health Organization . However, cases have been steadily increasing over recent years, as the Libyan health system struggles to recover from years of civil war and the COVID-19 pandemic. The rise in cases comes despite the fact that TB medication is widely available and free of charge in Libya.
TB is now considered endemic in Libya. To help tackle this major health concern and improve diagnosis and treatment of the disease, MSF has been supporting the national health system since 2020 by working with the National Tuberculosis Programme, which operates under the Libyan Ministry of Health's National Center for Disease Control. 
As well as working in Abu Sitta hospital to provide TB care for patients from both Libyan and migrant communities, MSF teams have been providing TB treatment to people held in detention centres across Libya since 2016.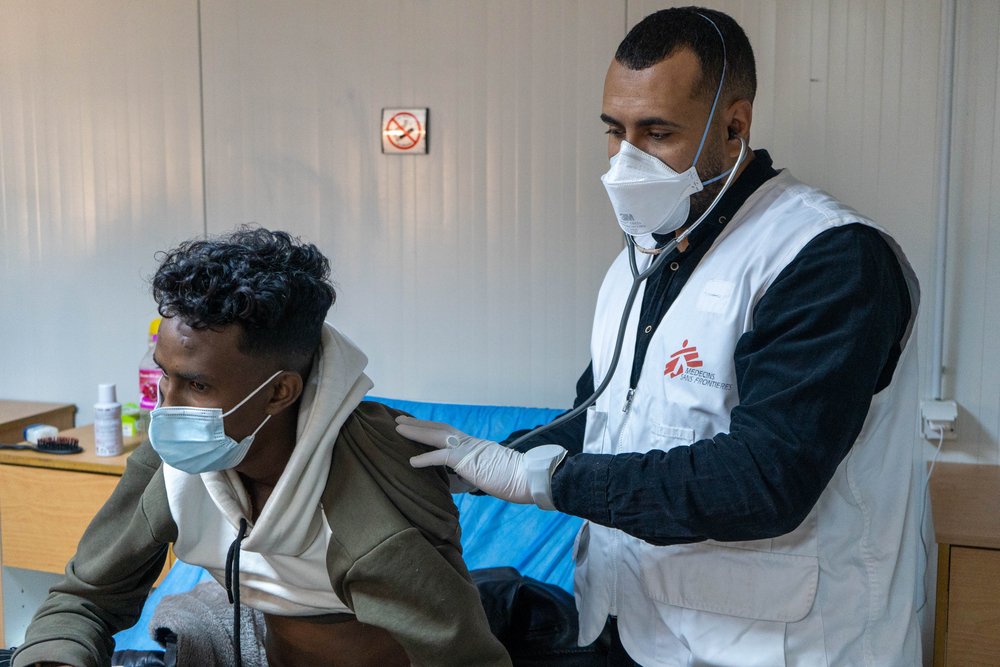 People with TB often experience serious symptoms that significantly affect their lives, including severe coughing, chest pain, major weakness, sudden weight loss and fever. It is an infectious disease, spread by airborne droplets, and is particularly transmissible in overcrowded environments. 
"There is a general fear when going into the TB wards," says Theresa Sanchez, an MSF nurse in Abu Sitta hospital. "We always have to be on high alert, making sure we strictly follow protection procedures, especially when treating people who recently got their symptoms. Working with TB patients, and especially patients with multidrug-resistant TB, has to be something you believe in at your core."  
The risk of infecting others is minimised by recognising the symptoms, getting diagnosed quickly and starting treatment promptly. "Awareness about TB symptoms is increasingly important, as it is essential that early symptoms are witnessed and treated to stop the spread," says Dr Abdu Sameya Bashagha, an MSF doctor in Abu Sitta hospital.
TB is easily curable, as long as it is diagnosed promptly and treated with the right drugs. "TB is not a health concern if diagnosed early and treated properly, as it's not infectious during most of the treatment," says Dr Abdu Sameya. "If medication is taken on time as prescribed, it is easily curable."
However, interrupted or incorrect treatment can cause TB to become resistant to the usual anti-TB medications and evolve into drug-resistant tuberculosis, which is much harder to treat. 
Before coming to MSF for treatment, Samih was mis-diagnosed and prescribed the wrong medication. "My symptoms lasted for eight months," remembers Samih. "A doctor diagnosed me with a chest infection and prescribed me some antibiotics, but I wasn't getting any better." Although his symptoms did not improve, fortunately it did not result in drug-resistant TB.
With proper diagnosis and the right drugs, Samih is finally on the way to being cured. "Now I'm so glad I've been properly diagnosed so that I can fight the disease," he says.
In Libya, MSF teams have been providing comprehensive support to the public health system to improve care for TB patients, with a focus on drug-resistant tuberculosis. In 2019, MSF worked alongside the Ministry of Health to open the first ward in the country for the treatment of multidrug-resistant TB (MDR-TB) in Misrata. MSF also supported TB case management and treatment by providing GeneXpert machines and cartridges to the National Center for Disease Control (NCDC) in Misrata and to Abu Sitta hospital in Tripoli. MSF teams also manage outpatient TB departments in Misrata and Zuwara. 
In 2020 MSF supported Libya's National Tuberculosis Progamme (NTP) and Abu Sitta hospital in treating TB patients from both Libyan and migrant communities. Two MSF doctors and specialist TB nurses work in the NTP centre and in Abu Sitta hospital to provide daily support to TB patients. Iin 2021, MSF teams conducted 7,128 outpatient consultations in the NTP centre and started on treatment 208 patients who were referred from detention centres and prisons across Libya. MSF also focused on rallying the necessary support and redirecting global funds through the establishment of the TB Actors' Group, where MSF facilitates a monthly meeting with stakeholders all around the country for identifying and anticipating gaps and working to cover them.