Mental health care: an essential part of treatment for COVID-19
In Médecins Sans Frontières/Doctors Without Borders (MSF) projects responding to the COVID-19 outbreak in Mexico and India, mental healthcare has formed an important part of our treatment for patients—and has been critical for people's recovery from the disease.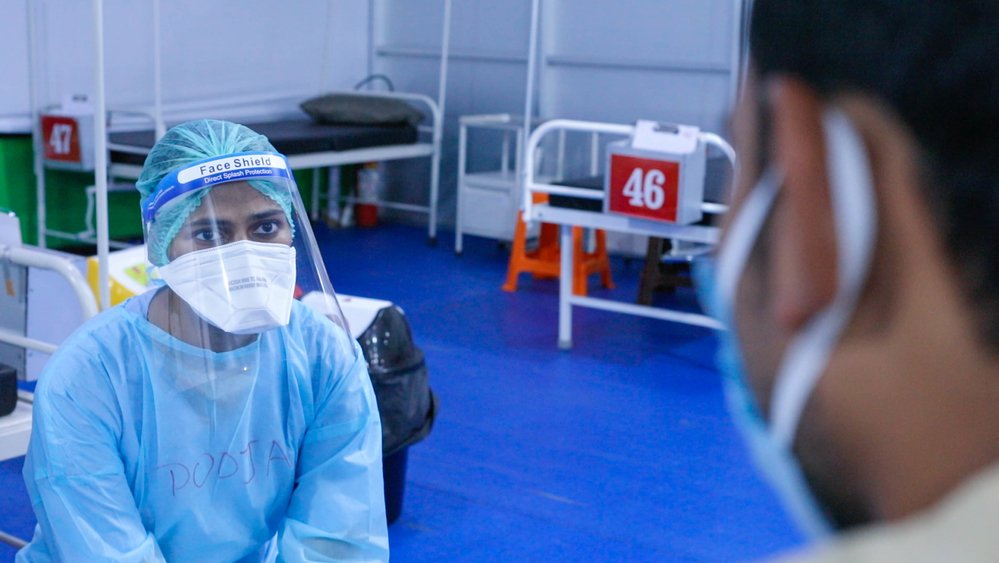 "A very strong emotional fight": Tijuana, Mexico
In MSF's hospital set up in a basketball stadium in Tijuana, northwest Mexico, psychologists witnessed how the physical effects of COVID-19 could have major emotional repercussions for patients.
As the hospital provided care for non-critically ill patients from the start of May until end of June, the team found mental healthcare to be key to people's recovery from the disease.  
"Not being able to breathe and the fear of dying obviously increase patients' anxiety levels," said Lucia Samayao, manager of MSF's psychosocial strategy in Tijuana, in May.
"These are people who have had a very strong emotional fight in order to get better, and whose symptoms and physical state have forced them to think about life and death issues. They have had constant worries about what will happen if they can no longer see their family, if they can no longer hug them, increasing their anxiety and making it even harder to breathe."
When patients were admitted to the hospital, they received a letter introducing MSF and our psychologists and explaining what psychological support was on offer. The letter included a series of questions which allowed staff to evaluate a patient's emotional state and determine what care they needed.
After this, a psychologist would hold a phone call with the patient during which they encouraged them to let off steam, start to process what they were going through and to support them to understand they were on the road to recovery. Staff also gave patients tools to reduce their anxiety, such as breathing techniques, relaxation exercises and other ways to express what they are feeling. 
Many [health staff] suffered panic attacks and feelings of helplessness in the face of the high number of patients who died, and from fear of getting infected or losing colleagues and loved ones to the disease.
Most patients' overriding concern was for contact with their family after being isolated during their recovery, so staff ensured people could communicate with families through a phone call. Our psychologists and social workers also worked with families of patients in MSF's hospital and critically ill patients in the Tijuana general hospital , to help them cope with having a loved one affected by COVID-19. They prepared them for the patient's recovery process when they returned home, or for the possibility of the patient deteriorating or dying from the disease. 
According to Dr Alberto Reyes Escamilla, director of the Tijuana general hospital, the pressure of the COVID-19 emergency response was exhausting for health staff. Many suffered panic attacks and feelings of helplessness in the face of the high number of patients who died, and from fear of getting infected or losing colleagues and loved ones to the disease. 
MSF psychologists offered individual and group psychosocial support to staff to help them cope and make sense of their experiences in the hospital. "MSF's collaboration has been very important for us," said Dr Reyes Escamilla.
Tackling anxiety, stigma and misinformation in Bihar, India 
In mid-June, MSF opened a 100-bed COVID-19 treatment centre in Patna, the capital of Bihar— home to about 100 million people and one of India's most populated states. The centre provides treatment for patients with mild and moderate symptoms of COVID-19 and can also care for patients with severe disease when needed.
Psychosocial support is a critical part of the treatment. As COVD-19 cases surged across India in July, our mental health staff in Patna explained the challenges, fears and hopes among the team and patients.
"We have been through a very tough period of lockdown. It has taken a tremendous toll on people's mental health," said Dr Pooja Iyer, Mental Health and Health Promotion Manager. "Although many people recover, the general impression in the community is that COVID-19 is very deadly. So it's very important to support them during this process and give them examples where people recovered."
The MSF counsellors at the centre educate patients on COVID-19 by explaining what it is, and run educational interactive sessions using games and videos. They encourage patients to share their experiences, feelings, fears and anxieties related to the disease.
"The strongest challenge that we are facing is related to stigma," Dr Iyer said. "There are many patients who have experienced stigma because they tested positive, and this stigmatisation has also affected their relatives. Another challenge is misinformation. We are trying our best to change people's habits and thoughts."
For counsellor Mohit Siwach, the pandemic has had an impact on both the community, and the way he does his work. "Everyone in Patna knows someone who has had COVID-19. There is an overwhelming sense of hopelessness and fear. We try to change patients' anxieties into hope," he said.
"As soon as I enter the ward wearing the personal protective equipment (PPE), it takes me an hour to readjust to the 'new normal' way of providing guidance and counselling through face shields and masks.
"I recently spoke to a patient who lost her father and I had to comfort her through hand signals and body movements. This is not how I would ideally approach patients as a counsellor. However, it is immensely gratifying to find a way to change people's fear into a sense of hope, despite the challenges."
MSF continues to run a 24/7 mental health telephone hotline in India to provide support during the pandemic. It is available in English and Hindi. In Kashmir, we have seen an increased need for counselling services during this time, and staff are providing phone counselling while facilities-based support remains suspended.