PNG: Combatting COVID-19 fears through phone counselling
As the coronavirus pandemic sweeps across Papua New Guinea, fear and concern around the virus and its treatments have become widespread. Combatting this fear is critical to preventing further spread of COVID-19. 
MSF teams are working to combat this stigma and fear—as well as improve physical and mental health—through phone counselling for those who have contracted COVID-19. 
The overwhelming concern is largely due to a lack of accurate information about the virus and hysteria caused by conspiracy theories and misinformation. Those testing positive are subject to intense stigmatisation, especially when isolating at home with mild symptoms. 
More than 15,000 patients with COVID-19 have been registered in the country so far. Those who have tested positive for COVID-19 are often fearful and anxious, especially considering the stigma associated with COVID-19 in Papua New Guinea. This stigma is mainly based on the fact that it is a disease which is new and unknown—as with many new and unknown health issues, people often hide their illness to avoid discrimination, which prevents them from getting tested and seeking healthcare.
"We hired and trained new staff members a few weeks back to provide clinical care in Rita Flynn makeshift hospital where COVID-19 patients were treated," says Shah Khalid, MSF Project Coordinator. "But while we started activities, the number of patients needing hospitalisation decreased. The authorities decided to limit COVID-19 care to two other facilities in Port Moresby and closed the ward." 
The solution: providing patient education and counselling sessions by phone instead of in person.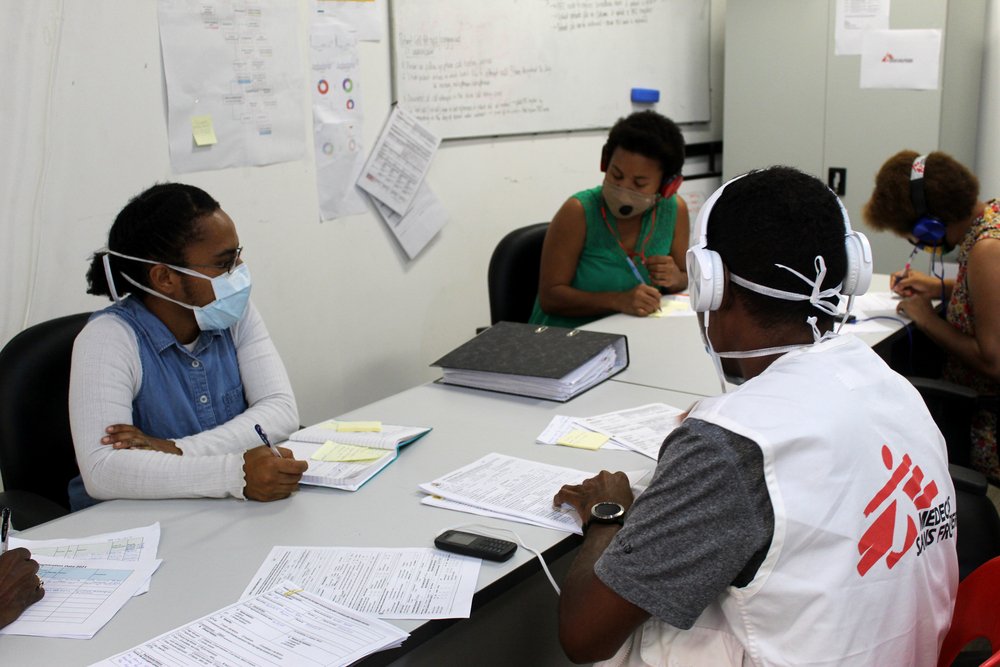 Phone counselling allows staff to reach people in their homes while they self-isolate after testing positive for COVID-19. The regular phone calls help to check on the status of patients and answer any concerns or questions they have, ensuring the patient's mental and emotional well-being is not neglected. Nurse Benita Apa, from the Highlands of Papua New Guinea, is overseeing the tele-counselling work. 
"Through our tele-counselling sessions we talk to the people who come in and test positive but don't show severe symptoms," Apa says. "This means they don't need hospitalisation and can isolate at home. We ask them to provide their phone numbers and then we check on them every second day to ensure their health is stable and most importantly that they are keeping sane and healthy.
"During this time, their mental well-being can be tested, especially when they can't go out of their homes or see their friends and family."
Patients receive information on a healthy diet and how they can practise physical exercise to stay healthy. Up until now, no major issues have been reported by people in home isolation. One man living in a multi-generational household, very common in PNG, has said that he does his best to stay in a separate room to avoid infecting his family. 
The majority of people contacted by the patient education and counselling team are appreciative. But there are others that the team has difficulty reaching through telephone because they either don't provide their telephone numbers or are simply uncontactable. As community visits have been put on hold because of security concerns and COVID-19 measures enforced by the country's COVID-19 measures, there is currently no other way to contact these patients.