Ukraine: MSF provides rehabilitative healthcare in Vinnytsia
Since August, MSF has been running a rehabilitation project for war-wounded patients in the Vinnytsia region, Ukraine.
We support Trauma and Rehabilitation wards in Ukrainian hospitals in Kyiv and Vinnytsia by providing staff training and physiotherapy sessions for trauma war-wounded patients.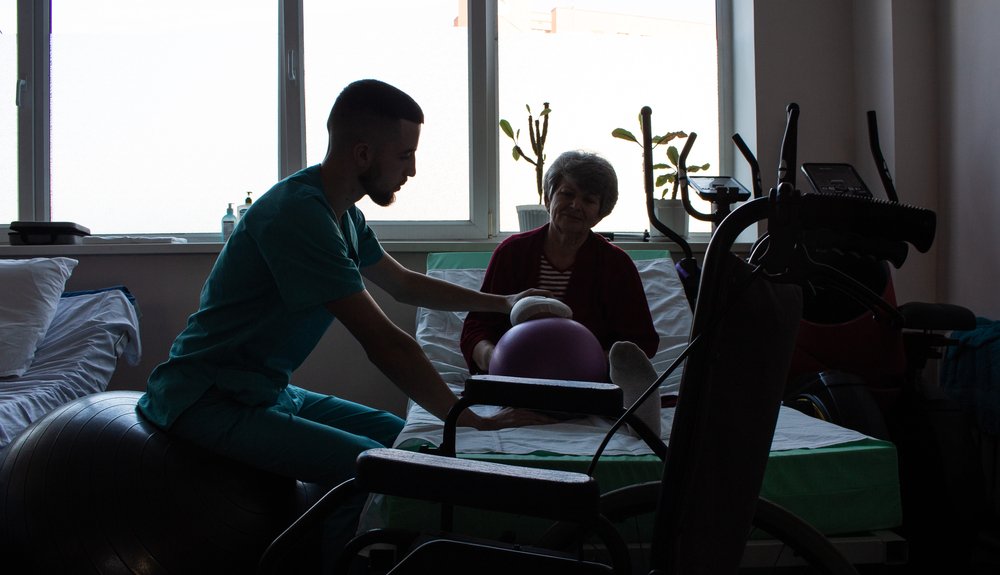 The Ukrainian local health system is facing a major challenge in the post-operative recovery and rehabilitation of patients injured during heavy shelling and hospitals are overcrowded with patients with amputations.
According to the Ukrainian Ministry of Health, the need for physiotherapists doubled during the war. In addition, the Ukrainian health system doesn't have enough skills and capacity: partly because it hasn't traditionally been an area of focus of the system.   
Since August, MSF has been running a rehabilitation project for war-wounded patients in the Vinnytsia region, Ukraine. We support Trauma and Rehabilitation wards in Ukrainian hospitals in Kyiv and Vinnytsia by providing staff training and physiotherapy sessions for trauma war-wounded patients. This includes a range of specific health services people with physical impairments may require, from diagnosis, treatment, assistive devices, and physical therapy. 
Vadym Parfenyuk, MSF physiotherapist 
Vadym is the first Ukrainian specialist to join the team of MSF physiotherapists in Vinnytsia. Among his patients are conflict-wounded patients. Mostly, with limb amputations.
I see the project growing. On the one hand, this is good, we have been receiving positive feedback and success stories from our patients some of them arrived in wheelchairs and left walking on their feet. On the other hand, it hurts to realize that the needs are growing, and the numbers of war-wounded patients are increasing,
Yaroslav, one of Vadym's patients had his left and right legs amputated as a result of the shelling and had to undergo more than 10 operations.
"I am in the Ukrainian Armed Forces. On February 24, on the first day of the full-scale invasion, the Russians began shelling the military unit in Vinnytsia, where I was stationed. I remember lying on my right side and noticing that I lost my right leg. I asked the guys next to me: is the left one still intact? They answered that it isn't there either. I felt no pain. Only the smell of blood, there was a lot of blood. With the MSF physiotherapist, we did stretching exercises and improved the muscle strength, part of the leg was completely atrophied, but now there is hope that I will soon get a prosthesis." 
Maksym Styrenko, MSF physiotherapist in Vinnytsia
"I'm in charge of Vadim's case. His left leg was amputated due to severe wounds. The right one also had to be amputated to direct blood flow to the kidneys to save them. His left hand was also injured and the soft tissue was damaged, and he was provided with a stabilising plate. He was bedridden for the first 2 months. Now we see that his strength is returning, he is holding his back, and manages to use a wheelchair. We're working on developing the muscles in the hand and fingers, in preparation for a prosthesis."
Patient Vadim says that earlier his hand and fingers did not move at all. After exercises with a physiotherapist, he can already lift 4 kg.
Tetyana Voytenko, a patient being treated by MSF physiotherapists in Vinnytsia
Tetyana is a patient with an amputated right leg, from Izyum, Kharkiv region.
"When the Russians fled from Izyum, they covered the whole city with tiny petal mines: backyards, gardens and walking paths. I go to the forest to collect firewood so that I could use it as a source for heating. It wasn't the first time I walked that path but it was the time when I stepped on that petal mine. Half of the right leg was torn off. I was together with my neighbour Nadia, and her goats. They walked ahead, passing all the trouble but it didn't pass me. I keep feeling severe phantom pains, but when the wound heals, I will ask for a prosthesis, for now - I can move around only on crutches."
Tatiana, translator in Vinnytsia
Tatiana helps patients communicate with international MSF physiotherapists who come to work in Ukraine. The current team of therapists come from different countries such as Jordan, France, Nepal, Palestine, Mexico, and Brazil.
"The majority of our patients are those who stepped on landmines. And their limbs were torn off or severely injured. I do not only translate medical terms, diagnoses, and names of exercises. Often, the patient and the doctor have lively conversations about ordinary life where they joke trying to distract themselves from the pain. I also act as an emotional interpreter, who has the urge to catch everything and translate it into simple language so that they can understand each other. Emotionally, it is very difficult to detach from the patient's story. They share a lot, they even cry. And often they do not want to tell their relatives and friends about having amputations. They only decide to them when they are already able to stand using prosthesis."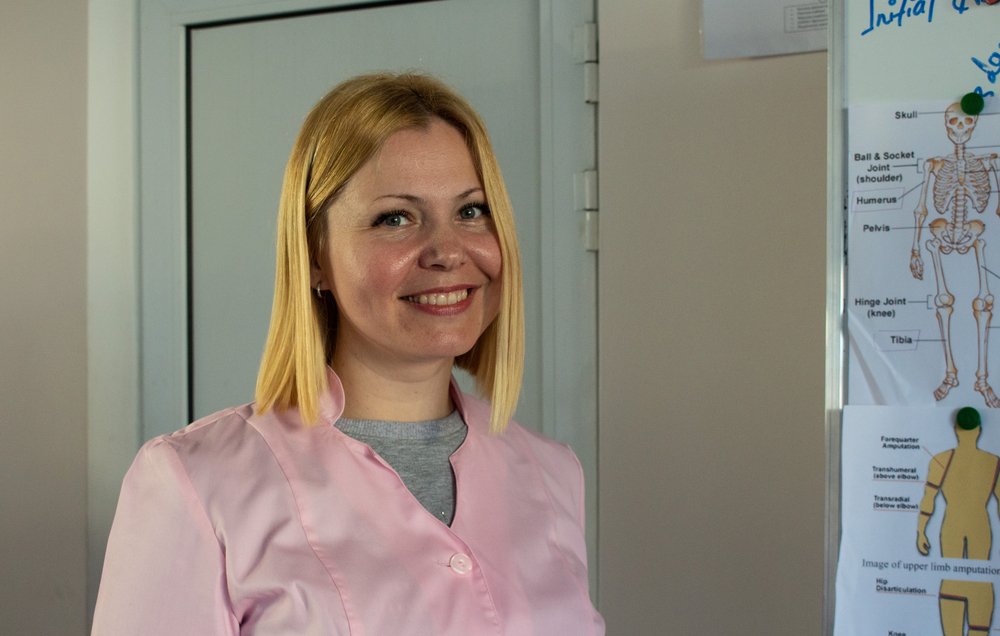 Natalya Sobko, MSF deputy project coordinator
Natalya works on the physiotherapy project that is implemented by MSF in Kyiv and Vinnytsia.
"I like working with such an incredible team, where each one of us comes from a different background but we all serve the same noble goal of helping others in need. I feel joy and gratitude for having the opportunity to help people. I believe that by helping others, I change myself for the better."
Birgit Schoenharting, MSF project coordinator of the physiotherapy project in Ukraine
Birgit coordinates physiotherapy activities in both locations in Vinnytsia and Kyiv. She originally comes from Germany.
"To be here is to feel like a small part of the bigger team of Doctors Without Borders (MSF), which you can find where the needs are. We bring in the expertise and provide services, that could help the people in Ukraine who suffered from the war return to normal life. I was touched by the story of a woman who lived close to the front line. She stepped on a mine. And lost part of her leg. Despite the severe injury, the woman is full of optimism. Her smile is a sign of hope for all other patients. MSF physiotherapists are preparing her for prosthetics."
Dr Iryna, Medical director of a clinic in Vinnytsia
MSF signed a memorandum of cooperation with the centre. We are running this project to provide physiotherapy assistance to the war wounded and to train Ukrainian personnel on rehabilitation protocols according to European standards.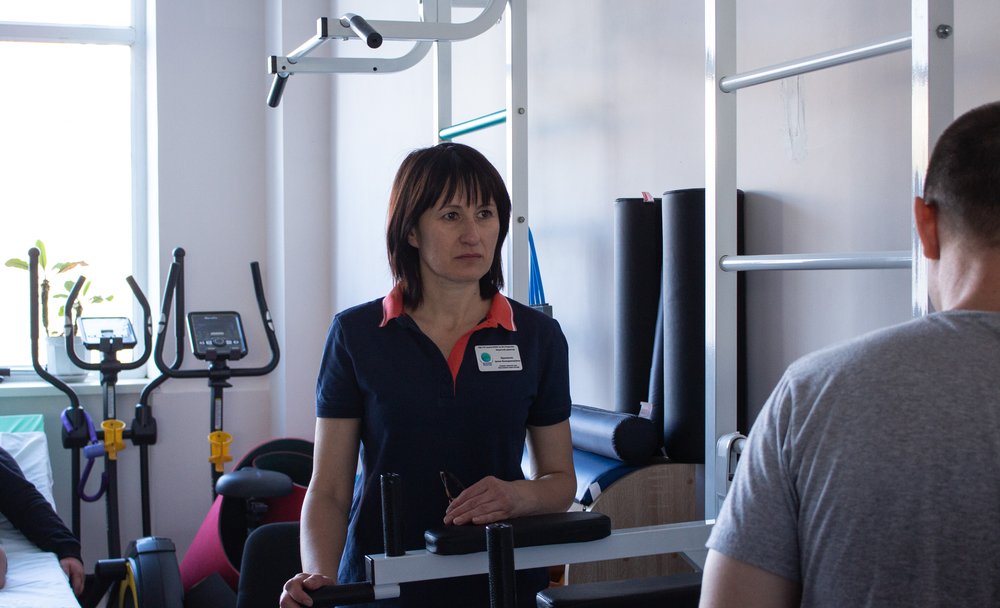 "The Ukrainian health system was not ready for such a challenge. Currently, we have 90% of the patients with amputations in our physiotherapy departments. We don't have expertise in dealing with severe injuries caused by the war, such as multiple shrapnel wounds and anatomical defects. We are grateful for the opportunity to work together with Doctors Without Borders (MSF) because we know that the war will end, but people with amputations will still need to be  supported."