India: Second wave of COVID-19 pushes health system to its limits
The second wave of COVID-19 is reaching extremely alarming levels in India. Médecins Sans Frontières/ Doctors Without Borders (MSF) has scaled up its intervention in Mumbai, Maharashtra, where the increasing numbers of cases have been devastating to the healthcare system.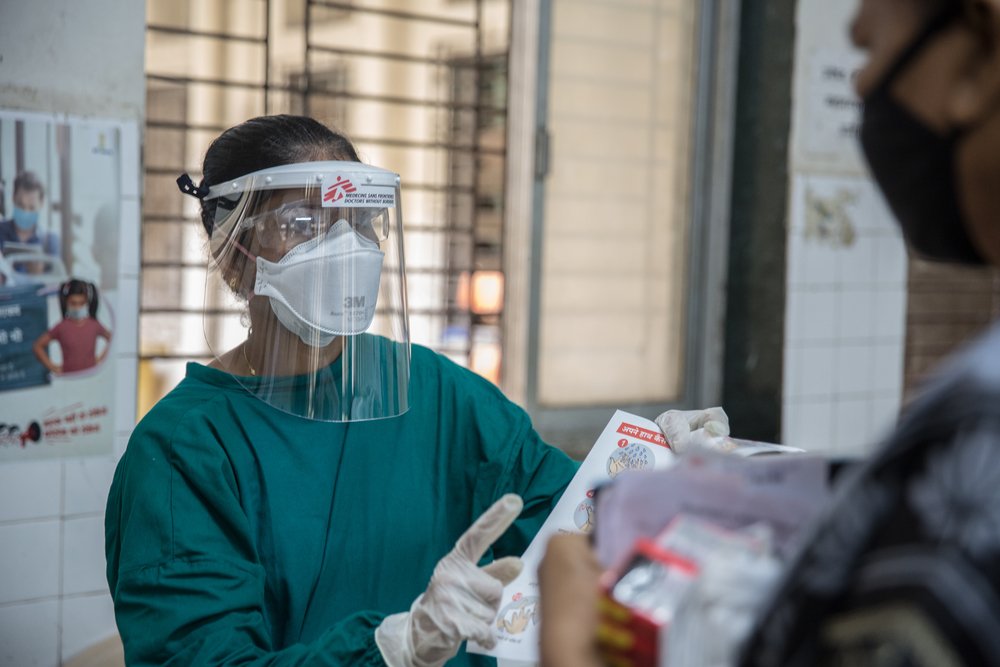 "No one was ready for the second wave… In a very short time, it's turned into a major crisis. The authorities here are well-organised and are adapting to the situation as it evolves as best they can. But as the cases increase, it's getting harder to find beds," said Mabel Morales, MSF Medical Coordinator.
MSF has mobilised 60 staff and is in the process of recruiting additional teams with COVID-19 experience. The team includes doctors, nurses, anaesthesia technicians and psychologists to support BKC hospital (also called Jumbo Hospital) in Mumbai, a 2,000 bed facility, treating moderate to severe COVID-19 patients. 
"It's a makeshift hospital in a huge metal tent. Walking into it the first time was a surreal experience; I've never seen anything like it. It's like walking into a huge ship. The ceiling is really high, but the ventilation is not great. During the morning, Mumbai becomes very humid. It's excruciatingly hot. And working in a protective suit for eight hours; it's unimaginable. The heat is almost too much to take," said Gautam Hari Govind, MSF Medical Activity Manager in Mumbai.
The current surge in severe COVID-19 cases has increased the number of people requiring hospitalisation and oxygen therapy, which is why MSF has begun supporting dedicated COVID-19 health centres in Mumbai. Human resources are stretched and with the increasing number of cases and those in need of hospital beds, it is likely that the health system will be under further pressure. 
"Doctors and nurses are completely overwhelmed and overall access to health care is compromised. Our teams are also working hard to strengthen infection, prevention and control measures as we are concerned about the risk of infection of health care workers. A crucial objective is to keep our teams, and all health workers, safe and protected so they can continue to provide care and help mitigate the spread of the virus," said Daniela Garone, MSF medical Advisor.
MSF is also worried about vulnerable populations and people with other illnesses, such as diabetes, HIV and/or tuberculosis and their ability to access medical care, including oxygen therapy. An important part of MSF's intervention is ensuring continuity of care to 950 drug-resistant tuberculosis patients at Shatabdi hospital and 114 at the MSF Independent Clinic. MSF is scaling up screening, shielding, testing and referral activities at the hospital, in the community and at nine health posts. 
MSF's health promotion teams have also restarted digital health promotion and water and sanitation activities in M-East Ward of Mumbai as well as providing infection, prevention control information and distributing hygiene kits including masks.  The city is densely populated with almost 42 percent of the population living in low-income housing with poor hygiene facilities which put them at a very high risk of infections. 
Will you support
our emergency medical work?
Médecins Sans Frontières is providing support and medical care around the world to counter the COVID-19 pandemic. We're providing essential care through dedicated COVID-19 facilities, equipping frontline medical staff with PPE and training, and supporting health authorities through testing and community education.
With 50 years of experience fighting epidemics, we're committed to protecting the most vulnerable and saving lives.
Can you help increase our capacity to respond to emergencies like COVID-19 by making a donation today?