Nauru: 7 Things You Need To Know
In February 2019, changes in Nauruan law meant MSF had to suspend its telehealth providing remote psychological support to former patients. The service attempted to provide continuity of care to the Nauruan, asylum seeker and refugee patients that MSF was abruptly forced to leave in October 2018. Here, we address the things you need to know about the context and our work on the Island. 
1. SEEKING SAFETY IS NOT A CRIME
Under international law, refugees and asylum seekers have the right to move between borders to access protection, food, shelter, and medical care. Today, there are 68.5 million forcibly displaced people around the world – more than at any time in modern history. These are people who have fled extreme dangers, whether to escape bombing, civil war, violence, or other life-threatening circumstances. Those who have been uprooted from their homes often face further struggles on their journey to find safety, including lack of access to essential needs like clean water, food, shelter, personal security, and healthcare.
2. ASYLUM SEEKERS AND REFUGEES HAVE BEEN DETAINED
In 2012, the Australian government reinstated its offshore processing policy, which meant all asylum seekers attempting to arrive in Australia were detained and processed on Nauru and Manus Island. Until October 2015, refugees and asylum seekers on Nauru were detained in two of three 'regional processing centres' (RPCs). These were sites of detention, surrounded by fencing and patrolled by security guards, with a mixture of accommodation units and tents to house the detainees, and communal services such as toilets, showers and meals.
Conditions at these sites were notoriously poor, there were many instances of unrest, serious riots and thousands of incidents of abuse. The gates of the RPCs were not fully opened until October 2015, and while some refugees settled in community housing elsewhere on the island, hundreds remained living in the RPCs for years to come. For refugees and asylum seekers who are not offered a US resettlement, there only option to leave Nauru is to go back to the country they escaped. They remain indefinitely contained on Nauru.
3. MSF'S ASYLUM SEEKER AND REFUGEE PATIENTS WERE TRAUMATISED BEFORE ARRIVAL
MSF's asylum seeker and refugee patients on Nauru were an extremely vulnerable group; 75% reported experiencing traumatic events in their country of origin and/or during their migration journey, including combat situations and detention. Our data showed that refugees and asylum seekers who had been detained on Christmas Island during their journey were more likely to be suicidal than those who had not been detained there.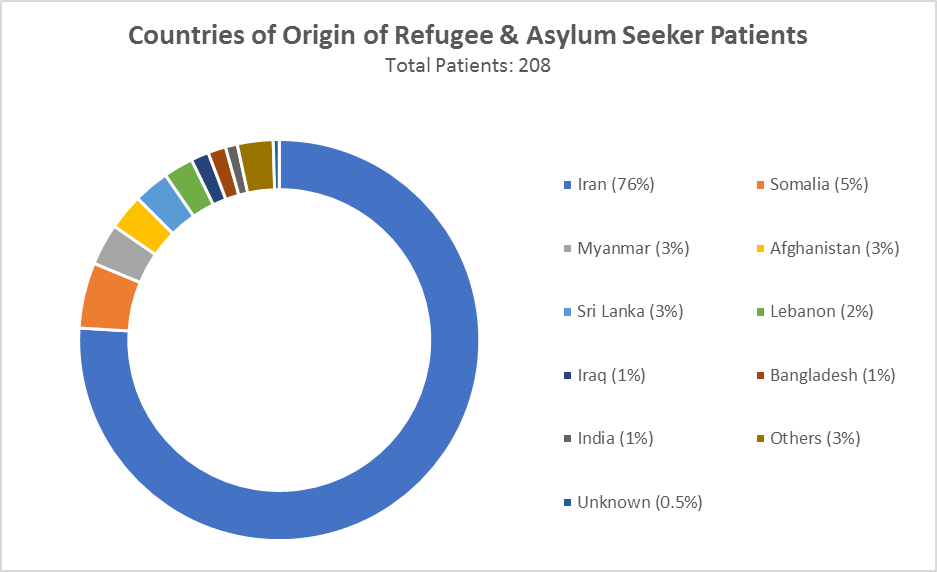 4. MENTAL HEALTH ISSUES ARE REAL
MSF's data showed the mental health suffering on Nauru is among the most severe MSF has ever seen, including in projects providing care for victims of torture. When MSF arrived on the island, people had not received treatment for at least 10 months. Some had relapsed into psychotic episodes, and as a result experienced significant levels of abuse and neglect. Among the 208 refugees and asylum seekers MSF treated in Nauru, 60 percent of patients had suicidal thoughts and 30 percent had attempted suicide. Children as young as nine were found to have suicidal thoughts, committed acts of self-harm or attempted suicide and 12 patients were diagnosed with resignation syndrome, a rare psychiatric condition where patients enter a comatose state and require medical care to keep them alive.
5. HEALTH PROVIDERS MUST ADVOCATE FOR THEIR PATIENTS
MSF's actions are guided by medical ethics, which means that we have a duty to provide care for those who need it, no matter who they are or where they are. Bearing witness and speaking out about extreme needs and unacceptable suffering are at the heart of MSF's mission. In light of this, MSF has a medical and ethical responsibility to speak out for the patients we were forced to leave in October last year.
6. INDEFINITE OFFSHORE PROCESSING HAS A NEGATIVE IMPACT ON MENTAL HEALTH
The alarming level of severe mental illness amongst refugees and asylum seekers on Nauru is closely linked to Australia's border protection policy. People's desperate sense of hopelessness, often leading to self-harm and thoughts of suicide, is linked to their fear that they may be kept on Nauru indefinitely, with no ability to build a life.
MSF observed a significant difference in the effect of mental health treatment, depending on whether patients were from the local community or were refugees and asylum seekers. Strikingly, more than half of MSF's Nauruan patients, although extremely unwell, recorded improvements under MSF's care. Only 11% of asylum seeker and refugee patients improved, while 69% deteriorated and 20% remained stable, despite receiving ongoing mental healthcare. This suggests that while MSF could stabilise some of these patients, without a change to their living conditions and asylum situation significant clinical progress was unlikely.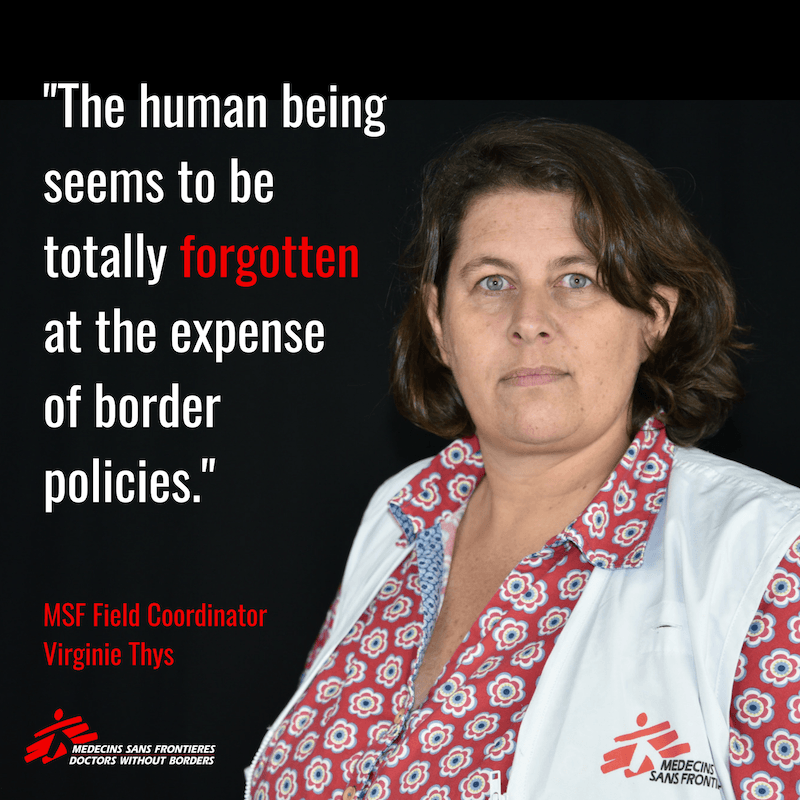 7.ALL ASYLUM SEEKERS AND REFUGEES ON NAURU SHOULD BE EVACUATED NOW
MSF reiterates the call to immediately evacuate all refugees and asylum seekers from Nauru to a place where they can begin rebuilding their mental health. MSF strongly believes that the safest way to prevent further harm, is to allow all refugees and asylum seekers to be evacuated from Nauru regardless of their current mental health condition. Recovery is possible, but it requires an environment of certainty and opportunity, with access to quality, comprehensive mental health care. Anything short of that will continue the suffering imposed on asylum seekers and refugees on Nauru.