Stories From Patients & Staff
Afghanistan: "If the hospital wasn't there, then those babies wouldn't have made it"
Australian Alison Moebus is a paediatric nurse who recently spent six months working as Neonatal Nurse in Dasht-e-Barchi hospital, Kabul, Afghanistan. Médecins Sans Frontières has run the hospital's maternity ward and neonatal unit since November 2014.
"The neonatal unit was set up in conjunction with the maternity unit to care for babies who unwell when they are born. I remember one little boy who had suffered from severe birth asphyxia – his mother had arrived after a prolonged and obstructed labour at home and as a result he hadn't received enough oxygen during the delivery. He was very sick for a long time. One of the more serious problems was his uncontrolled seizures. Just when we thought we had the seizures under control, they would start again. We devoted all available resources into keeping him alive, and to be honest I didn't think he'd make it. But amazingly, he did pull through. His mother came back to visit the hospital from time to time to show us how well he was doing, which was really lovely (and rewarding). It showed what you can do with limited resources – all we could give him was first line anti-seizure medication, oxygen, antibiotics, fluids and naso-gastric feeds as he began to improve. But we were able to help him and keep him alive.
Afghanistan has the highest rate of maternal and infant mortality of any country outside Africa, which is one of the reasons Médecins Sans Frontières decided to open the project. When I arrived in February the maternity ward was delivering around 600 babies a month, and by the time I left that had increased to around 800-900 deliveries a month. The neonatal unit had also expanded, from 15 to 20 beds, as more people found out about our services.
Asphyxia was one of the most common complications that we saw in the neonatal unit, but we also looked after lots of babies with infections, breathing difficulties and blood sugar problems, as well as low birth weight babies. There was one mother whose baby weighed just 1520g, and was really sick post-delivery. I was with the mother on the first day that her baby girl was well enough to be held. It was amazing to see how much she had improved and was such a special moment to share.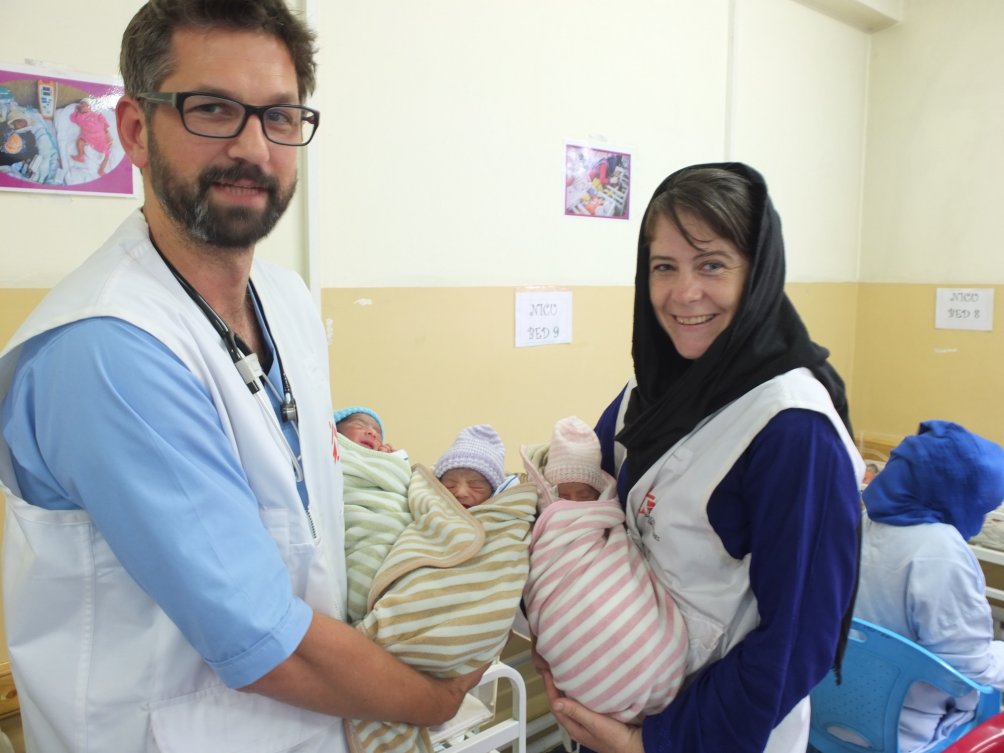 "It showed what you can do with limited resources ... he began to improve. But we were able to help him and keep him alive"
Sharing Skills
My role was to supervise the neonatal unit, along with the paediatrician. I was responsible for training staff, sharing skills and the day-to-day running of the unit. The most rewarding aspect was working with local nurses who were so eager to learn (most of the time)! Sometimes I'd think 'they're not listening to me, or not interested', but then the next day I'd see them implementing what we had been talking about. One day we discussed the relationship between hypoglycaemia [low blood sugar] and hypothermia in babies. A few days later when I arrived on the unit the nurses where excited to show me a baby who had been brought in overnight with hypoglycaemia and hypothermia. The nurses had ensured the baby had been fed and warmed up, checking his vital signs frequently, just as we had discussed earlier in the week. Watching the nurses develop their skills and knowledge, and implementing new practices was fantastic to see and really rewarding. All the staff were female and it was lovely to see how keen they were to help other women in their country.
Some arrived too late
Some mothers unfortunately came in too late for their babies to be assisted – they were already in foetal distress. If there was more antenatal care and health education available, some of those deaths could have possibly been avoided. There were also some cultural aspects that affected the medical care. For instance, women need a male to consent to any procedures, and there were cases where that affected the outcome for mother or baby, which was sometimes extremely difficult to deal with as a nurse.
Dasht-e-Barchi is a relatively safe part of Kabul. But even so, everyone knew someone who had died, or had been injured as a result of the war and ongoing unrest. After decades of wars there has been very little investment in health infrastructure and access to health information is also poor.There were also lots of challenges because of the limited resources. The team did an amazing job with what we had, but knowing that we could do so much more if we were in a developed country like Australia – that was a struggle on both a personal and professional level.Having said that, we were able to help the vast majority of babies in our care. Sometimes after babies are born, all they need is a little bit of ventilation to help them start breathing. We saw a lot of babies like that. And if the hospital wasn't there to provide those services, then those babies wouldn't have made it."