Stories From Patients & Staff
Alan Scott is a surgeon who worked in Nigeria and the Democratic Republic of Congo.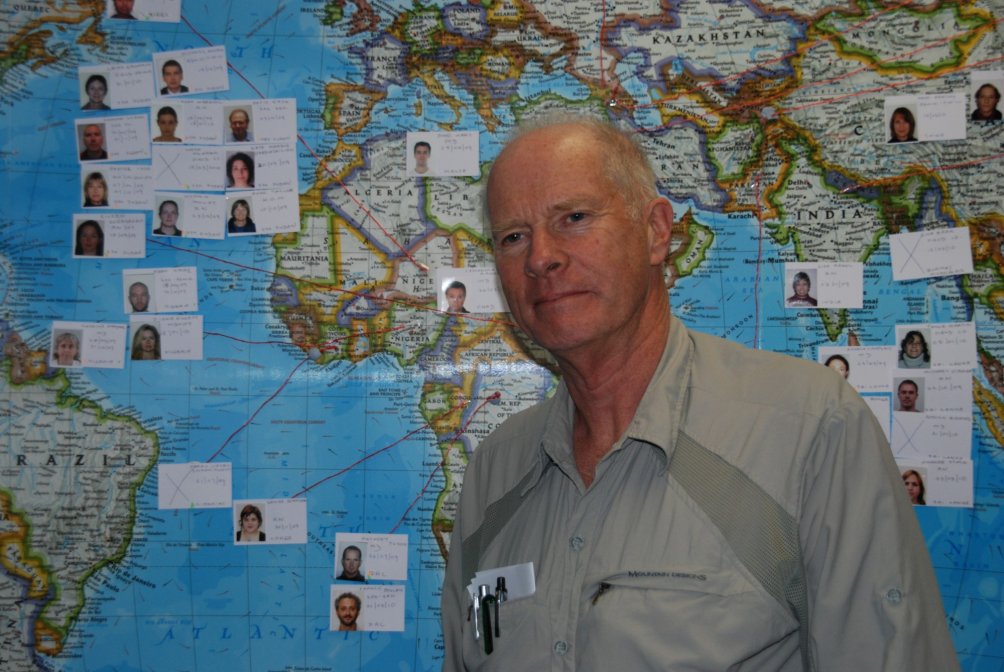 I became a surgeon in Scotland and then in 1978 I took a job at the University of Tasmania as a lecturer in Surgery. I have called Australia home ever since though I go back to Scotland from time to time. In Tasmania, I was in practice in Hobart, Launceston and Burnie. I have also worked in Brisbane and towards the end of my career I spent six years in Perth. For most of my career I was a general/vascular surgeon, but during the last few years with the advent of increasing specialisation I worked mainly in the area of vascular surgery. I have been involved in work with the College as Chair of the Tasmanian State Committee Chair of the Surgical Teachers Group and Chair of the Board of Vascular Surgery. Throughout my career I have been involved in humanitarian aid work, mostly in the Pacific. I have worked in Fiji, Solomon Islands, Papua New Guinea, East Timor and Samoa. I also spent a short time in Yemen and Tanzania doing a few cases with the local surgeons. I find working in developing countries and places experiencing conflict surgically and emotionally challenging.
In 2007 I began working with Médecins Sans Frontières. My first placement was to Nigeria where a hospital had been set up in Port Harcourt in the Niger Delta, to help people affected. I was the only general surgeon, along with two orthopaedic surgeons - one a national and one an expat. This hospital dealt solely with trauma, sometimes as a result of interpersonal violence, but also with road trauma. I was responsible for the chest, head and abdominal trauma and was there for six weeks. Most surgical placements are for short periods as often you're the only surgeon and you work long hours. Around four to six weeks is about right as I feel the physical demands of doing it for more than six weeks would becoming taxing, both physically and mentally.
"You often feel out of your comfort zone, but you have to think I have to try this because if I don't, no one else will."
The following year I was asked to go to the Democratic Republic of Congo (DRC). I accepted and was posted to the Médecins Sans Frontières hospital in Rutshuru in the east of DRC. The nearest city was Goma, but we were based in a country area where there was a high need for a functioning hospital because of fighting in rural areas. You often feel out of your comfort zone, but you have to think "I have to try this because if I don't, no one else will." Sometimes you feel inadequate in these circumstances, but it's you or nobody. From a clinical perspective you are dealing with everything, regardless of your specialisation. It seems daunting, but it can be hugely rewarding. Most of the time you're seeing very different things - things that are unusual or that you may have seen in a text book, but certainly not in real life. I was 65 when I went to the DRC and there I saw, for the first time in my career, two cases of perforated typhoid ulcers and a tragic case of gas gangrene in a young woman of 24 following an illegal abortion. Unfortunately she presented after a delay of two days and was dead within 24 hours.
At times it can be difficult. You have to be prepared for anything and make do with what you've got. You don't have sophisticated diagnostic facilities. You have your ears, eyes and stethoscope, and sometimes a portable ultrasound. In Africa and the Pacific people only go to the doctor when they are seriously ill, and there are clinical situations that you simply don't see in Australia. The places I've been I've mostly dealt with traumas of one variety or another. In the DRC bullet wounds were the most common inflicted injury that required surgery. AK47s can do a lot of damage to the human body. Serious burns caused by intentional and accidental acts would have been the second most common injury. I also did obstetrics in the DRC which provided a good balance, as obstetrics was an area where a small act on our behalf could make a huge difference. It wasn't rocket science, but it was very satisfying to get some good results. Caesarean Section is the most common emergency surgical procedure throughout the world and it is a procedure that any surgeon going to a remote area would master. Throughout the world approximately one woman dies every minute in obstructed labour.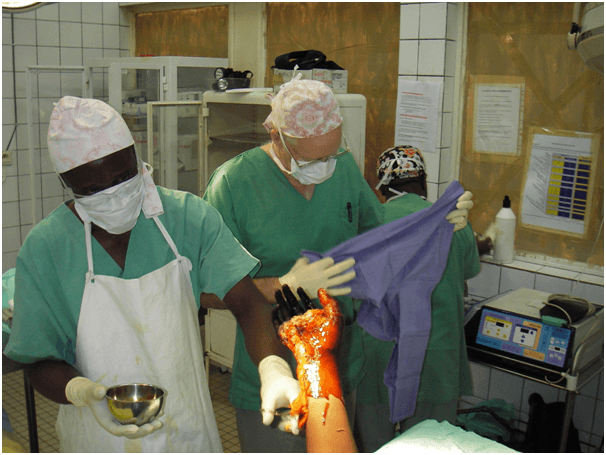 The most rewarding things in these environments are the simple things. Seeing people walk out of hospital when they have been injured or very sick and knowing it would have been a different story if you hadn't been there. The hardest part is seeing people, particularly young people, dying of treatable diseases like malaria and tuberculosis. When you've got the worst combination of factors - poverty, disease and war - what hope do these people have? But perhaps even making a small difference is worthwhile. What I like most particularly about Médecins Sans Frontières is its commitment to bearing witness. It sees an atrocity occurring and it speaks up. That is what humanitarian assistance should be about.
Working with Médecins Sans Frontières means having access to often the best facilities in that country. The organisation provides good instruments and well-trained staff who are selected very carefully. You couldn't complain about what's available to you. Their diathermy machines and ventilators are very adequate. I've worked in placed that didn't have diathermy machines and it was like going back to the 1930s. Médecins Sans Frontières is also very, very efficient. They meet you at the airport, they take you to where you're going and they look after you. This hasn't been the case for other aid organisations I've worked with. Most important of all they take the security of their staff very seriously.
There's a tremendous camaraderie within Médecins Sans Frontières. In Africa I met people from France and other European countries, as well as the local staff. Many of them are half my age, but we still keep in touch. Living conditions are primitive, but you aren't there for a holiday and you keep each other going. When it gets really dangerous you're pulled out - your safety is always put first. For me one of the best things is helping to teach local doctors. I have always loved teaching and the local staff are all keen to learn and are enthusiastic. Médecins Sans Frontières puts a lot of effort into training and building the skills of local staff. I am currently trying to improve my French so I can go back and do more teaching work in Africa. When people ask why I do this work, I tell them it's for two reasons. Firstly, I like to work with sick people. I enjoy the challenge and working in these environments is certainly challenging. Secondly, you feel like you're making a contribution, however small it might be. I know I'm not changing the world, but I've made a small contribution, and for the people whose lives we've saved, it's a big difference.