Stories From Patients & Staff
Bangladesh: "They build shelters from material Aussies would use as bin liners"
 Dr Evan O'Neill is an Australian doctor who has worked in emergency medicine and paediatrics. He is currently working as the Medical Activity Manager in Bangladesh in response to the Rohingya crisis.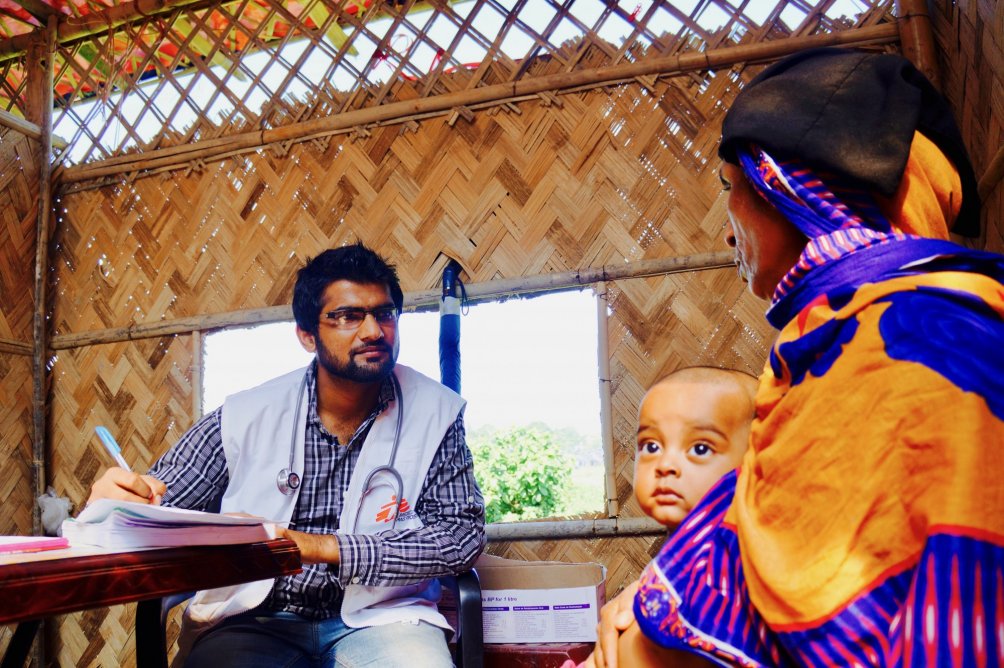 "The MSF doctor's sweat drips, as he tries to avoid it dropping onto the febrile and naked Rohinghya infant whose pulse he softly reaches to touch. The trademark, once-white MSF t-shirt contrasts with the clean Niqab of her mother. She sits as erect and resilient as the expertly assembled bamboo keeping MSF's Uchiparang clinic together.
The girl's pulse is quick, but not too fast for her mild fever – or her fear of this strange sounding Aussie speaking slowly with the local Bengali doctor. She cries with actual tears, has a fullness to her lips and sucks with gusto as she savours Oral Rehydration Salts (ORS). This gives some succour from the suffering of her slippery diarrhoeal disease. Her wriggles reassure the doctor. When they're really dry they can't cry like this. I smile as she slurps and the doctor stretches for his stethoscope.
"I smile as she slurps and the doctor stretches for his stethoscope"
Listening to her lungs first confuses the infant, a window for auscultation before a cry brings forth further ocular drizzle. The doctor's gentle hand then gives her belly a gentle prod. One need not question the content of her diarrhea. I can see it from the side of the room. She sits in a puddle of it, atop the soft, colourful cloth that clads her backside. A cloth that I offer to replace with a spare towel I grabbed earlier for my sweat. Mum politely declines and folds the cloth with dignity. 
I'll spare the details, as doctors could describe poop like a maître de describes daily specials. Thankfully, this child doesn't need a referral to our inpatient facilities down the road where patients are hydrated through gastric or intravenous lines. A tight, translated chat offers the doctor enough information to confirm that this is one of the milder cases of today. She is prescribed the necessary ORS to sustain this tyke through her leaky affliction. MSF will provide water, which is a crucial part of the recovery process. I suppose it goes without saying that the life saving ORS don't go so well when diluted in water pumped within sight of an overflowing latrine. 
"I'll spare the details, as doctors could describe poop like a maître de describes daily specials"
MSF will see many patients that day in a small clinic. We take delight in the smiling bubs that giggle and coo. But when there are patients waiting that can only gurgle, staff must move quickly. Attending the many and dispensing the necessary is more of a delicate dash than dance. Diarrhoeal cases dominate and the runny excretions reflect the austere conditions. Here the 'runs' can quickly become fatal. 
Hundreds of thousands of Rohinghya have been uprooted and are now in the rural slums of Southern Bangladesh among incredibly generous locals. They build shelters from material Aussies would use as bin liners. They are incredibly resourceful with bamboo and they wait patiently in lines that stretch like those for an AFL grand final for basics, like rice. But while building camps with such resilience people stare. People look into the distance with a devastating lack of expression. The trauma is written on their faces and their outlet is to wait in line.
There might be over one hundred waiting patiently, the morning already hot and dense, when ​MSF staff arrive at the clinic. We​ triage the urgent cases; unfortunately there are too many to see absolutely all and some that can wait will need to do so until the following day​. Clean water and hygienic conditions will bring some stability as this crisis swishes and gurgles forth. The need here is immense and this is just the beginning."