Stories From Patients & Staff
COVID-19 in Nigeria: "We are also fighting the virus here"
Dr Salih M. Auwal is a Médecins Sans Frontières doctor and COVID-19 focal clinician working at Shinkafi clinic in Zamfara state, northwest Nigeria, where we provide care for malaria, sexual violence and other health needs.
Here, Dr Awaul explains why he and other health professionals in Nigeria urgently need global support to protect people from COVID-19, as they face the country's third wave of infections.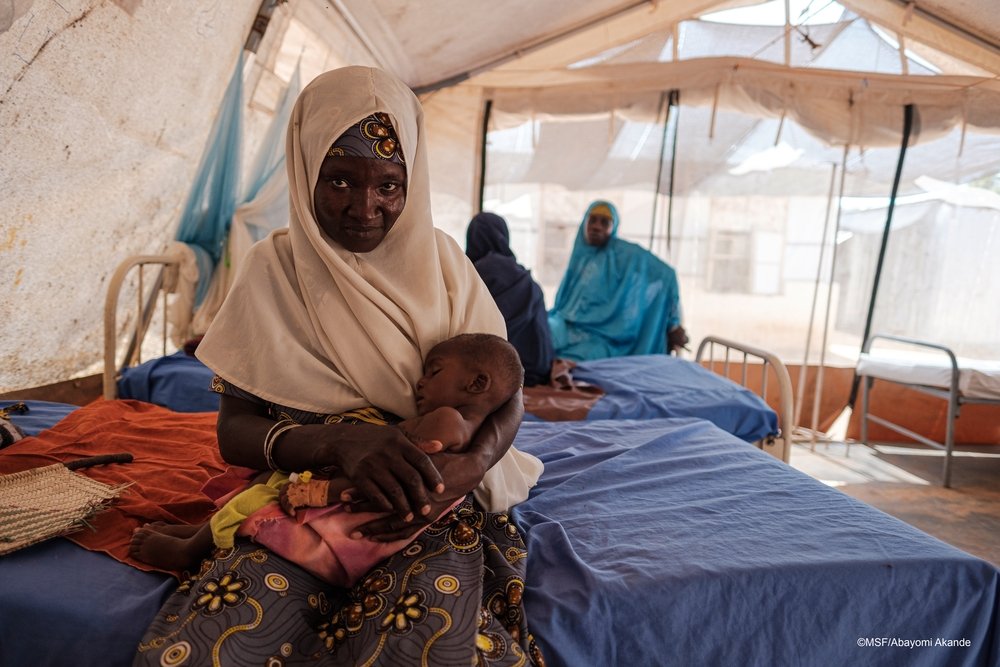 I am responsible in our clinic for ensuring that no one brings in COVID-19. So far, we have succeeded. Every patient is screened and tested. As a result, we have detected quite a few cases. Of course, I'm always a little worried of catching it myself. But we have enough protective equipment in our clinic. The situation is different in the state clinics. There, to this day, the staff does not have sufficient masks, sometimes not even gloves. 
In Nigeria, if you come as a patient with a suspicion of COVID-19 to the admission of a state hospital, you are not treated immediately. First you have to bring gloves and masks yourself. Many colleagues in state hospitals have been infected. Nevertheless, they continue. Because we as doctors and nurses have a duty to the people here. 
We are doing our part to stop this pandemic, for Nigeria and for the world. But we don't stand a chance if the politicians who decide on the vaccines let us down.
I have heard that in Australia, around 35 per cent of adults are fully vaccinated. I am pleased about that. I'm a doctor, I don't discriminate according to where patients come from. Therefore, every high-risk patient who is vaccinated is good news for me. But I do wonder: what about the high-risk patients in my country? 
Every high-risk patient who is vaccinated is good news for me. But I do wonder: what about the high-risk patients in my country?
At the time of writing, Nigeria has now received around 8 million doses of AstraZeneca and Moderna vaccines through the COVAX initiative [a global mechanism co-led by the World Health Organization, the Coalition for Epidemic Preparedness Innovations and Gavi aimed at equitable allocation of COVID-19 vaccines], and from the United States. That's good, certainly. But it's only enough for two out of 210 million people—less than two per cent. We have already had more than 2,000 deaths from the virus in our country.
It's not easy to fight COVID-19 here. Not just because of the lack of vaccines and protective equipment. For example, in the government clinic near us in the city, there is no oxygen at all, for anyone. If you are a patient with a severe course, you simply have poor chances. Especially in areas like this, shouldn't people be protected as quickly as possible? 
The pandemic has hit us all, in all countries. Let's defeat it all together, too! There is no other way. Why haven't all the factories around the world that are somehow able to do so joined in the global production of vaccines? Every day that too little is produced costs human lives, in Nigeria and in many countries of the global south. 
As a physician, I am committed to acting solely in the best interests of people. No other interest shall influence my decisions. But whether people here can be vaccinated or not, whether soon or in two years from now, does not depend on my decision. It is decided far away for us, about us.
I can only appeal to those who are responsible for it: don't forget that we are also fighting the virus here. Help me to help people and to end the pandemic.