Stories From Patients & Staff
DRC: Part 4 – "It's these patients that stick with you and make it possible to carry on."
After a challenging yet rewarding six months in DRC, Marina is ready to return home to Melbourne.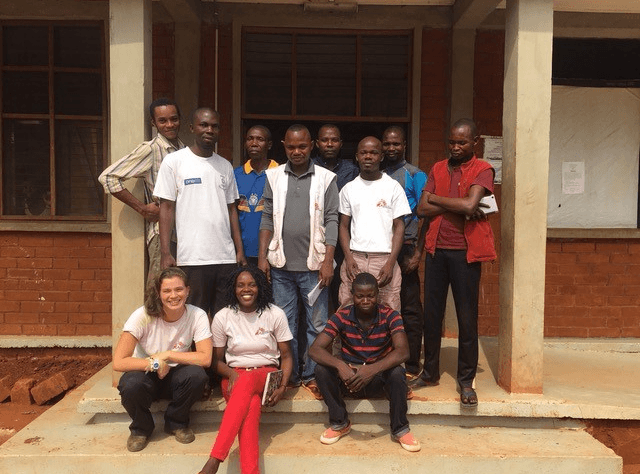 Before I left for a short break, I met a severely malnourished eight-year-old girl who also had a bowel perforation from typhoid fever. Her malnourished state meant she was super high risk for surgery, but I was adamant that a perforated bowel that went unfixed was a guaranteed death instead of a very, very likely one. The local surgeons eventually operated, cut out the perforated bowel, and gave her a colostomy to be reversed later. 
Remarkably, she made it through the surgery and I looked after her post-operatively. But I went away expecting that she might die of a wound related infection or of a complication of her severe malnutrition. 
"She'd gone from being a skeleton in a bed to a girl playing with other kids outside in less than a month."
When I returned, I was walking between two of the hospital buildings when I heard, "Mama Marina! Mama Marina!" ('Mama' is a title of respect in Congo, like 'Ma'am'). I saw a smiley little girl holding out her hand to shake mine. "Don't you recognise her?" asked one of the doctors, "She's the one with the colostomy!"
It really was her and she was absolutely unrecognisable. She'd gone from being a skeleton in a bed to a girl playing with other kids outside in less than a month – she even had chubby(ish) cheeks! She's still at the hospital, getting treatment for malnutrition so that she's fit for surgery to reverse her colostomy and live her life.
Every day after that, I'd walk by and alongside her sister and friends, they would all line up for a round of high fives as I moved between wards. We tried the hand clapping games that seem to be universal to girls all around the world, but I've lost the knack since I was eight – so we're sticking to high fives!
For all the tragedy I've seen in the last six months, it's these patients that stick with you and make it possible to carry on. 
These last six months have been really full on and although I'm sad to leave the team behind, I'm definitely happy to be heading home. Working with MSF has been a dream for so long and I'm glad that it was everything that I thought it would be – challenges included. I've met some great people and my French is pretty good now – although I'm sure there are now Belgian and Congolese influences thrown in to my mixed accent.
The last goodbyes were hard. I'd held it together up until the point where one of the cleaners who almost never says a word got teary saying goodbye to me. That was it, game over, hello teary eyes! As I was leaving Bili I had a quiet moment of reflection in the car, when our logistician radioed our vehicle telling us to tune into one of the channels. Suddenly there was Congolese rumba over the radio to accompany us on our departure – what a way to say goodbye!
Dr Marina Guertin was placed in Bili for six months during 2018.