Stories From Patients & Staff
Emergency Medical Coordinator with Médecins Sans Frontières
Aucklander Vanessa Cramond's work with Médecins Sans Frontières/Doctors Without Borders (MSF) has taken her from Zimbabwe, to Sudan, Syria and the Amsterdam Emergency Support Desk over more than 12 years.
What was your background prior to joining MSF?
I started my nursing career in Auckland and London in the late 1990s, working in emergency medicine and infectious diseases/HIV care at the tail end of the HIV/AIDS pandemic. I had always planned to work in the international humanitarian sphere, and went on to work as an expedition medic in southern Africa, and in HIV projects in Botswana and Nigeria, before coming to MSF in 2006 to work in HIV projects in Zimbabwe.
Our Emergency Medical Coordinators are responsible for the planning and coordination of all medical activities in an emergency response, including defining project objectives, priorities and resources needed to address the medical and humanitarian needs of patients.
After more than 12 years of work with MSF, is there an assignment that stands out for you?
All of them do, but working in the Syrian crisis challenged me the most. I first went to Syria with MSF in late 2013. Between 2014 and 2016 we provided mostly remote support due to access challenges because of the war, and finally in 2017, I was lucky enough to return to Syria as Emergency Medical Coordinator when access allowed. At that point, the Syrian people had faced six years of devastating conflict: the health system was severely disrupted and the health and humanitarian needs were growing and changing every day.
Our teams provided trauma care for people on their very worst of days, when they experienced injury as a direct consequence of the bombing and conflict. At the same time, we were trying to deliver essential healthcare to ensure safe births, vaccinations and management and treatment of infections and illnesses. It was both a huge responsibility and a privilege to support Syrian communities during those times, when they had already lost so much. I was proud of the care we were able to provide.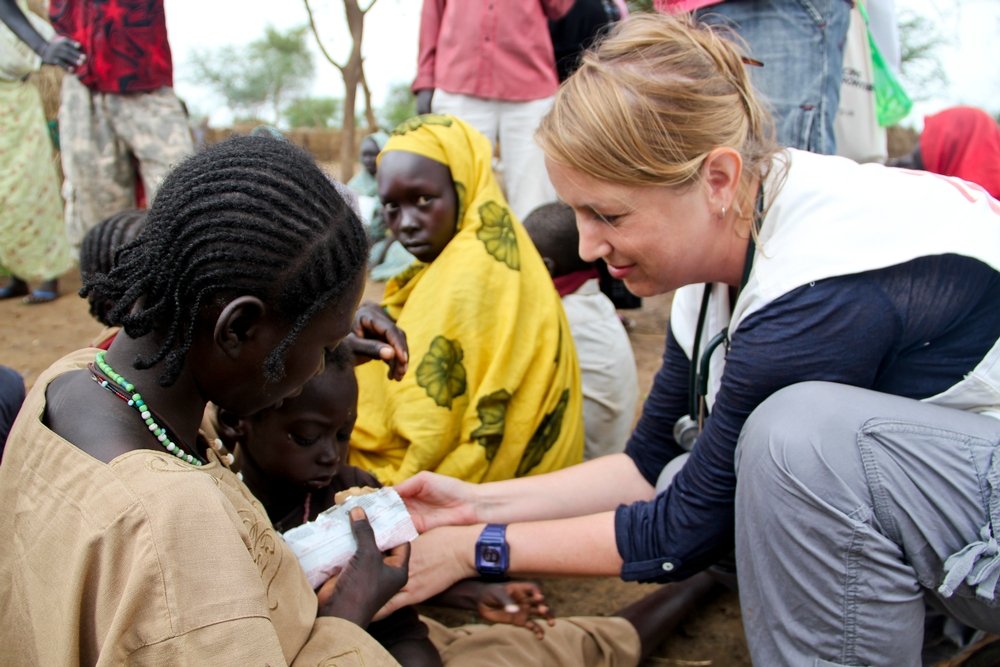 What challenges have shaped your time with MSF?
Providing medical care in low resource or conflict-affected settings requires thinking about what people have the right to – because healthcare is a human right, not a luxury or privilege – and knowing that even with the means MSF has, some needs will still go unmet. Right now, the COVID-19 pandemic is likely bringing that home for healthcare workers everywhere: what it's like to work when the needs of patients go beyond your means. Many countries are having to decide where to allocate sparse resources, and overwhelmed healthcare systems are unable to provide the extent of medical services needed. These are the types of tough situations you face as a health professional in a humanitarian setting, but you have to focus on what you can do and who you can help
"Right now, the COVID-19 pandemic is likely bringing that home for healthcare workers everywhere: what it's like to work when the needs of patients go beyond your means."
What's your advice to others wanting to do this work?
Expose yourself to as many aspects of clinical practice as you can – from emergency medicine to obstetrics – and develop a varied skill set. I completed a Masters of International Health to deepen my understanding of planning and implementing health programs. Having a good support system at home is vital. Get to know yourself and how you respond under pressure, or when your normal coping skills are challenged. The learning you gain from this type of work might be tough and at times confronting, and it will challenge both your clinical skills and how you view the world, but it is so very worth it.
What's next for you?
Through my work with MSF I've become a passionate advocate for vaccination and its role in keeping kids healthy, and right now I've taken a role with the World Health Organization working with the Global Polio Eradication Initiative. I'm having a break from MSF but I'll be back; it's not just a job for me, it's an integral part of who I am.