Stories From Patients & Staff
Ethiopia: "His father's decision to walk three hours with Mohammed to our mobile clinic in the bush was the right one"
Kay Hodgetts is a doctor from Blenheim, New Zealand, who recently spent six months working in Deghabur, Ethiopia, where Médecins Sans Frontières supports the regional hospital.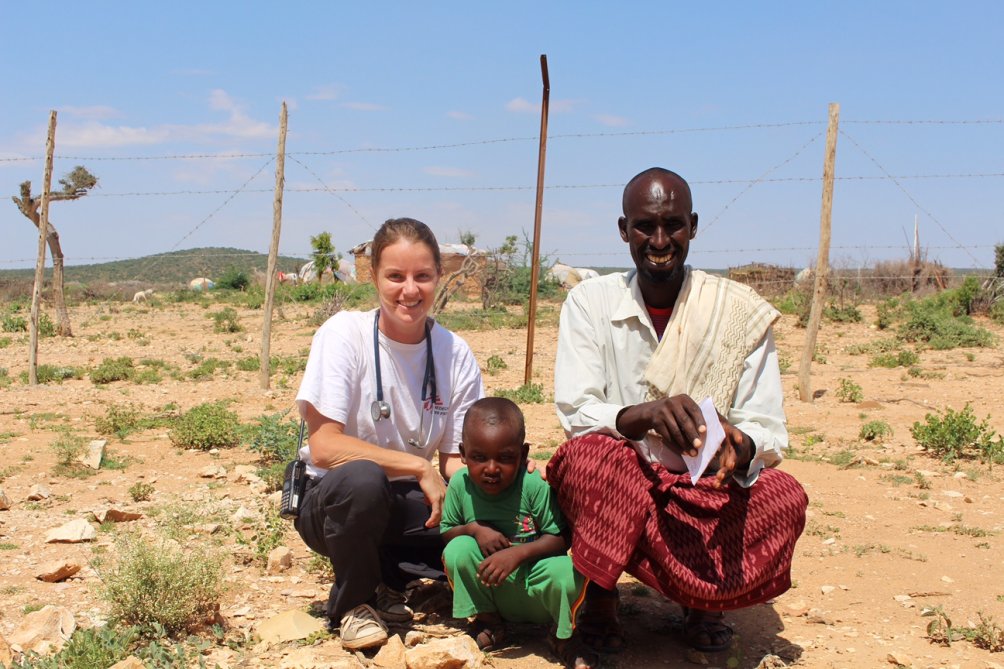 "Working in the Somali region of Ethiopia, rife with malnutrition following years of conflict and drought, it is routine for us to come across children with severe acute malnutrition and start them on the multifaceted path to recovery. During the usual triage at the beginning of our weekly visit to an abandoned rural health centre, we notice a withdrawn child clinging to his father's leg. The many sores around his mouth are cracked and oozing and his cry when I examine him causes them to split open and bleed some more. His father's decision to leave the rest of the family at home and walk three hours with Mohammed to our mobile clinic in the bush was the right one. He knew Médecins Sans Frontières would be able to help; he didn't realise his son would be in for a very long road to recovery, one that would span several weeks, take him hundreds of kilometres from home and save not one, but two of his sons' lives.
Mohammed is malnourished. Slipping the conventional screening tool around his arm and checking his weight and height didn't exactly indicate this but the signs were there all the same. His brittle hair, the painful mouth sores and the white under his eyes which should have been a healthy pink, told the tale of a diet lacking in essential vitamins and minerals. As a result, his vulnerable body was riddled with infections; from the virus causing his high fevers, to the tinea creeping across his scalp, he needed care far beyond what we could provide in the bush that day.
"We plugged on with the treatment, his father holding his hand day in, day out; the only male caretaker on a ward full of boisterous Somali mothers"
Slow Progress
We bundle them both into the Médecins Sans Frontières land cruisers and start the bumpy road back to the hospital. Mohammed's progress was slow. His case was complicated. After an initial poor response we had to sample his bone marrow to ensure we weren't dealing with something much more sinister like a haematological malignancy or bone marrow cancer. We sighed in relief with the result; malnutrition and infection, but no cancer. We plugged on with the treatment, his father holding his hand day in, day out; the only male caretaker on a ward full of boisterous Somali mothers.
It took weeks and weeks but finally, Mohammed began to turn the corner. His fevers settled, he stopped crying, his sores healed, he smiled. At the age of four, what did Mohammed's diet consist of to allow his bone marrow to fail him? We discovered that the boy had a taste for milk, and only milk. We sent word that his siblings needed assessment. Next thing we knew, a smaller version of Mohammed arrived on the ward; his younger brother, Ahmed. Same diet, same problems, although at age two, he was even more vulnerable. Thankfully, the malnutrition treatment protocol and the dedication of a loving father stood true and both boys were successfully discharged.
A Vicious Cycle
Médecins Sans Frontières is well versed in the intricacies of treating malnutrition.Treating the individual is only part of the job. Mohammed had slipped into the vicious cycle of infection, poor appetite, malnutrition, more infections, worsening appetite and on it goes. Relying on food rations of maize to feed a household of 12 means that it is hard enough for his father to stave off the family's hunger, let alone provide a balanced diet.
Months later we are back at the same abandoned health centre running the same mobile clinic. I spot Mohammed's father. For a brief moment my heart sinks… what's happened; are they sick again? But no. This time he has come, hand in hand with two healthy, smiling Somali boys for one reason only. To say thank you."