Stories From Patients & Staff
Mediterranean Sea: Getting to the search and rescue zone
Kiwi logistician, Shaun Cornelius has previously been involved in search and rescue operations with MSF on the MV Aquarius, and in August this year Shaun was on the first rotation of the Ocean Viking, where MSF and SOS faced a 14-day stand-off.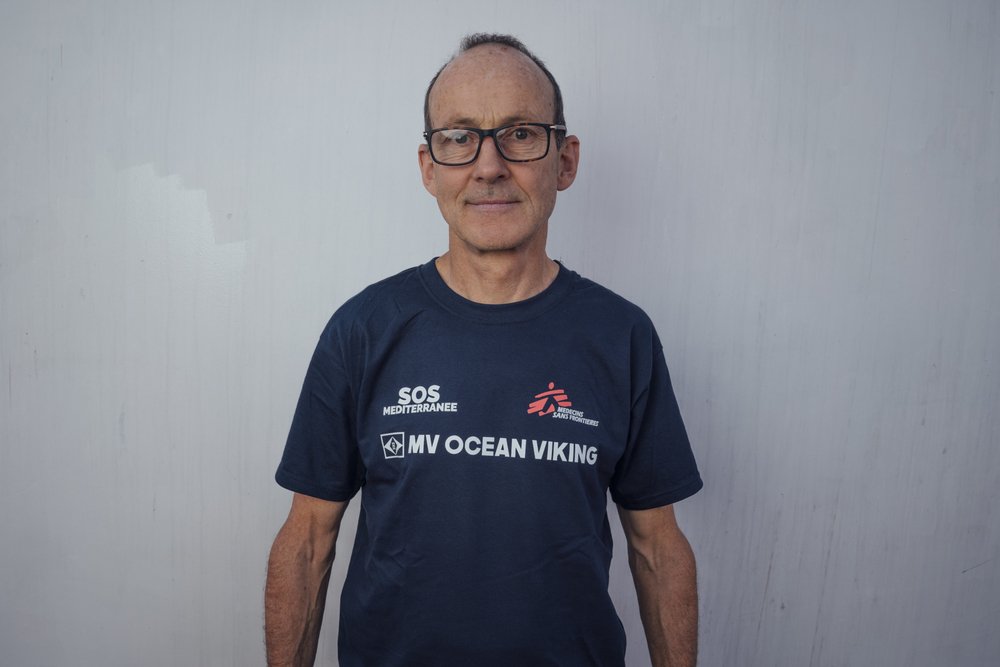 "Prior to reaching the search and rescue zone, we were all involved in various training activities, drills, preparatory work, and developing operational procedures for the new ship. I also used the time to finish off detailed construction and fit-out that we couldn't complete during the conversion, check the store's inventory, and re-stow supplies and equipment that were loaded in a hurry before we sailed.
Immediately before commencing a rescue, I am checking that the deck is configured correctly for rescue operations. As a team, we carefully go over the situation and plan for the rescue so that everyone is clear about what they need to be doing. For me, preparation involves making sure all the equipment and supplies needed during the rescue – and immediately afterwards – are positioned correctly and available for immediate use. It also means ensuring shelters are set up; no-go areas are taped off; toilets, showers and water systems are operational; and food and clothing supplies are ready for distribution.
During the rescues
As people come on board from the rescue craft they are triaged by the medics, to identify people in need of immediate care. Women and children are directed into a shelter run by the MSF midwife, while the men go through a separate registration process and to another larger shelter towards the aft of the ship. All are provided with a pack containing water, food and clothes.
Those coming on board are usually suffering the immediate effects of up to two days in an open boat: seasickness, hypothermia, dehydration and general exhaustion are common. Many will also be showing the physical effects of the poor hygiene and unsanitary conditions that they have been exposed to during the journey, or while held in detention centres. According to our medical team on board, ailments might also typically include violence or other trauma related injuries, as well as chronic diseases – exacerbated by reduced access to health facilities.
As a logistician, my role is to ensure the flow of people on deck is smooth, and that we move people through the operational area quickly. I also manage the main shelter area and, as people come through the registration process and receive their kits, I help them settle in. I explain what the kit contains, point out the toilets and showers and explain the basic rules they need to follow while on board. People don't always speak English, and I don't speak Arabic or French, so this usually involves a bit of miming and body language – if I'm lucky, I am able to identify someone in the group that can step in as translator! Things can get quite hectic if we have a lot of people arriving quickly, so it is important to maintain calm during embarkation.
The 14-day stand-off
The Ocean Viking can comfortably accommodate around 200 people in the covered shelters. To go beyond this number means having people sleep on the open deck areas, leaving them relatively exposed to the elements.
In August, within 10 hours of patrolling the Libyan search and rescue region, the Ocean Viking was alerted to the first boat in distress. What followed was four days of consecutive rescue operations with 356 men, women and children – the youngest just one year old – brought on board during four separate rescues.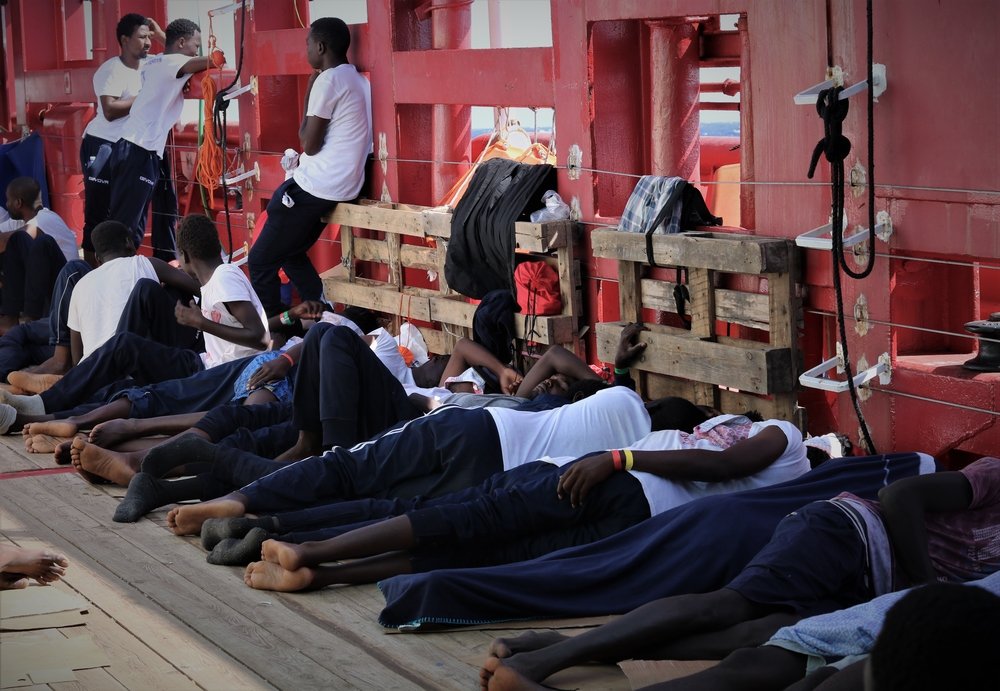 With 356 people on board, at night almost all free space on the deck was taken up with people sleeping. In this situation, monitoring weather and sea conditions is crucial; if it is rough or raining then it is just not possible to have people accommodated in the open. On top of this, with almost double the people on board than expected, we were using our water and food supplies at a faster rate than planned. We had to start restricting water use and take steps to extend the food stocks. It eventually took 14 days before the people on board were given permission to be disembarked and transferred to the island of Malta. The agreement was to relocate the people between six European Union member states – Ireland, Portugal, France, Romania, Germany and Luxembourg.
"With almost double the people on board than expected, we were using our water and food supplies at a faster rate than planned. We had to start restricting water use and take steps to extend the food stocks."
From my perspective, the situation seems to be that the European Union and national authorities often do not respond until the situation on a rescue ship reaches a crisis point. This might mean delaying disembarkation until the conditions on board become completely unsustainable, whereby factors such as overcrowding, inadequate facilities, and shortages of food and water create inhumane conditions whereby people are in a state of crisis.
Attempts to deliberately obstruct the humanitarian work we do puts increased and unnecessary stress on already limited civilian resources which are seeking to fill the gap in rescue capacity in the Central Mediterranean. Hindering lifesaving operations by putting unnecessary obstacles in the way of search and rescue can have a severe impact on the rescued people – who have usually endured a very traumatic journey over months or years before they fled from Libya. And, beyond that, can end up costing lives."