Stories From Patients & Staff
MSF at COP27: We need real climate justice for our patients now
Representatives of Médecins Sans Frontières (MSF) have been participating in the World Climate Conference (COP) in Sharm el-Sheikh, Egypt.
Australian academic Patricia Schwerdtle, lecturer in nursing and midwifery and public health, Monash University has been part of MSF's team at COP27.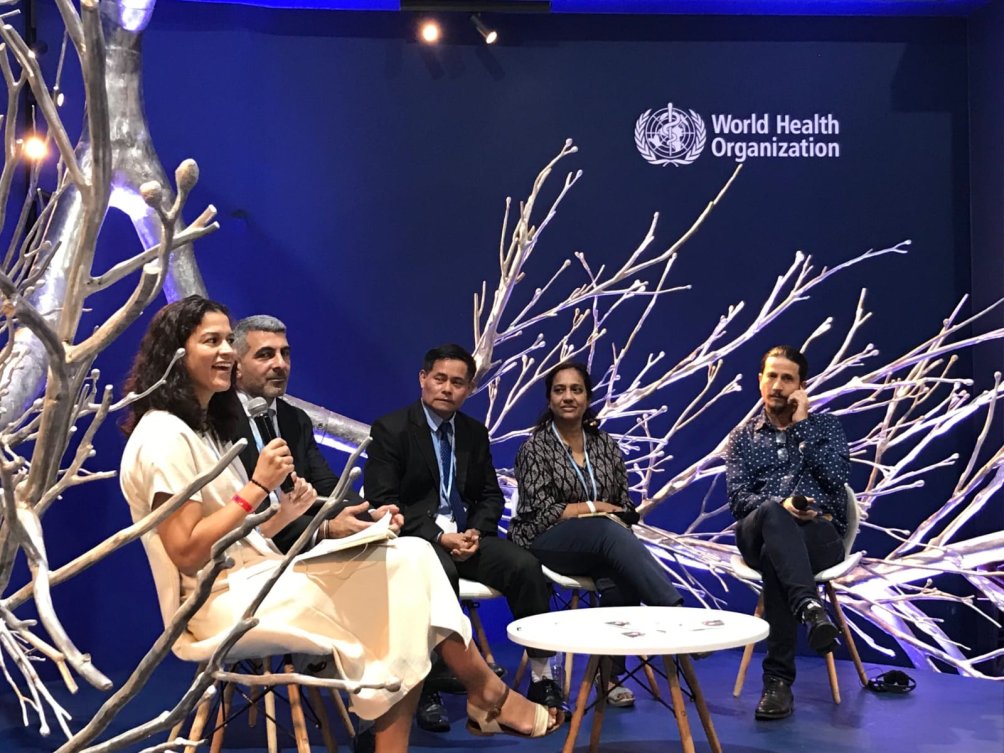 Patricia Schwerdtle is a former board member of Médecins Sans Frontières Australia. Her research is focused on climate change and health; looking specifically at how and why people move in response to climate change and the implications for their health. Patricia explains why MSF needs to be present in this global forum; to advocate to decision-makers for greater support for people in need due to the climate crisis. 
MSF's participation in COP27
"MSF needs to be present at COP27 because decisions made at COP have significant implications for the people and communities MSF serves. MSF's absence would also send a clear and undesirable message."
"The latest Intergovernmental Panel on Climate Change (IPCC) Assessment Report (AR6) explicitly outlines how climate change contributes to humanitarian crises, significantly compromises global health, pushes people into poverty, and exacerbates food and water crises – MSF has deep experience in all of these issues."
"At MSF, we feel we have a duty to observe the negotiations and to ensure humanitarian perspectives are included. The value we bring is our independent and needs-based philosophy and our proximity to people and communities who are paying the highest costs for climate change, and who are also least responsible."
MSF's focus on Planetary Health 
"MSF's mandate has not changed. It is evolving to a rapidly changing world and remaining relevant. Human activity is breaching planetary health boundaries upon which human health and the stability of our ecosystems, societies, and economies rely."
There are few serious medical and public health actors who are not paying attention to the growing evidence that climate change is the biggest threat to global health today.
What is going on in COP27?
"Discussion in COP27 are not just about carbon dioxide, it is also about geopolitics." said the former board member of MSF Australia.
"MSF's representatives are observing two COPs within one; the 'side events' with civil society, academia, and businesses who hold important sessions on various aspects of the climate crisis. Yet, behind the scenes, state delegations are busy night and day, negotiating line-by-line their agreements and pledges concerning mitigating greenhouse gas emissions, adapting to climate change, and the finance that will support this action."
"COP has been going on for 30 years, for first 10 years, the focus was on reducing emissions, the next 10 on reducing risk and build resilience, and the focus of this COP for the first time was on loss and damage."
"The suffering that results from a failure to mitigate and adapt enough. The suffering MSF witnesses in our projects. So, you can see where this is going - we are running out of options and time. Global solidarity is on thin ice. That said, our chances improve if we maintain hope and focus on solutions. We do have an abundance of knowledge about the complex problems related to climate change, we have the tools to decarbonise our economies and societies and there has never been more pressure on governments to raise ambitions and also to deliver. Together, we can still hold the line at 1.5 degrees Celsius – which is absolutely critical for the patients and communities MSF works with."