Stories From Patients & Staff
Responding to COVID-19 in Australia: Former MSF field staff on the frontlines
Médecins Sans Frontières field workers are familiar with responding to emergencies and navigating quickly changing circumstances. Many have now drawn on that experience as they respond to the COVID-19 outbreak within Australia, in roles ranging from direct patient care, to providing health workers with psychological support, to managing Australia's overall medical response. 
MSF Australia also responded to a call out from the Victorian Department of Health and Human Services (DHHS) for additional surge capacity – with around 10 former MSF field staff stepping up into aged care or contact tracing roles.
Here, field workers share how their MSF experience is helping as they respond to the coronavirus in Australia.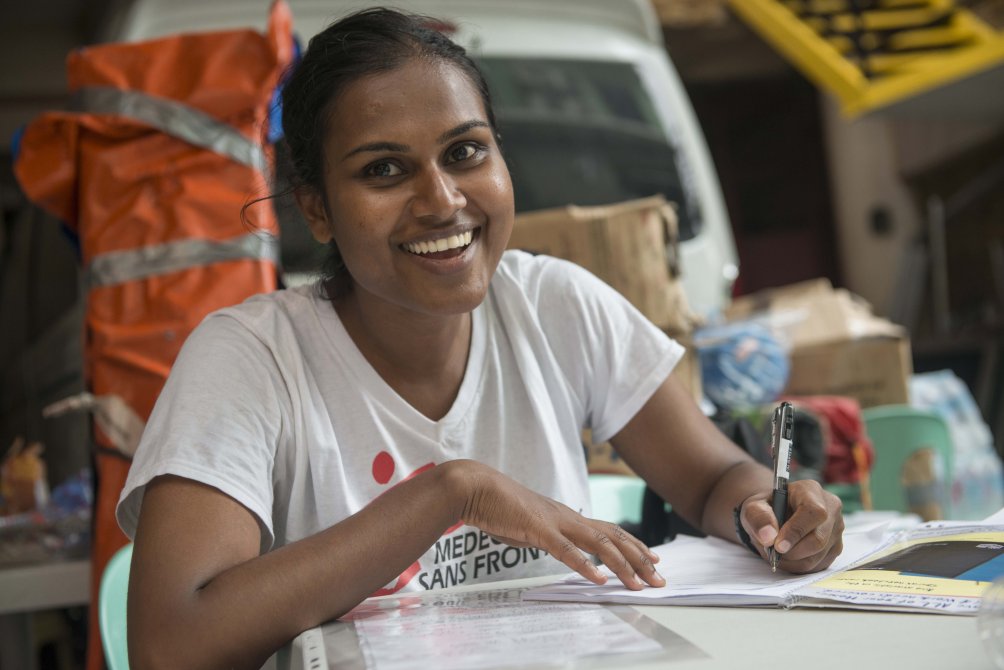 The need for speed 
"MSF gives you a sense of the concepts of emergency and speed," says Tom Roth, a former MSF program manager who is now working with the Victorian Department of Health and Human Services (DHHS).
As the Executive Lead of contact tracing, Tom is responsible for a team that aims to ensure that close contacts of positive cases are tested and isolated as quickly as possible. 
"Knowing that speed should sometimes be the driver, and that you need to be very agile and adjust, is crucial."
Many MSF-ers highlighted that the key thing they had learnt from MSF was an appreciation of the need for urgent action in crisis situations.
Dr Chatu Yapa has completed six assignments with MSF, including in South Sudan, Liberia and Iraq, and worked as a senior medical advisor in the DHHS case contact and outbreak management team at the height of Melbourne's outbreak.  
"We are used to working in emergencies and we have some idea of what the outbreak response is and how to put it together in a chaotic and ever-changing environment, so that's certainly translatable," she says.
Developing a thick skin
Dr Nick Coatsworth was president of MSF Australia from 2010 to 2011 and worked on field assignments in Sudan, Chad and Congo. He recently wrapped up a six-month role as one of Australia's Deputy Chief Medical Officers, helping to lead the national COVID-19 response. Dr Coatsworth says tough negotiations in the field, such as "being yelled at" by local officials, were a great way to build his resilience.
"It does thicken your skin somewhat. Once you've been on a couple of hardcore MSF missions, it's pretty hard to get affected by what goes on even in the rough and tumble of politics," he says.
He adds that his MSF experience taught him the valuable lesson that you can't please everyone all the time. 
"I remember very clearly one of the nurses in Darfur saying, 'you're an okay field coordinator Nick, you're just not as good as the guy I had in Sierra Leone'," he says.
"Once you've been on a couple of hardcore MSF missions, it's pretty hard to get affected by what goes on even in the rough and tumble of politics."
Kathleen Leach, a psychologist who worked with MSF in Gaza and Sri Lanka, is now working as a psychologist at Western Health in Melbourne, including providing psychological support for COVID-19 patients using telehealth or in-person consultations.
She agrees that her field assignments made her tougher.
"Walking across the green line from Israel to Gaza is a really scary experience, and there were heaps of other tricky and scary moments in that setting. Having to adapt to whatever came your way, to be flexible and make do with what you have helps to build resilience and also a sense of gratitude which I am often drawing on, but particularly since COVID," she says.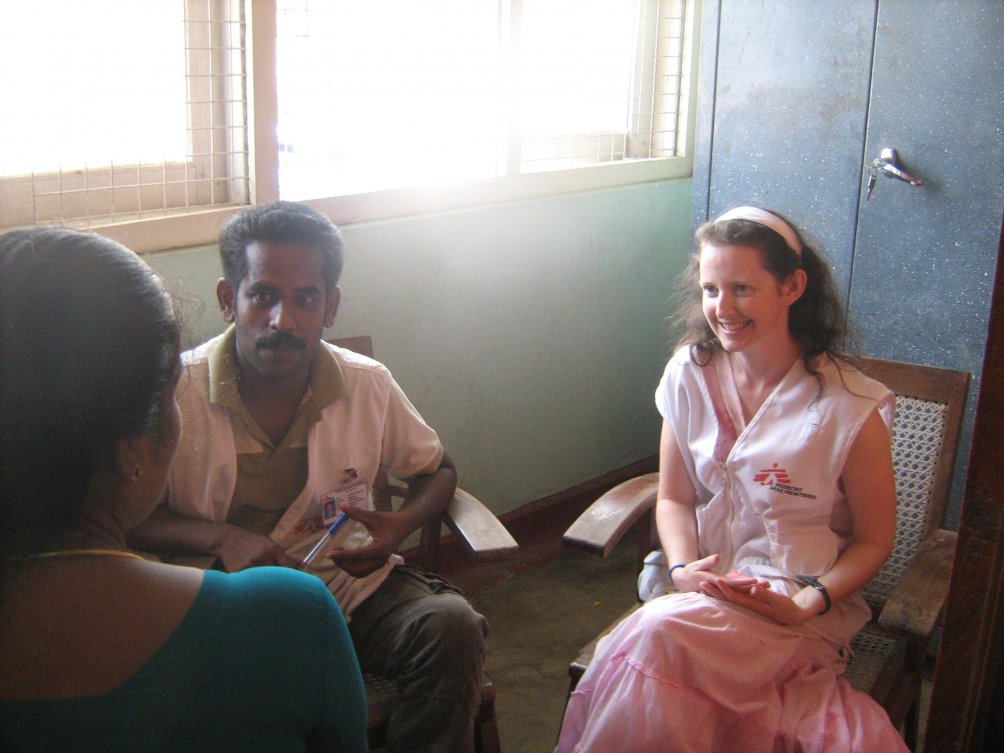 Being flexible
Sarah Touzeau worked with MSF in Uganda in 2018, and is now a nurse at North Richmond Community Health, responding to COVID-19. She says that her MSF assignment helped build her flexibility when plans were changing quickly.
"I had to go into my MSF mission without a job description and things rapidly changed, not just from day to day but moment to moment. This experience directly translated to my work with COVID as there was an obvious need to respond to community needs, but as this pandemic was unprecedented there were a lot of unknowns. I think a willingness to be flexible and the ability to function with very limited information was vital," she says. 
Listening and negotiating
Many MSF field roles involve discussion or negotiation with community leaders, armed groups or local government as teams attempt to gain access and acceptance for MSF's activities. 
Dr Coatsworth says his MSF experience sharpened his negotiation skills, which helped as he worked on major policy changes during the outbreak in Australia, such as the suspension of elective surgery.
"There are so many diverse views out there, like there always are on an MSF assignment either within your team, with national staff, with other people on the ground, or with the WHO [World Health Organization]. We think we live in this very different developed world context, but humans are similar wherever they're from. The more you listen to people's concerns, the further you'll get with bringing them on board."
Sarah Touzeau's work at North Richmond Community Health uses a strong community-based approach to respond to COVID-19, including community engagement, support and education as well as testing clinics, mobile testing and contact tracing.  
She agrees that listening closely to the community's concerns is a key skill she honed with MSF.
"I think the biggest lesson I learned from my work in the field, was sitting down and listening. Listening to needs and ideas, listening to experiences. Most solutions are found by listening," she says. 
"The more you listen to people's concerns, the further you'll get with bringing them on board."
Technical skills 
Suzel Wiegert is a nurse who recently worked with Aspen Medical as a lead trainer for the COVID-19 response, helping set up respiratory clinics all over NSW, then training the medical staff for those clinics. The training focused on infection control and prevention, swabbing and the processes for running the clinic. She also worked on the Ruby Princess cruise ship, providing coronavirus testing and mental health first aid for the crew.
She says she drew on her experience in training and supporting other health staff on MSF assignments in her work with Aspen. 
"During my assignments in Yemen, Iraq and Syria, education and training were a big part of my day-to-day work and it definitely helped me in feeling comfortable delivering the COVID-19 training," she says. 
Suzel also received technical training from MSF in Sierra Leone during the Ebola outbreak, where she also worked with Aspen. 
"It is where I got most of my knowledge in infection control. I also learnt that to be well prepared is the key to do a job safely and to feel confident working in difficult and dangerous conditions."
Having a clear plan 
Dr Chatu Yapa worked in Liberia during the 2014-15 Ebola outbreak, by the end of which MSF treated had about one-third of all patients confirmed to have Ebola during the outbreak.
"I think something that was really important during the Ebola response was having a very clear plan from the very beginning of how we were going to tackle the outbreak. And that was well communicated to everyone.
"We've seen with this outbreak that even the richest countries, with what you would imagine are some of the most resourced systems, struggle in the face of such a massive infectious disease threat… It has just amazed me how in MSF we are able to achieve so much with such a small team because we have really good logistics and structures in place to respond to an emergency," she says.
Tom Roth agrees: "That's the value of MSF, they come in with standardised processes and so can quickly engage in an emergency… that's easily communicated and everyone can get trained up quickly," he says.
Living with restrictions
Many former MSFers also mentioned that their field experience has helped them adapt to the restrictions of the outbreak such as lockdowns and curfews.  
Tom Roth says while working with MSF in Pakistan, his movement was largely restricted – an experience not dissimilar to life under lockdown in Melbourne.
"I only came back to Australia two years ago and I find it humorous to be back here and end up dealing with a pandemic and being under curfew with the ADF [Australian Defence Force] deployed in Victoria. I thought I was coming back to go to the beach!" 
Kathleen Leach agrees that her MSF experience, particularly in Gaza where she was confined to the compound for months, has helped her adapt to the restrictions in Melbourne.
Despite the challenges of life and work during a pandemic, overall she says her MSF experience has made her appreciate what we do have in Australia. 
"I am so grateful to be in Australia with access to health care, being able to get COVID tested every time I need to, and having PPE available at work and at home." 
MSF is currently responding to the COVID-19 pandemic in around 70 countries, focusing on vulnerable groups such as people living in refugee camps or those affected by conflict.