Stories From Patients & Staff
Rohingya refugees haunted by the past & fear for the future
Two years after violence flared up against the Rohingya community in Myanmar's Rakhine state, more than 900,000 rohingya are sheltering in a series of sprawling refugee camps in Cox's Bazar district, Bangladesh. Médecins Sans Frontières (MSF) is providing assistance in the camps, where the dire living conditions are a threat to people's health. We first met Rashida in 2017, soon after she arrived in Bangladesh. Two years later, we meet up again.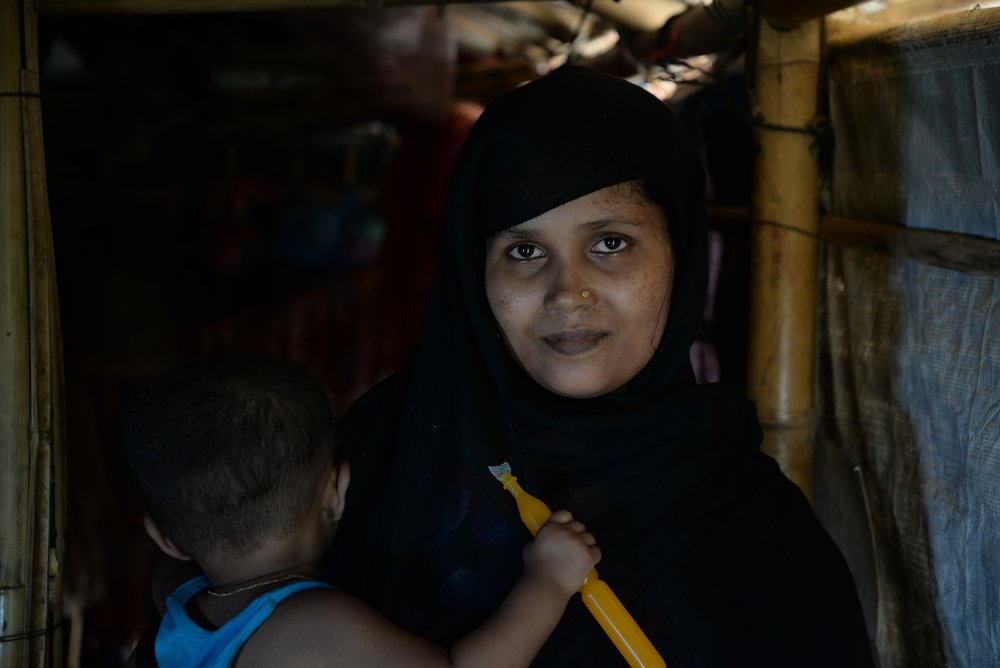 In Myanmar, before she fled the country, Rashida was raped and witnessed the brutal murder of her baby son. When she crossed the border into Bangladesh and arrived in Cox's Bazar, she was at rock bottom. All she could do was hope that the nightmare she was living through would someday come to an end.
Despite her best efforts, Rashida's flashbacks, compounded by the grim conditions in the camp, are making it hard for her to recover. Like so many other Rohingya refugees, she feels stuck and despondent, even as she yearns with all her heart for a return to some kind of normal life.
"Every day I think, how will we survive here and until when? When I will I live in my own house again?" the 27-year-old says, as she sits on the cement floor of her makeshift home, a bamboo hut covered in plastic sheeting.
MSF first met Rashida in 2017. At the time, a knife wound to her neck, inflicted when she was attacked in the village of Tula Toli, was still very visible. She couldn't hold back the tears as she recounted how, on 25 and 26 August that year, members of the Myanmar security forces attacked her village and smashed in the skull of her one-month-old "dear son" right before her eyes. She also recounted how she lay still, pretending to be dead, after her assailants raped her and slashed her body with knives. All around her lay the bodies of other Rohingya villagers killed that day.
When Rashida arrived in Cox's Bazar, she was deeply scarred, physically and emotionally, by the merciless attack. But she was also relieved to be out of danger and to be reunited with her husband, who had made the journey to the camp separately.
"I still remember the feeling when I found [my husband] Mohammad," says Rashida. "I felt like I was coming back to life."
Today, Rashida's main source of happiness is her 10-month-old daughter, Harisah, who was born in the camp. "I want to give her a better life," she says. "She gives my heart joy." Rashida has built a beautiful, colourful cradle for Harisah, which hangs from the ceiling. But living conditions in the camp are poor and disease is widespread, and it is difficult to raise a child here in safety. On the day we meet, both Harisah and her father Mohammad have a fever. Rashida says she is optimistic that Harisah "will have a better life" than hers. "I will try to raise her to be a strong and educated woman," she says. "I don't know where I am going to do this, here or in Myanmar, but I want her to be something."
The memories of what happened to Rashida in Myanmar have not faded with time. "Every single day, I remember what they did to me in Myanmar, all the horrible details," she says. Rashida says she feels that she is living in a world of contradictions. "I don't know whether I should be happy that I am safe here, or annoyed because I am just a guest," she says. "I want to go back [to Myanmar] so I can be in charge of my destiny, but I also know that if I go back today I will be killed. This is the mental struggle I go through every day."
Abdul Salam
Other camp residents, like 17-year-old Abdul Salam, feel that the odds are stacked against camp residents. He doesn't know how to read or write, and the only education he has ever had has been from a madrasah, or Quranic school. He lost his entire family – his parents, three sisters and two brothers – in a brutal massacre in his village of Saa Pran in Myanmar's Rosidong district.
"We had a huge farm and a house in Myanmar, I want to get them back," Abdul Salam says. "I know that my parents and all our cows have been killed, but here I'm paralysed. I live alone, I eat alone, and this makes me very sad."
Abdul Salam knows that he must find work if he is to change his situation. "But here [in the camp] there are no opportunities," he says. "I tried to open a little shop, but it didn't survive the month of Ramadan [in June 2019]. We had heavy rainfall that month, the shop was destroyed and I lost most of my belongings." For a time, Abdul Salam dreamt of returning to his village to work on his father's farm. But when he thinks of the killings he witnessed just two years ago, he realises that it is just a pipe dream. "I can't leave the camp and I suppose I can't complain about it because it's not my country… If Bangladesh hadn't hosted us, we would all be dead."
Abdullah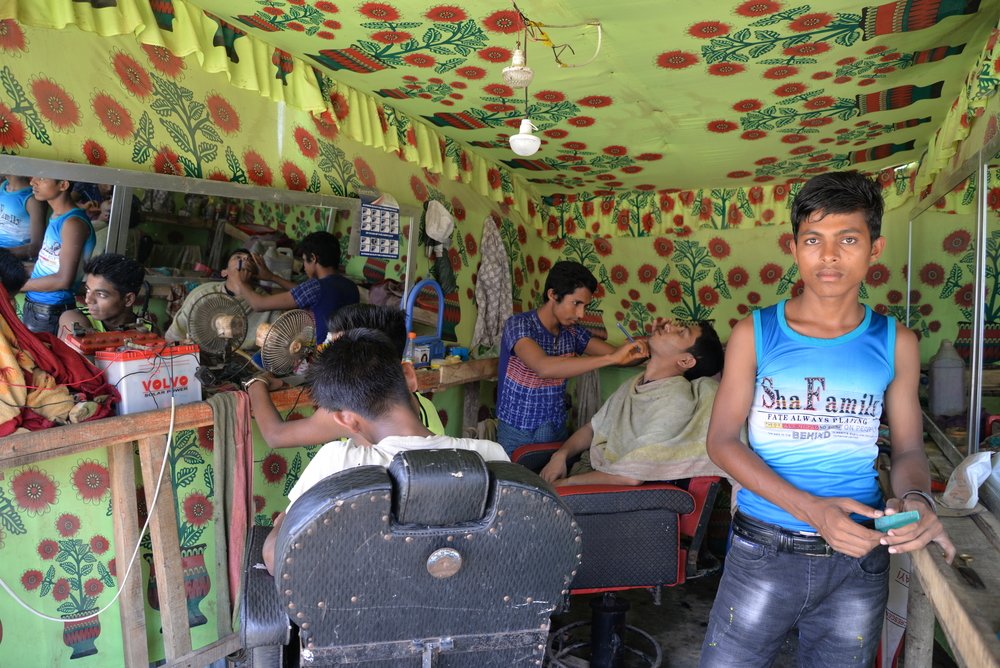 Abdallah
Abdallah, aged 24, says he was optimistic when he arrived from Myanmar in late 2017, but now feels he has no future. He finished school in Myanmar in 2012 but was unable to go on to university because of a prohibition on Rohingya students imposed by the authorities. Once in Bangladesh, he tried to pursue higher education, but found it "impossible".
"I feel like I have lost my future, that I won't have any skills," says Abdallah. "I want to work and to serve my community, but no one is allowing me to. I feel besieged. Every day I think about the future, about doing something with my life. I will keep fighting to the end of my life to try to help the children of my community."
Yassin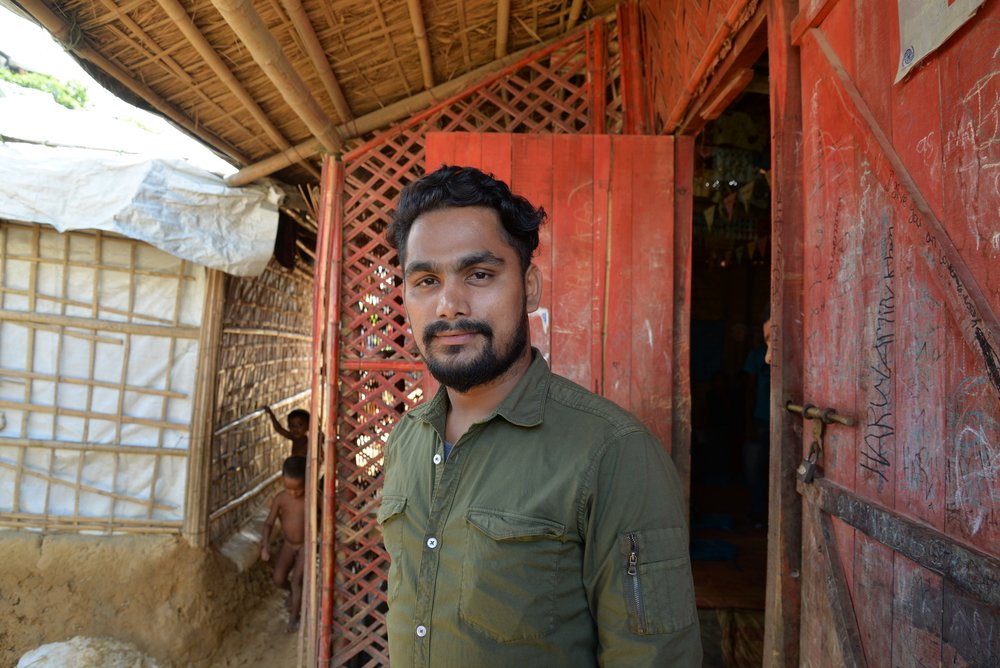 Many younger children, aged four to 16, attend one of a host of makeshift schools funded and run by local and international NGOs. Ro Yassin, who previously taught English, physics and chemistry in the village school at Kyet Yeo Pyinin, in Myanmar's Maungdaw province, now teaches at one of the schools in the camps.
But Yassin, who fled to Bangladesh along with his mother, three brothers and four sisters in 2017, worries that these schools are "not enough"."
There are thousands of children here who need an education," says Yassin, who has amassed a large collection of books in his makeshift home. "What we have currently are either religious schools or schools that teach very basic language. But it is important for these children to be educated so they can grow up to be an aware, strong generation, not one that is dependent on others. If we have the opportunity then we can live well, like any other people. But we don't have this opportunity – not here and not in Myanmar."