Stories From Patients & Staff
Rohingya: voices from the violence
Since 25 August over 600,000 Rohingyas have fled targeted violence in Myanmar and sought safety across the border in Bangladesh. This brings the total of Rohingyas in Bangladesh to nearly a million refugees. 
The new arrivals have shared horrific stories with Médecins Sans Frontières about their villages being raided and burned and of widespread violence against civilians. In the first three weeks alone, MSF treated over 250 newly arrived patients with violence-related injuries. Their injuries included bullet wounds, severe burns, blast wounds, stab wounds and sexual violence.
WARNING: The following patient testimonies contain graphic details of horrific violence.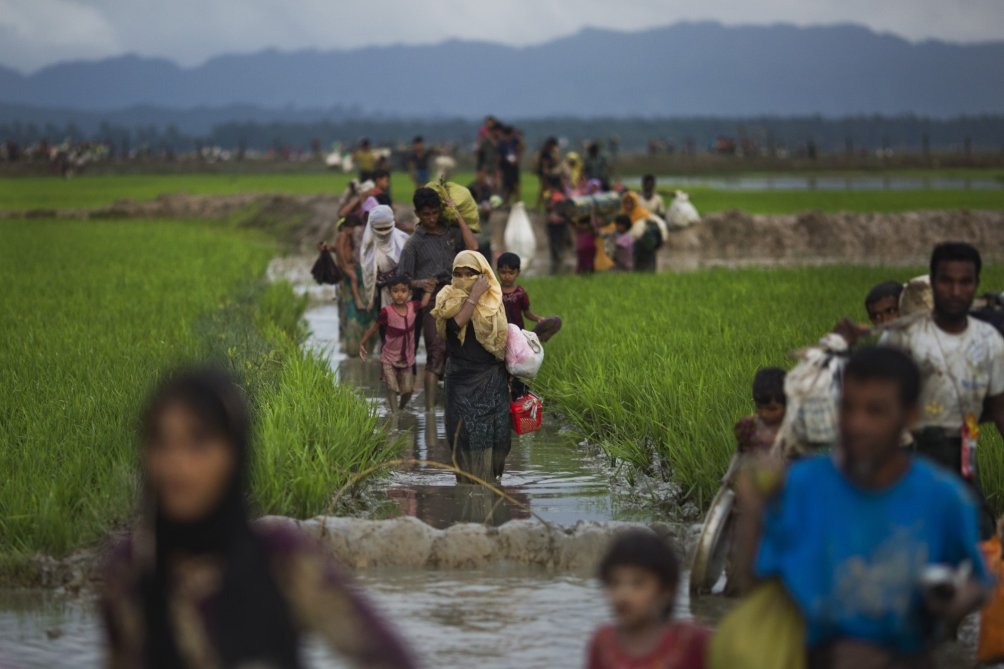 "The military attacked us on Wednesday [30 August], they were more than 150 men strong. Before that, the Mogh Ukhatta [Rakhine village chairman] told us to gather at the sandy banks of the canal in the village. We all gathered there; they were carrying weapons so we couldn't do anything else.
Then they started killing the men in front of us. They placed the dead bodies on a dyke and burnt them.Then the military took groups of women inside the houses and stabbed us with machetes. One stabbed me near my vagina, it hit very close to the area. Another stabbed my throat. I was holding my 28-day-old baby on my lap. They hit my baby with something heavy. It hit his head and he died. I saw how his skull split open and his brain came out.
I'm glad that I made it here but I don't know where I will go after I'm discharged. I have nothing here, just the clothes on my back. I don't know anyone and my baby is dead. I try not to think about it but it is too much for me."
- 25 year old woman admitted to a Médecins Sans Frontières medical facility for stab wounds to her throat and waist
"There were 22 members in my family. Of them, 19 have been murdered, including small children. There are only three of us surviving - two brothers and one sister. When the military set the houses on fire I thought all of my family members had been killed. I cried a lot. Once we thought of fighting against the military, but there were many and we have no arms, we can only die in front of the military. I kept crying on the way to Bangladesh. Five days later I heard that my sister is alive. She managed to come to Bangladesh and is admitted in the hospital. I found her here."
Brother of 18 year old patient admitted to Médecins Sans Frontières' clinic in Kutupalong with stab wounds and burns
"On the afternoon of 30 August the military came to our village. The Mogh ukhatta [Rakhine village chairman] told us not to flee, that the military were only coming to check for Al Yaqin [the previous name of the Arakan Rohingya Salvation Army, known as ARSA]. "They won't harm you if you all gather in one place and cooperate with the authorities," he said. We believed him and all went beside the canal - women, men, children and the elderly.
The military came in the hundreds. First they selected men from the crowd and told them to lie by the canal, face down to the ground. Their bodies were in the water. Then the military stabbed them in the back many times. I saw with my own eyes how they killed my husband. He was a farmer, nothing more. They burnt all the bodies together. Seeing this killing, some youths in the crowd tried to run. They only managed to get up to the village graveyard. They were shot from behind. My son and nephew, both 12 years old, were there. They are dead too. My father was also shot dead.
The military then took groups of women to the houses and stabbed them and beat them. Some died. One soldier stabbed me in my throat and chin. One hit me on my hand; I don't remember what it was fractured with. Somehow I managed to get out of the house and went into the bush. Then the military torched the house. At night, the military left and I went inside the forest.
There I found four women from my village; they were also injured and bleeding. Together, after three days of walking, we got into a boat to Bangladesh. I can't remember the date clearly, everything seems so blurry to me. I lost my six children; three girls, three boys. The youngest was three months old. When I was fleeing, I took a baby the size of my own baby. I thought it was mine. After a while I realized that it wasn't my baby, it was another dead baby. Its tummy had been slashed open.
Two weeks earlier, the military along with the Rakhine Village chairman had been searching for members of ARSA. But there were none. The previous day, they all left the country and came to Bangladesh; they had moved their family in advance. We thought that we wouldn't face any problems. My suffering is because of Al Yaqin. They are not able to bring any good for us. I lost my husband and six children, there is nothing left of me. I am not alive, though it seems like I am."
Female patient from Maungdaw, treated by MSF for violence-related injuries.
MSF clinics and hospitals in Cox's Bazar district have recorded a sharp increase in the number of people seeking medical attention. Between 25 August and 7 October, MSF teams have treated over 30,000 patients. With very limited access to medical care in Myanmar, and after a long, perilous journey on foot to Bangladesh, many of the new arrivals have serious medical needs, including severely infected wounds, suffering acute watery diarrhea, pneumonia, malnutrition, suspected measles, or advanced obstetric complications.
"People were arriving in a horrific state. Some people said they had been trapped in houses that were set on fire. We treated unaccompanied children who had lost their families. One tiny neonatal baby was brought in by a woman who had found it in the grass at the border. She's now caring for the child in addition to her own children. We treated a young girl with a head wound; an hour later her mother was admitted with severe burns. They said they were the only survivors from their family."
"I've heard the most horrific stories from women who have lost their husbands just trying to get here. They spend days walking with their young children, along crowded roads with cars coming in either direction. Some children have been struck and killed by cars. And in an instant, that secure future they were trying to build for their family vanishes. That's a tragedy at an individual level. Multiply stories like that by 500,000 and you start to understand how harrowing this situation is."
"On 21 August, about 30 soldiers came and burnt our house to the ground, as well as nine other houses. My son was inside the house sleeping. I was out looking for two of my cows and my goats that had been missing since the day before. It was morning. When I went back I saw fires in the other houses and then realized the rooftop of my house was on fire too. I heard my son screaming inside and I rescued him with a blanket. He was almost on fire by the time I dragged him out. Two other children burnt inside their houses."
"A girl was brought in recently by a local volunteer who'd found her on the road. She wasn't talking, she had been severely beaten and was severely traumatized. We didn't know her name or anything else about her. We just sat with her all day long, and slowly she started to make some improvements. Sometimes all we can do is to just sit with someone, provide water, comfort and care in a safe place, and wait for them to start coming back to themselves again."
Even prior to this most recent influx, Rohingyas in Bangladesh lived in highly precarious conditions. Now, the enormous makeshift settlement are bursting, with people living in unsafe, overcrowded and unhygienic conditions with little protection from the elements, no toilets and hardly any access to clean drinking water.
While some assistance has been provided, the scale of the emergency and huge number of new refugees means that the vast majority has not received assistance. The extremely precarious conditions pose a serious health risk - if there is an outbreak the consequences could be catastrophic.
Access to food is still a major problem, with many Rohingyas only eating one meal of rice a day. The absence of roads into the settlements means that aid is not reaching many people. MSF is scaling up operations as fast as it can, but a more robust response is badly needed.
"The military came in the morning on 28 August. We were all huddled on the bank of the canal, Phurma khal (connected to the Naf river). First, the military started killing the men. They were beaten, shot and stabbed. Then the military took women and children in groups to different houses inside the village. I was taken into a house with seven others. There, the military stabbed me twice in my head and beat me a lot. When it was dark the military set the house on fire. I was not able to move, lying on the ground. But when parts of the roof came down burning and started to hit me, I crawled out of the house and went inside the jungle. There I found three other women from the village and together we came to Bangladesh. Some Bangladeshi men brought me to this clinic."
"In Burma I once went to the hospital for the lumps on my back and throat. But they wouldn't help me because I couldn't pay. I have pain, but I cannot do anything about it. I came to Bangladesh with my six daughters and my wife three days ago. I'm old, and my health is not so good. Walking is difficult for me because my left foot hurts, so it took us a while to get here.
In my village, there are three military outposts, one in the east and two in the west. I counted the days; it was 16 days before I left when they started killing people and setting houses on fire in the other part of town. The military was targeting the young people, boys and girls. Two days before we left, I saw with my own eyes how two young boys were killed. Their throats were slit."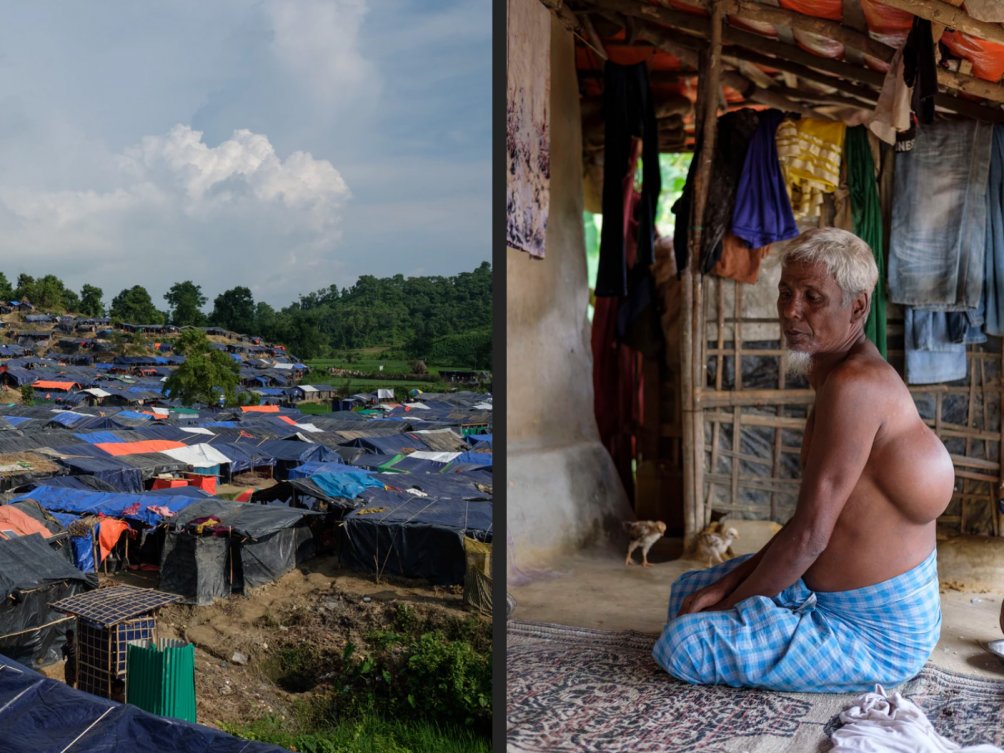 The day before we left, the military came to our part of town around 6pm and said: 'Leave the village before 8am tomorrow. Every one that stays will be killed'. We left the same night. By then many houses in our village had already been burnt. To come here, we had to walk through many hills and cross the river. It was very difficult to walk; I was in a lot of pain. We did not eat or drink, I was very hungry. We saw many bodies on the way and the smell was awful.
I'm now staying in someone else's house. My wife and one of my daughters is here, and my other daughters stay in other people's houses. I have known the owner of this house for 20 years and knew that he lived here, so I asked around until I found him. I'm very thankful that I can stay here. But he's told me that he cannot continue to help me with food and shelter. It is very difficult; I'm unable to work because I cannot walk. I would beg on the road like the others, if I could. I don't know what to do; I don't even know how to find tarp or bamboo. How can I build a house with nothing?"
MSF has been working in Rakhine state, Myanmar, for the past 25 years, but is currently unable to reach Rohingya people with the urgent medical care required. In September MSF called on the Government of Myanmar to grant independent international humanitarian organisations immediate and unfettered access to Northern Rakhine state, in order to alleviate massive humanitarian needs. The ability to reach and support Rohingya people in Rakhine State has only further diminished since then, and refugees continue to cross into Bangladesh with reports of continuing violence.