Stories From Patients & Staff
Stigma and discrimination: Persistent barriers to mental healthcare access for vulnerable and marginalised people in Kenya
In Kenya, stigma influences how mental health is addressed. For persons who use drugs and adolescents and young marginalised and vulnerable people, stigma and discrimination lead to not only social exclusion but also a public health crisis. 
"It is so hard showing love to a drug user. Your patience and trust are tested several times. With severed family ties, you hold on to them hoping God saves them. But medical help is still better than punishment. Instead of taking Kevin to the police, I took him for treatment, my grandson is getting better." Mary Jumba* says of her grandson Kevin Dan*. 
Like Kevin, according to WHO in 2021, 1 out of 4 persons seeking healthcare in Kenya has a mental health condition. However, stigma influences how mental health is addressed. For vulnerable and marginalised persons and key populations – who include people who use drugs, adolescents and youth populations, people living on the street, female sex workers, men who have sex with men, LGBT and related communities – ostracisation by family and community is common as their behavior is seen as out of the guarded social norm. Therefore, these people are often ashamed and reluctant to go seek medical care for fear of being judged or mismanaged. 
This stigma and discrimination predispose them to violence, exploitative working conditions and societal prejudice leading to not only social exclusion but also with little to no coping capacity, creating a looming public health crisis as this extends in healthcare access too. 
Challenges to access mental health
At only 18 years, Kevin has been using heroin for one and a half years and is one of 310 patients currently receiving mental healthcare at the Médecins Sans Frontières (MSF) run medically assisted therapy (MAT) clinic in Kiambu. "I was diagnosed with depression one month into my methadone treatment. I didn't know that I had depression at first. I had anger issues, couldn't control it and almost harmed my cousin during a brawl. A lot of family issues swamped me, and at some point, I found myself living in the streets and drugs were my only solace." Kevin narrates. Support from his grandmother was his greatest nudge to seeking treatment at the MAT clinic.
Violence - especially sexual violence, discrimination and criminalisation are recurrent episodes in the lives of marginalised and vulnerable people. These when left unaddressed increase the risks of them having mental health disorders and/or severe forms of mental illnesses such as substance disorder or dependency, depression, suicide risks, anxiety disorders, traumatic stress among others. "I have been called a curse, illegal, and singled out when seeking services sometimes at the health facilities and in the community. This makes one second-guess themselves, self-sabotage and fearful too." Velma Anne*, a gender non-conforming youth receiving services at an MSF supported youth friendly facility in Mombasa explains.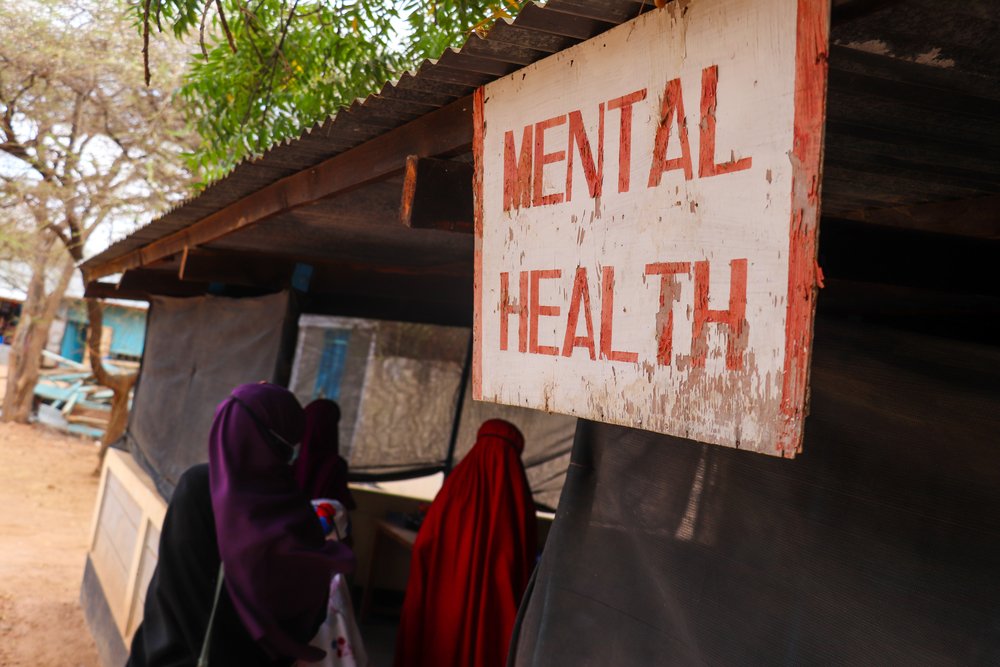 Supporting those most vulnerable
For persons who use drugs (PWUDs) stigma prevents access to much needed treatment and care. Community support and acceptance, including among healthcare workers, play an important role in a drug user's recovery journey and adherence to treatment. "Drug addiction is a disease not a choice. It can affect mental health, but drug addiction can also be the result of a mental health disorder." Rahab Nuna, a psychologist at the MSF MAT clinic explains.
Lack of awareness among healthcare workers, non-friendly service delivery, and accessibility issues are main contributors to vulnerable people not seeking mental healthcare.  "Health care workers have no idea how to support people like me. They say we have disorders, but the reality is the treatment we get drives one to stay in seclusion, and anxiety takes over." Facilitating attitude change towards marginalised communities among health care workers at public health facilities is paramount. "Giving audience to someone willing to open up about their experience is the first step in doing away with stigma by health care workers." Velma reiterates.  
Family and community support is crucial for vulnerable people in enhancing social inclusion thus uptake of mental health care and reducing social violence. Mary explains
The key to full recovery is in supporting drug users' access to opioid substitution therapy and auxiliary health support services such as mental health care to mitigate the debilitating impact of substance abuse. 
"Mental health services must be adapted urgently to respond to the needs of vulnerable peoples through confidential, friendly, gender-responsive services, and support from health workers while addressing their overlapping vulnerabilities. This includes strengthening of the health system through funding and awareness creation among health care workers especially at primary level facilities." Rahab affirms. 
MSF response
At the MSF Lavender House clinic in Eastlands, MSF receives an average of 183 new sexual and gender based (SGBV) related consultations monthly.  All new survivors receive psychosocial support at the first point of care. However, some do not follow through the mental health care sessions after the first month for various reasons including stigma. either cultural, social, and on  how one perceives self and thus impacts the access to care and general attitude towards treatment for sexual violence patients.
"The effects of sexual violence on a survivor, caregiver, and those indirectly affected if not addressed, end up causing a myriad of other avoidable (mostly) mental health issues predisposing the survivor to mental illnesses such as post-traumatic stress disorder (PTSD), anxiety and/or depressive disorders, conduct issues, psychotic disorders and substance use disorders." Selfine Otieno, a psychologist at the MSF clinic, who provides mental health services to survivors of sexual violence reiterates. 
Beyond the curative interventions that are still limited, a lot still remains to be done towards mental health promotion and access for key people. Community and healthcare workers sensitiaation and support must be seen and  perceived to be existent by this people.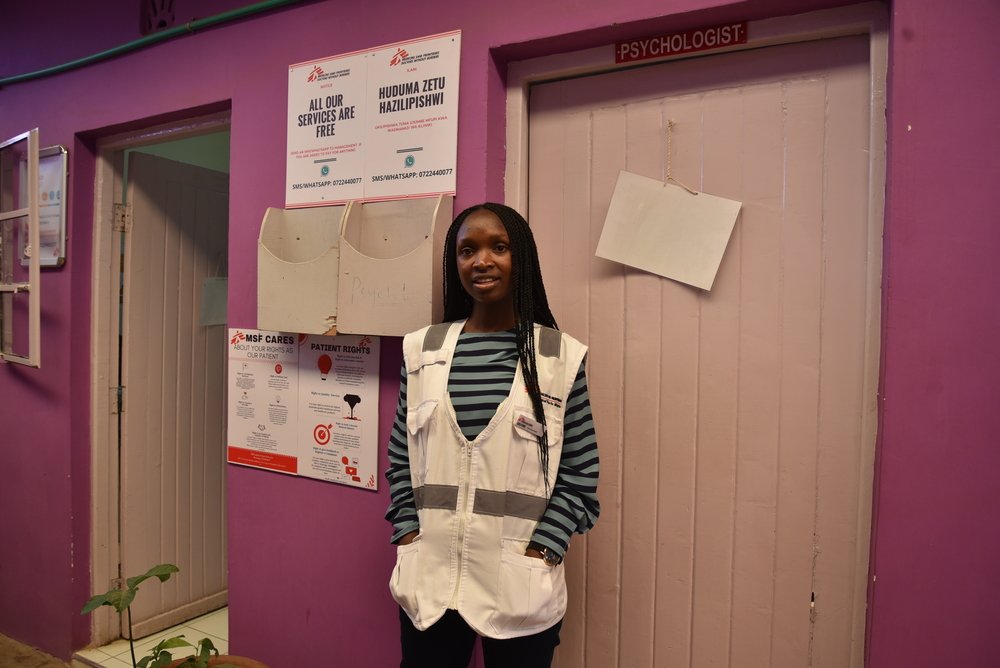 [i] *All names used in the article are not real names except for the two psychologists.
Additional Information
Stigma refers to negative attitudes and beliefs against someone based on a particular characteristic-such as disability, illness, cultural background, colour or sexual orientation. Community stigma is where one receives some form of discrimination from a group of individuals known to them and based on a particular characteristic or attribute the person holds.
Key populations are most exposed to contracting sexually transmitted infections but tend to have the least access to health care.
About MSF Projects providing mental health support
MSF offers harm reduction services in two Medically Assisted Therapy (MAT) clinics in Kiambu. These are one-stop-service centres including adapted patient-friendly services where people who use drugs (PWUDs) who want to contain their addiction, have access to opioid substitution therapy, such as methadone and buprenorphine, psychological support as well as other services, including prevention and treatment of tuberculosis, HIV and hepatitis, nutrition counselling. 
In Mombasa, MSF focuses on addressing the needs of marginalised Adolescent and Youth Population (AYP) with specific vulnerabilities including LGBT and related communities, sex workers, People Who Use Drugs (PWUDs) and people living on the street affected by violence and social exclusion of health care. These groups are disproportionately affected by violence, stigma and increased health risks.  
In Nairobi, Eastlands, MSF is running several sexual violence recovery services at its Lavender House Clinic and in partnership with Ministry of Health (MoH) through four decentralised MoH public health facilities.