Stories From Patients & Staff
Working with MSF: "An epidemiologist is like a disease detective."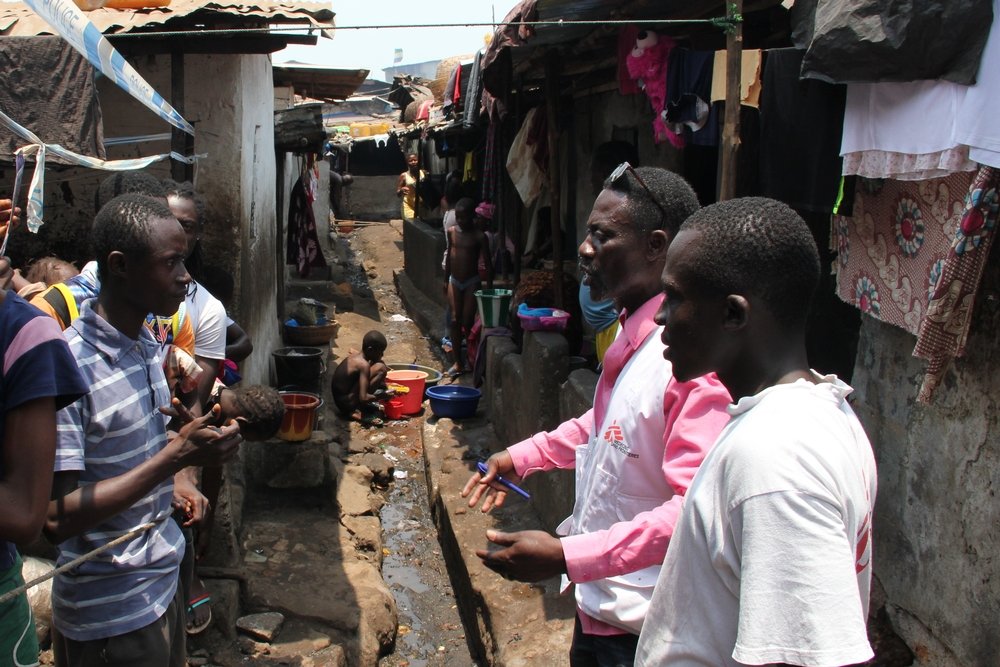 What led you to work with Médecins Sans Frontières?
I can't remember a time when I hadn't heard about Médecins Sans Frontières. As a medical student in Melbourne in the 1990s, I experienced the peak of the HIV/AIDS epidemic in Australia. Globally, it was a terrifying disease, and when I saw that people with HIV/AIDS were dying from new viruses I decided I would specialise in infectious diseases. I met colleagues who had worked with Médecins Sans Frontières, and their humanity and dedication solidified my desire to do humanitarian work.
What does an epidemiologist do?
As in the movie Contagion [Ed: a 2011 release], an epidemiologist is like a disease detective. Epidemiology is a sub-speciality of public health medicine, looking at patterns of disease in large populations of people. This can include chronic disease like heart disease and cancers, but my interest lies in infectious disease epidemiology – particularly in outbreaks, where the work involves finding out where the outbreak started and where it has spread, so that it can be controlled and stopped.
"There was a real urgency to understand the situation as well as possible to set up the most appropriate response."
Your recent assignments took you to the Ebola outbreak in the Democratic Republic of Congo (DRC). What did the job involve?
I first went to the DRC in May 2018, after Ebola cases were reported in Mbandaka, on the banks of the Congo river in Équateur province. I worked in surveillance – looking at the trends of the outbreak and predicting how it might evolve – while our medical team cared for patients in a treatment centre built in under two weeks. The epidemic was contained in three months, but then a second occurred in North Kivu. This outbreak is still ongoing. People in North Kivu have been living with violence, displacement and deprivation of healthcare for many years, and this has contributed to making the outbreak a very complex humanitarian crisis.
In May 2018, the epidemic was already in a phase of increasingly active transmission when I arrived, and there was a real urgency to understand the situation as well as possible to set up the most appropriate response. So in North Kivu, our team of epidemiologists, water and sanitation experts and a medical coordinator worked in Goma – a massive city and transport hub for the region – and in Butembo to the north, to evaluate gaps in preparation for treating patients and how Médecins Sans Frontières could help address these. When the epidemic first reached Goma in August 2019, our teams were ready.
I also worked in surveillance in the town of Beni – one of the most active hotspots since early in the epidemic – trying to determine the chain of transmission, and modelling different scenarios to make sure we were prepared if there was a sudden influx of patients. Beni is in an area of active conflict, making it very difficult to find people with Ebola and trace their contacts. We had to work hard to understand where the disease was spreading.
What stands out for you from this assignment?
In Beni, I worked with a young local man, Germaine, a data entry operator. He did amazing work despite living in very difficult conditions. When violence targeting the Ebola response escalated in March 2019, I immediately thought of Germaine and his family. As international staff, we have a ticket, we say goodbye and many of us go back to comfortable lives. But for Congolese Médecins Sans Frontières colleagues, this is their home. I was humbled and grateful to work alongside them. Thankfully, Germaine is fine and we remain in contact.
What does working with Médecins Sans Frontières mean to you?
As Médecins Sans Frontières, we talk about what we see. This is important, especially in the context of the Ebola outbreak. Speaking out about our medical experience has contributed to recognition of the need to look at different strategies for controlling this outbreak – ones that bring Congolese communities to the centre of the response. We are not perfect, but we do take time to reflect and acknowledge where we can do better.