Stories From Patients & Staff
Working with MSF: "Be prepared to have your working practice 'truths' challenged."
What drew you to working with Médecins Sans Frontières?
Having crewed sailboats and taught cardio workouts in the 1980s and 90s, I discovered the midwifery profession through the birth of my two daughters in the late 90s. I began study to become a midwife when we moved to the UK as a family. I had met a Médecins Sans Frontières doctor in my early travels and was inspired to join an organisation that provides impartial and independent healthcare based on need. Three decades later, in 2018 – with my children older and Médecins Sans Frontières in need of midwives – the timing was right for me to realise that intention.
You've just returned from Cox's Bazar, Bangladesh. Could you describe the situation for Rohingya women who have sought safety there?
Women everywhere have specific healthcare needs, whether this is access to contraception, a safe place to deliver their baby, or support in the wake of sexual violence. In Cox's Bazar, vulnerabilities are exacerbated by being Rohingya, female, displaced and stateless. Young or old, Rohingya women face numerous challenges every day, irrespective of their marital, social or economic status. They must cope with living in the crowded conditions of the refugee camps, in temporary bamboo and tarpaulin shelters that offer little protection from seasonal flooding and landslides. Their perceived low status as women places them at high risk of sexual and gender-based violence; women often bear the violent brunt of men's inability to control their financial and environmental circumstances.
"Having strong working relationships with your colleagues will help you negotiate subtle traditional practices that can impede change."
How are we responding to this need, and what did your role as Midwifery Activities Manager involve?
In our sexual and reproductive health clinic, located in one of the camps, we provide antenatal and postpartum care, family planning, gynaecology care and treatment for menstrual regulation (the Bangladeshi medical term for the care of unplanned pregnancies). The clinic also houses a 24/7 medical response service for anyone who has experienced sexual violence – we mostly see women.
When a woman seeks care at the hospital, the team treats her immediate wounds and she then sits with a trained midwife in a safe, private space to tell her story. Further medications such as postexposure prophylaxis and emergency contraception are given as appropriate. We work closely with our mental health team and other implementing partners who address legal, protection and shelter factors. I worked to strengthen this service, to ensure it could meet the needs of the community in capacity and quality. This included running theory and practical workshops and providing practice-based support for staff, as well as maintaining efficient and reliable referral pathways for our clients. My colleagues and I worked alongside a volunteer team of Rohingya traditional birth attendants, who are our eyes, ears, hands and voice among the population. They are well respected in the community and assist our service to understand the people it seeks to help.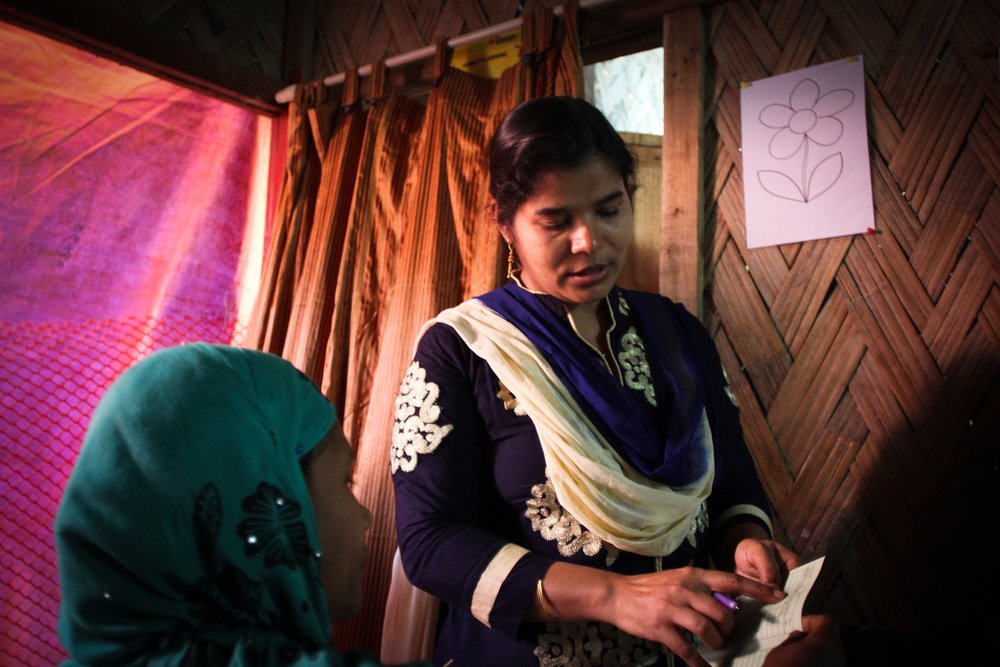 How have you drawn on skills or experience from earlier in your career for your role?
Working as a rural midwife in Northland, New Zealand, where specialist obstetric services are two hours away, was a good foundation for critical thinking and effective decision-making in the remote and low resource settings where Médecins Sans Frontières works. In these contexts, good communication between the team is essential. You must rely on each other's knowledge base and skills.
What advice would you give to other midwives considering this work?
Go ahead and do it! When you begin a placement, take the time to get to know your team. Their experience and expertise are the foundation of the service Médecins Sans Frontières provides. Having strong working relationships with your colleagues will help you negotiate subtle traditional practices that can impede change. Likewise, be prepared to have your working practice 'truths' challenged: this will help you adjust to unfamiliar settings and find creative solutions. The reality is that it's challenging work – but most things worth doing are.