Stories From Patients & Staff
Yemen: A return to Aden
Dr Chris Guy, from Melbourne, witnessed the aftermath of two mass casualty incidents during a period of heavy fighting in Aden, Yemen, while on a Médecins Sans Frontières/Doctors Without Borders (MSF) placement as an intensive care doctor. He returned to Aden in December 2019  
MSF'S Aden Trauma Hospital, photographed in December 2018. © Agnes Varraine-Leca / MSF 
"When they brought the girl in, all we could see were shrapnel wounds," explained Chris Guy from his Melbourne apartment as he prepared to fly back to Aden, Yemen's key port city. "She was unconscious and limp, but still breathing." 
Chris met Nadima* during his first placement in Yemen back in August 2019. The girl's family members had accidentally triggered an unexploded bomb while tidying up a courtyard after a wedding. Though no-one was killed, her grandmother lost both arms and five-year-old Nadima's injuries were severe. 
"She was in a bad way. One eye was destroyed, and the other had traumatic cataract injuries. There was damage to her lungs and abdomen. We weren't certain she would survive."
In the Emergency Department, the Yemeni MSF team worked fast, giving Nadima oxygen and a blood transfusion, bandaging her wounds, and inserting a chest drain.  
"She was in a bad way. One eye was destroyed, and the other had traumatic cataract injuries. There was damage to her lungs and abdomen. We weren't certain she would survive."
She was taken to the operating theatre where the surgeon took seven or eight pieces of shrapnel from her bowel, and then to the Intensive Care Unit (ICU) which Chris was supervising during his MSF placement.
"After a few hours, we heard a voice, asking for water," Chris recounts. "We fashioned a straw, and she began to drink."
Several weeks and many operations later, thanks to the skill and dedication of the Yemeni medical staff, Nadima was on the mend. She was fitted with an implant for the damaged eye, and vision began to return to the other.
"A day after she was discharged, she could throw and catch a balloon. Of all the patients I met, she is one who stands out for me. And there's no doubt she would not have made it without the staff of the MSF hospital, particularly given the complications she had."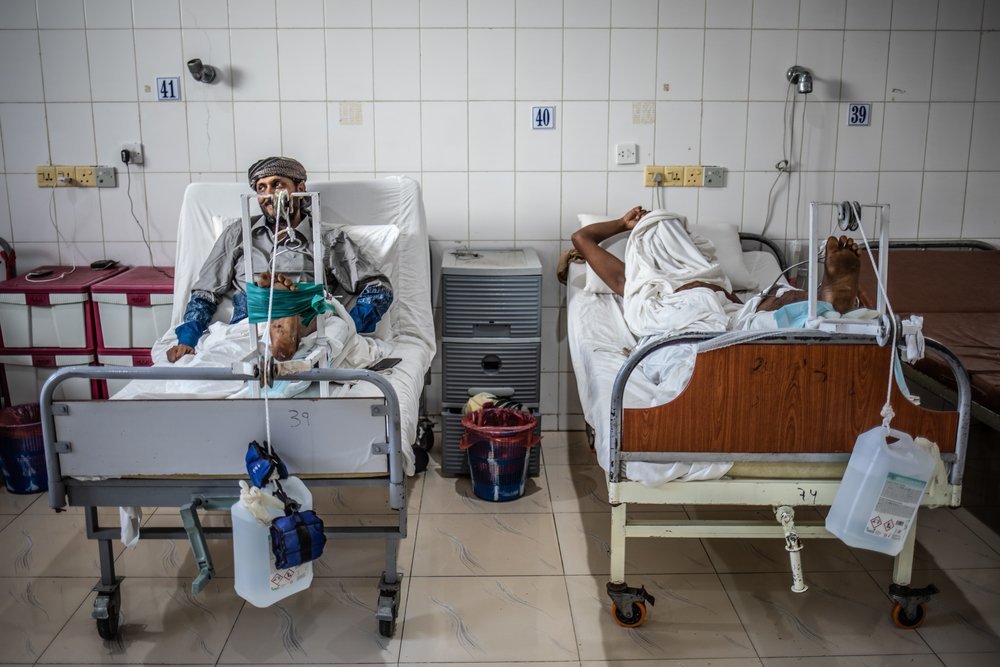 Abdallah (left) in the Inpatient Department of the MSF trauma hospital in Aden, after his referral from the MSF Mocha surgical hospital for traction after a leg wound in December 2018. ©  Agnes Varraine-Leca / MSF 
"We were in the midst of activating a mass casualty plan"
Chris Guy's placement at the MSF Aden Trauma Hospital, which opened in 2012, came at a time when inter-factional fighting erupted among forces vying for control of southern governates. The conflict was principally between forces loyal to President Hadi and troops from the southern separatist movement, the Southern Transition Council. 
At around 7.30 am on 1 August 2019, Chris was taking a shower when he heard a loud boom. "The exhaust fan in the window blew out, and heavy gunfire sounded close by," he relates. "Within 20 minutes, we were in the midst of activating a mass casualty plan."
A car bomb had hit a local police station, killing and injuring several police and civilians. Around 70 patients, with "a full spectrum of injuries" from minor shrapnel wounds to severely damaged limbs, were rushed in.
The 120-bed Aden hospital has one of MSF's most advanced intensive care units in the region, with 10 beds and specialised equipment for mechanical ventilation and intravenous nutrition. It was soon full.
"This was my first experience of this kind of event," says Chris, "it's not something I'd encountered in Australia. But the Yemeni staff swung into gear and had the process down pat. It was amazing to see them in action."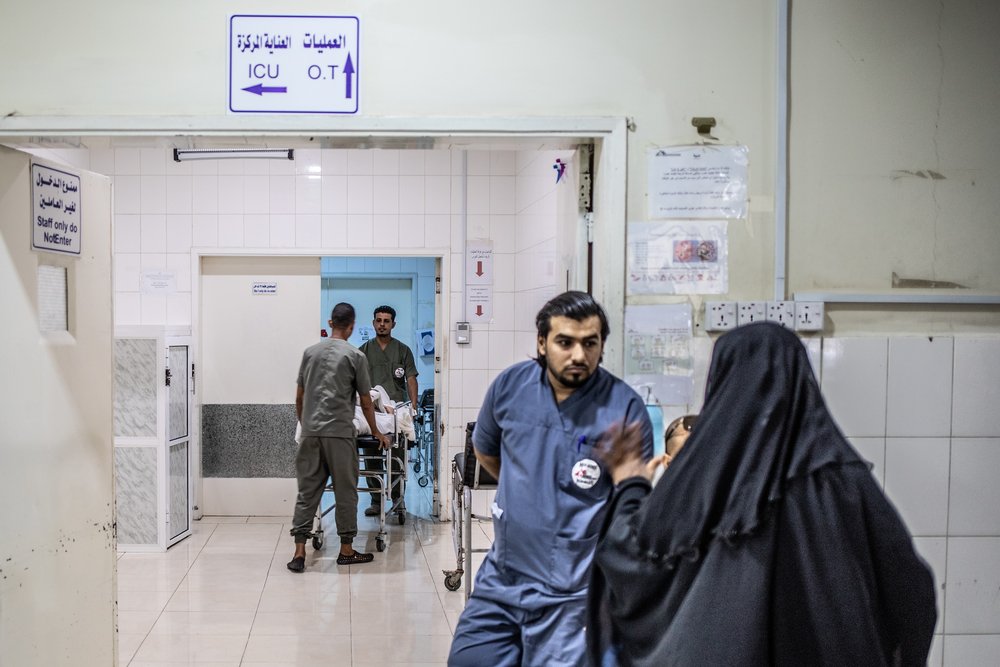 The interior of Aden Trauma Hospital near the ICU (Intensive Care Unit) where Chris Guy worked in 2019 and the OT (Operating Theatre). © Agnes Varraine-Leca/MSF
"Lives on hold for six years"
"Over the last few years," he continues, "clearly the team had become well-practised in things no one should have to be well-practised at. They were very professional, totally dedicated to looking after their fellow citizens."
Just days later, another major incident saw Chris and his Yemeni colleagues work through the night after civilians were caught in nearby shelling.
"One girl we saw had lost both legs," says Chris. "Her family told us they were simply sitting in their house one second, then the next second this happened."  
Between 9 and 12 August, Aden became a battlefield. MSF teams at the hospital provided treatment to 119 patients in less than 24 hours.    
"The area was in lockdown due to the fighting, and many staff couldn't get home to their families. On the other hand, some had come into work despite the challenges, since they knew that without them there wouldn't be enough staff."  
Just a few years ago, many of Chris's Yemeni colleagues had been doctors in training. But their studies had been interrupted by the war, and now they were accustomed to dealing with gunshot wounds and other severe trauma.  
One of the intensive care unit doctors is Dr Fager (centre rear) who has been working in the unit since 2015. His plan to become a radiologist has been put on hold as the ongoing conflict has meant there is no training program. Despite having to deal with the impact of a prolonged war on everyday life, Dr Fager and the rest of the intensive care team continue to provide patients with high quality care not easily available elsewhere. © Chris Guy / MSF
Dr Fager, for example, had planned to become a radiologist but training is no longer available: instead, he has been working in the Aden ICU since 2015.
Though Chris's placement at the Aden hospital ended soon afterwards, in December 2019 he was preparing to return for another six weeks.
"I was sad to leave in August," he admits. "You meet amazing people, and I wanted to stay longer and support them more. The same war goes on, and though Aden is now a little more settled, it's a prolonged conflict with no end in sight."
"My Yemeni colleagues' lives have been on hold for six years," he notes. "So I'm taking the opportunity to re-join them for a while. It's a privilege to go back."
*Names have been changed