Stories From Patients & Staff
Yemen: A small silver chain
Dr Georgina Woolveridge is a medical doctor from Hobart, placed in Al Udayn, Yemen, in March 2019. She previously worked with MSF in Kamrangirchar, a slum area on the outskirts of Dhaka, Bangladesh; and in Zummar, Iraq.  
It's half past nine, and somewhere in the house a phone is ringing.  Ramadan is coming to an end, and the mornings here are slow, lazy. 
I assume the shrill tone is calling someone else – logistics for an unexpected power out, one of the office staff unable to come in – but as it continues beyond my colleague's footsteps I run to my room. 
It's the morning translator. "Just a call to let you know," he tells me, casual, unhurried. There's a patient in ER with a gunshot wound, he explains.
With fluctuating tensions in the country, and MSF projects closed following retributive attacks on patients, it's protocol to notify the Field Coordinator of all patients with gunshot wounds so they can assess and monitor the situation. 
"Just the chest or maybe abdomen, but he's stable, under control!"
That information I can pass on, but my responsibility is primarily to the patient and my local colleagues, and I'm now well acquainted with the damage a single bullet can do.  I ask about the injury.
"Just the chest or maybe abdomen, but he's stable, under control!"
I throw the abaya and hijab over my scrubs, my own security requirement for movements between our house and the hospital in a conservative rural area of Yemen, and hurry up the hill bound for ER.
"Plenty of ways to kill a human being."
The resuscitation room is far less animated than it should be. The patient's vitals seem ok but the person below the monitor is pale and sweaty with rapid, laboured breathing. 
There are fresh bandages swaddled around both shoulders, stemming the bleeding from what he says are entry and exit wounds inflicted from a single shot roughly an hour ago.
Between the shoulders lie plenty of ways to kill a human being.
He's already had medication to stem the bleeding, control the pain and stave off the likely infections that come when a dirty, metallic missile rips through human flesh.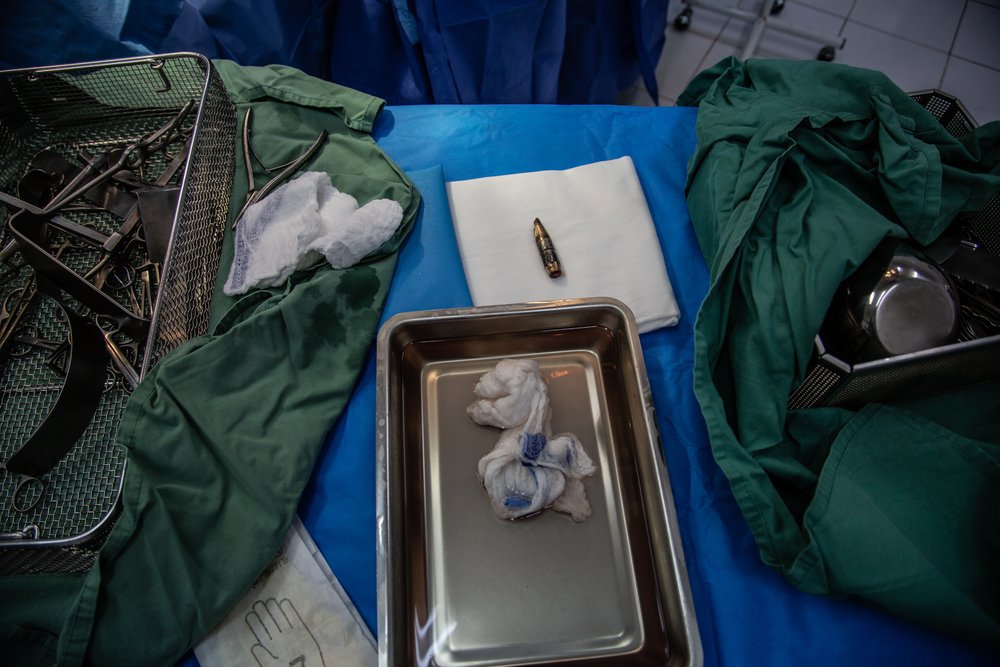 As I place the stethoscope on his chest wall, the problem identifies itself immediately. Below my hands his skin is crackling, pockets of gas popping having escaped an injured lung. 
The team are waiting for an x-ray, unavailable in haste during sleepy Ramadan, and a luxury that could delay life-saving treatment.  A bedside ultrasound confirms suspicions as we see blood and air filling the chest cavity where the lung should be.
My colleague has never placed a chest tube, a procedure necessary to decompress the air and blood to allow the lung to continue to expand, but he has all the theoretical knowledge.  He's at the end of a quiet night shift, but ready and eager. 
"A choreographed dance"
We take a moment to discuss the procedure, make a plan and prepare.  My job here is all about capacity building, and this is the perfect opportunity for him to grow.
I guide him through the procedure.  Step 1.  Step 2.  For me at least, a choreographed dance learned from years of medical experience. 
He's a little too gentle digging through the tissues, but soon enough there's a hiss of air, a gush of blood, and a look of accomplishment on my colleague's face. 
"I've come to learn this is the mark of the local militia."
10am and he's saved a life.
The patient's family have already donated a unit of blood to replace the one that springs forth from the wound – blood goes in one tube and out another.
As the patient is bundled off to x-ray, a small silver chain dangles from beneath his watch.  I've come to learn this is the mark of the local militia. 
My colleagues, crowded around, were likely aware of this from the moment the patient was carried in.  But they were impartiality in action.