When conflict breaks out, we are there for those in urgent need.
For people trapped in war zones, access to healthcare can be almost impossible. Without basic medical care people die, from war wounds, car crash injuries, treatable diseases and childbirth.
In countries like Iraq, Yemen and South Sudan, Médecins Sans Frontières' expert medical and logistics teams work at the frontlines to ensure men, women and children can access the care they need.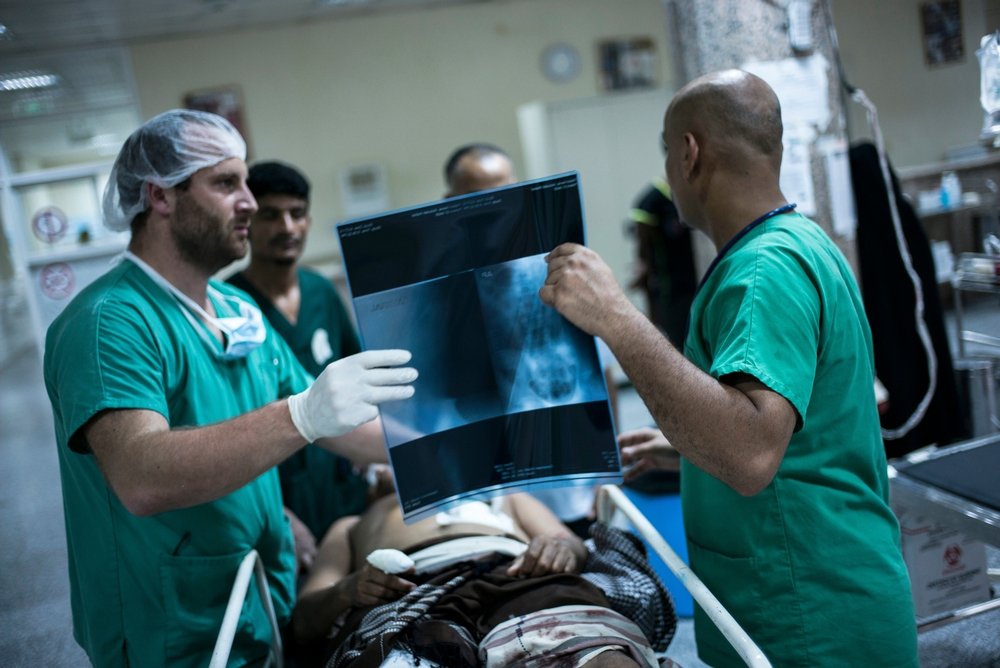 Operating inside a war zone
Australian doctor, Jessica Chua, worked at a Médecins Sans Frontières-supported hospital in Yemen:
"Amir, an eight-year-old boy, came in with multiple injuries from a bomb blast in Taiz. He had unimaginable wounds - with an open fracture on his left femur, leg and jaw - and must have been in excruciating pain.
We ended up amputating his right leg.
Despite all these injuries, I got to see Amir recover.
Every day he would sit with his elder brother, who never left his side from the day of admission. Both of them quietly working on colouring in letters and numbers in a workbook."
In many countries where we work, during the conflict and once the fighting stops, our expert teams provide healthcare for people in need, including psychosocial care, treatment for malnutrition and vaccinations against infectious diseases. 
Donate Today
Our doctors are on the ground in places like Afghanistan, South Sudan and Syria. They need your help wherever they are so they can continue to provide emergency medical assistance. Please make a donation today. Your donation will go towards our work in around 70 countries. 
Personal information is collected to process donations, issue tax receipts and send supporter communications (e.g. e-newsletters, fundraising events and field activities). A service provider we engage will also collect personal information regarding your use of our supporter communications (e.g. whether you unsubscribe or click-through). The service provider uses this personal information for the sole purpose of reporting to us. Please contact us if you wish to limit the use of your personal information or to stop receiving direct marketing material. Our
Privacy Policy
contains information on how you can access or correct your personal information, who we disclose your personal information to (including overseas recipients) and how you can lodge a complaint. All donations are directed to where the medical need is greatest. Thank you. Médecins Sans Frontières Australia Ltd ABN 74 068 758 654.
Security Policy
When donating online to Médecins Sans Frontières Australia, your personal information is protected by an industry-standard high grade encryption, using SSL technology provided and verified by
Symantec
. We regularly review our practices to ensure that our supporters are protected online. If you have any questions about our security policy, please contact us using the details above.
Refund Policy
Médecins Sans Frontières Australia may provide refunds in exceptional circumstances. Read our
refund policy
in full. Please phone us on 1300 136 061 for further information.