Médecins Sans Frontières has been working in Kibera, Nairobi's biggest slum and home to 280,000 people, since 1997. During this time, we have been providing comprehensive basic healthcare, as well as treatment for HIV, Tuberculosis (TB), sexual violence, and non-communicable diseases. On 30 June 2017, Médecins Sans Frontières handed over two clinics to Nairobi City County Health Services.
Over the 20 years, the organisation has provided antiretroviral treatment to 10,508 people living with HIV and 3,448 people were successfully treated for TB and 20 people for multi-drug-resistant tuberculosis. In total 6,306 patients were enrolled in non-communicable diseases care.
What started as a response to help contain the outbreak of a HIV epidemic gradually advanced to offering comprehensive primary healthcare, with specialised HIV services, due to the growing needs of the population. Plans to construct a modern health facility were initiated in 2007, as part of the future handover process.
The construction of the hospital was completed in 2013. At the end of 2016, Médecins Sans Frontières initiated the process to hand over the Kibera facilities to Nairobi City County Health Services, who will take charge of the projects, with support from Médecins Sans Frontières during the initial year.

So why did we make the decision to leave Kibera?
The situation in Kibera has stabilised over the 20 years of Médecins Sans Frontières' support and the local authorities are now able to sustain the services.
With the arrival of other organisations and an increased effort of the Kenyan authorities to provide healthcare in Kibera, access to care, especially in terms of HIV, TB and primary health care, has significantly improved.
Médecins Sans Frontières has confidence in the ability of Nairobi City County Health Services to handle the project with high standards of professionalism.
Médecins Sans Frontières can now focus on other areas that need an urgent healthcare response while expanding the capacity to prepare for and react to emergencies.
The involvement of the community has been central to the story of transforming access to medical care in Kibera, and many of them will now be able to continue to work in the clinics and provide a high level of care.
Médecins Sans Frontières will still be in the Nairobi, but will not be involved directly in the management of the hospital. Involvement in the county will be, as per our Charter, emergency response related or other health-related issues that the country's Department of Health may not be able to handle alone just yet.

Henry's Story
Henry* was introduced to Médecins Sans Frontières as a patient, and has since been staff for 13 years. Henry lives with his partner and three-year old daughter in Kibera, a deprived area of the Kenyan capital, Nairobi. Henry is HIV positive and is being treated at an MSF clinic in Kibera.
Six years ago, after he had started antiretroviral treatment, Henry documented his life in pictures in a project called 'My Life with HIV'. Now, Henry is a healthy and active individual who is looking forward to caring for his young family.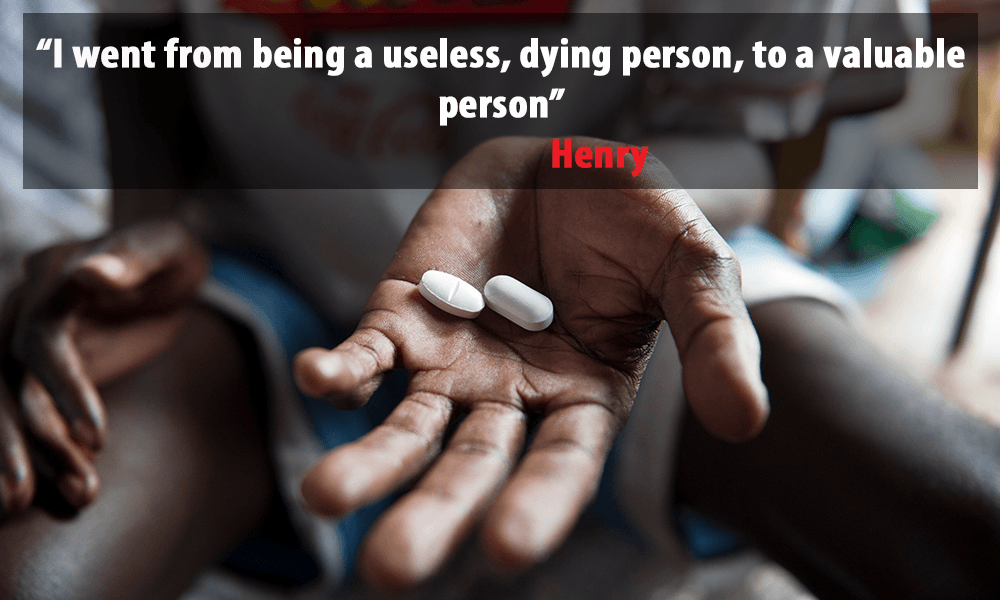 Talking about when he first contracted the disease, Henry says "I was dying, hopeless, and afraid of what my family would do if they found out
I went to live with a friend but didn't tell him about my status. We used to share a bed and I slept in it when he went to work. One time he said to me 'Henry - does your body shed scales? What sickness are you suffering from?' I thought that it was his way of saying, 'Please, I'm tired of you - go and get your own house.'
After leaving a teaching college because of ailment, I continued to seek treatment and also joined the first support group with the other patients. We were all in the same shoes, so we knew how to help each other."
"I still remember my Médecins San Frontières patient number: K135/02**. I was admitted in 2003, and the 131st person to get on HIV treatment. I was dying, hopeless, and afraid of what my family would do if they found out...
As Henry regained strength through treatment and counselling, he became more confident in sharing his status, to the point where in 2004 he found himself traveling to Arusha Tanzania, wearing a "HIV Positive" T-shirt, and marching to demand better access to HIV drugs for all of Kenya.
"Going public gave me the will, skills, and knowledge to live. I went from being a useless, dying person, to a valuable person.
After growing strong, I was able to walk around the community again. When Médecins Sans Frontières opened a new clinic in 'old' Kibera South in 2004, there were many vacancies and I applied for a position. I started first as a hygiene officer, and today I am still with Médecins Sans Frontières, now as a registrar. When I think of my work with Médecins Sans Frontières, I am happy – happy to give back to my community."
* Patient name has been changed
** Patient number has been changed