Loren Shirley is an Australian pharmacist and has worked in Liberia and Nigeria.
What led you to work for Médecins Sans Frontières?
After completing my pharmacy degree and intern year, there were unfortunately no clinical pharmacist positions available in the state. So I started looking at other options. I knew a fair bit about Médecins Sans Frontières because my family had been donating regularly for some years. I went to a recruitment information evening where I heard some amazing and challenging stories and knew that this was what I wanted to do. Three years later and after a long recruitment process I finally realised that goal!
What are the primary responsibilities of a pharmacist with Médecins Sans Frontières?
As the country pharmacist in Liberia, my overall responsibility is to ensure that Médecins Sans Frontières' projects have the medications they need and that these medications are safe, effective and used in the right way. Liberia is at the tail end of the Ebola outbreak but survivors continue to face physical and mental health challenges, so Médecins Sans Frontières is running a survivor clinic, as well as a paediatric hospital. An important part of my role is liaising with authorities and other non-government organisations to ensure our importation of medications runs smoothly and that we can help each other out with supplies when things go wrong. I also work closely with my Liberian pharmacist colleague, teaching her how to review drug charts, as well as with our nurses and doctors to improve quality of care.  We have also just taken on a new pharmacy intern; it is great to work with the Ministry of Health to help train future professionals in Liberia.
In Nigeria, my responsibilities involved stock management, staff education and optimising medication safety. I was responsible for educating nurses and midwives to ensure appropriate information was passed onto patients, and that medications were administered appropriately. 
"When things get challenging it is really important to have a strong sense of why you are there and what you are doing"
What are the most rewarding and challenging aspects of working with Médecins Sans Frontières?
For me the most rewarding part is getting the opportunity to really see how people live in countries that I would probably never have the chance to visit if I wasn't working with Médecins Sans Frontières. In Liberia, particularly after Ebola, there is a mistrust or fear of medical facilities, because a lot of the initial cases of Ebola were transmitted between staff and patients in medical facilities. Unfortunately this has led to a lot of people seeking traditional medicines to treat their families outside of a hospital setting. We have a lot of children presenting to hospital after they have been exposed to a toxin in these traditional medicines. 
On Christmas Eve I was at our hospital when a mother presented with her little boy, just four years old, who had been treated with some sort of traditional medicine. By the time he reached our facility it was already too late. The loss of a child is a pain that you can understand in any language. I wondered if she understood that the treatments that she had tried with her child may have contributed to the death of her son, and if the child had come earlier their Christmas may have been full of happiness as it is meant to be.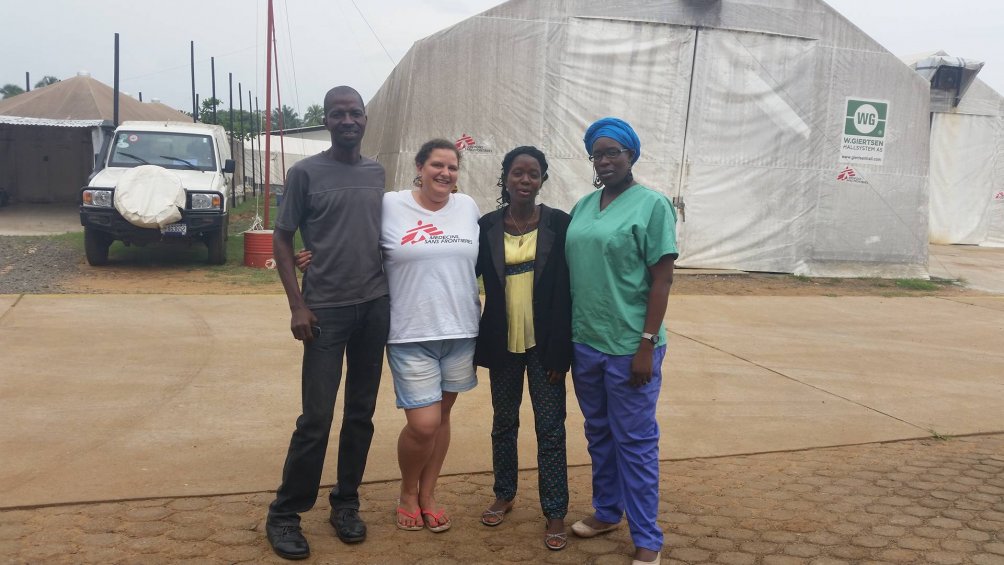 What skills and attributes are important for field work?
You do need the ability to make decisions autonomously, but also to be comfortable working as part of a team. A sense of adventure is very important; I have basically lived outside my comfort zone for several months. But because of the high security context of many Médecins Sans Frontières projects, you also need to be able to deal with long periods of time confined to compounds, living with the same people that you work with.  From my experience you also need to be happy to go with the flow. Plans change every day, so you can't be someone who relies on rigid planning. Personally I love it!
What advice would you have for other pharmacists considering this kind of work?
If you are interested in aid work don't let other people talk you out of it. Most people are supportive but everyone has a lot of questions so be prepared and be confident. When things get challenging it is really important to have a strong sense of why you are there and what you are doing. I believe that affordable health care should be available for everyone regardless of their race, religion, gender or political beliefs, so the neutrality of Médecins Sans Frontières really appealed. Go for it!
For more information, register for recruitment updates.