Dr Joanne Liu, MSF International President
MSF International President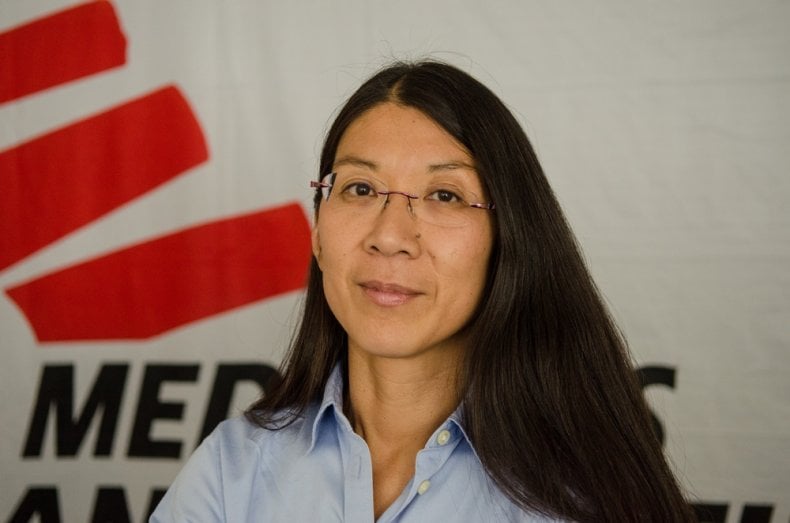 The International President of Médecins Sans Frontières/Doctors Without Borders (MSF) leads the International Board and the International General Assembly, and represents MSF International.
Dr Joanne Liu has been the International President of Médecins Sans Frontières/Doctors Without Borders (MSF) since 1 October, 2013.
Work with MSF
Her time with MSF started in 1996, when she worked with Malian refugees in Mauritania. Since then, she has provided support after the tsunami in Indonesia, assisted people affected by the earthquake and cholera epidemic in Haiti, and worked with Somali refugees in Kenya.
She also helped develop one of the first programmes offering comprehensive medical care for survivors of sexual violence in Republic of Congo.
She has worked in many conflict zones, including in Palestine, Central African Republic and Sudan's Darfur region.
Work outside MSF
Born in Quebec City, Canada, Dr Liu decided to become a paediatrician at an early age.
She trained at McGill University School of Medicine, specialising in paediatrics at Montreal's Sainte-Justine hospital.
She has a fellowship in paediatric emergency medicine from New York University School of Medicine, and an International Master's in Health Leadership from McGill University.
She is an associate professor at the Université de Montréal and has also taught at Fudan University in Shanghai.
Dr Liu helped create the telemedicine project, which connects MSF physicians in 150 remote sites with a pool of more than 300 medical specialists across the globe.
In 2013, Dr Liu received the Royal College of Physicians and Surgeons of Canada's Teasdale-Corti Humanitarian Award.

Past International Presidents of MSF
Jun 2010 - Sep 2013  Unni Karunakara
Jan 2007 – Jun 2010  Christophe Fournier
Jan 2004 – Dec 2006  Rowan Gillies
Nov 2000 – Dec 2003  Morten Rostrup
Jun 1998 – Nov 2000  James Orbinski
Sep 1997 – Jun 1998  Doris Schopper
Jun 1996 – Sep 1997  Philippe Biberson
Feb 1995 – Jun 1996  Doris Schopper
Feb 1994 – Feb 1995  Jacques De Milliano
Aug 1992 – Feb 1994  Rony Brauman
Jan 1992 – Aug 1992  Reginald Moreels
Feb 1991 – Jan 1992  Rony Brauman