Lyman: Life and loss in a retaken Ukrainian city
The war in Ukraine has been particularly devastating for people in towns and cities in the country's east, including in Donetsk oblast (region).
As Ukrainian forces retake cities that had been under Russian control – some for many months – a picture is emerging of the harsh conditions residents have endured, with many having gone without access to healthcare, electricity or water.
On the road to Lyman, in Donetsk oblast, a string of red signs stretches all the way down either side: 'keep out — mines.' The road is strewn with debris: a uniform that has been torn to pieces; cars blackened and burned out from shelling. A bit further on, a washing machine and television – which were once in someone's house – lie in the middle of the street. 
After four months of Russian military control, the city of Lyman was retaken by Ukrainian forces in early October. Following intense fighting, large parts of the city have been completely destroyed.
A team from Medecins Sans Frontieres (MSF), including two doctors, first visited the city in early October, a week after it was retaken. An MSF emergency team provided basic medical care and free medicines to Lyman residents in the building used by the local branch of the State Emergency Service of Ukraine.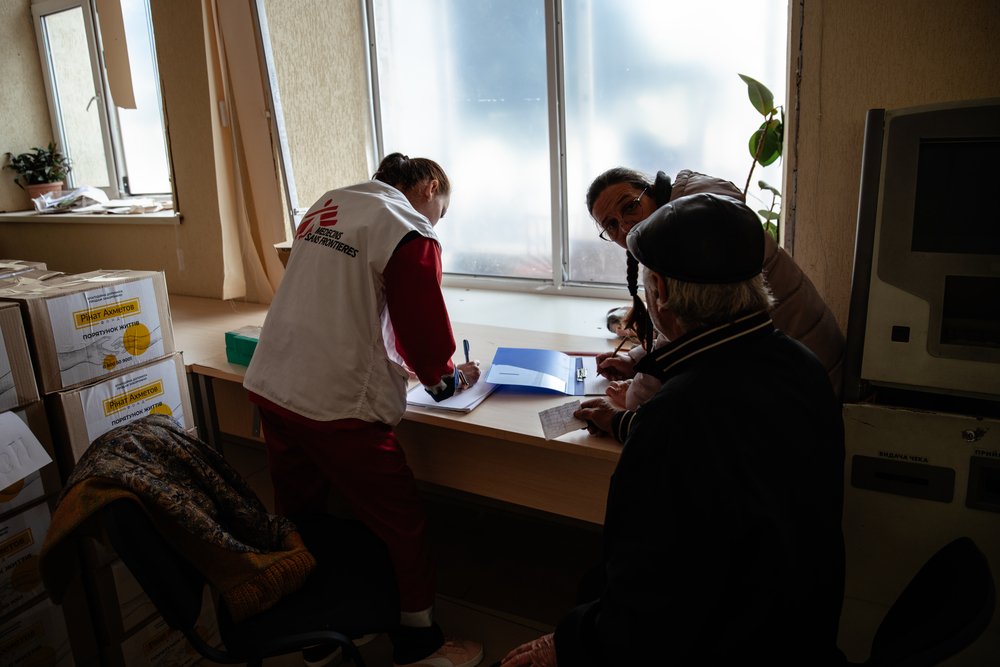 Local people ask our teams, "Have you brought insulin? And something for a headache?" Before the city was retaken, hospitals and pharmacies had not been functioning for months.
Even today, only one health post has reopened; Lyman's two hospitals have been severely damaged and can't provide any specialised medical care. There are major gaps in services but few other international organisations working in the city. 
Today, together with local authorities, we have converted a recreation centre in the city into a basic healthcare clinic.
Our local doctors and nurses provide consultations and distribute basic medicines to residents each day. Together with the head of the Lyman hromada (municipality), we are also providing health services in the nearby villages of Novoselivka, Rubtsi, Yatskivka, and Yarova, where our teams have seen about 400 patients. 
"Most people who come to see us are patients with chronic diseases who had had no access to medical care," says Dr Valeria Leonova, an MSF doctor. "Almost everyone displays signs of stress: agitation, insomnia, irritability and fear." 
Alla*, one of the women who came to see the MSF doctors not long after Lyman was retaken, was concerned about her daughter. 
"During the fighting, the whole family had to shelter in a cold, damp basement and this took a toll on my daughter's health," says Alla. "Most of the locals left Lyman after heavy shelling. We saw that 10 houses in a row on our street had been already destroyed. We thought that our house would be next." 
When the local school and library were destroyed, Alla and her family chose to leave. It wasn't an easy decision. 
"We stayed in many places: near Dnipro, Novomoskovsk, Kharkiv, and Zaporizhzhia. We have four children and two parents aged in their 70s," says Alla. "Nobody wanted to take all eight of us. I was offered a bed in one of the displacement centres without my parents and my husband, but I told them I won't leave my family."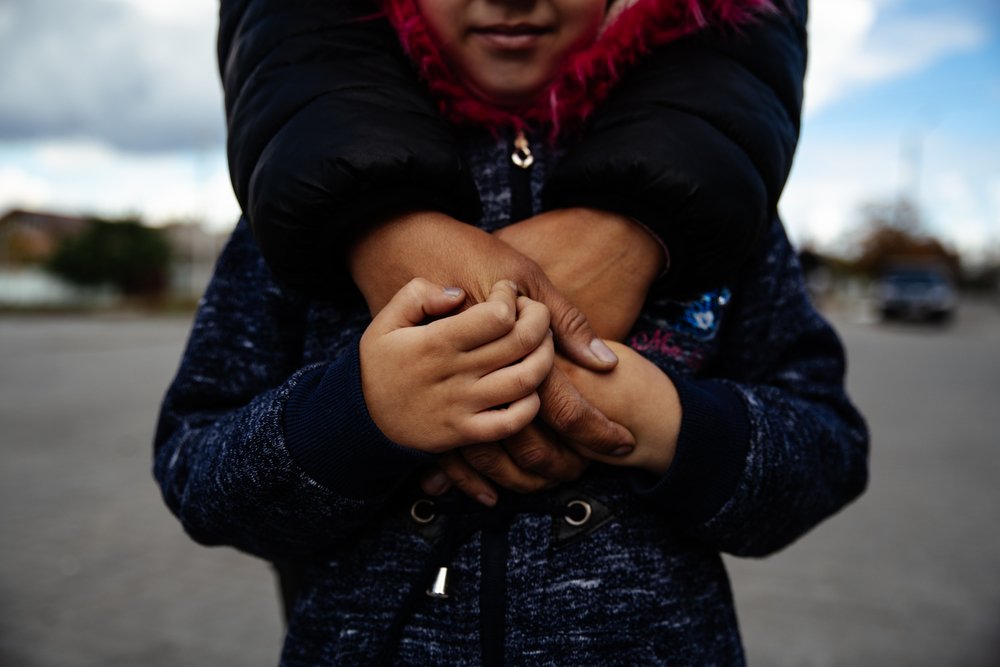 There has been no water or electricity in the city since April; these services are not expected to be re-established until next year. People cook outdoors and go out to collect brushwood and water. It used to take a minute to make tea. Now it can take up to three hours. 
"I carry firewood from a small forest so I can build a fire for cooking," says Klavdiya. 
Klavdiya is 84 years old. For more than a month she sheltered in the basement in her house, lying on the ground in a fur coat and shoes. She had blankets, but no insulation from the cold floor. Because of this, she says, her health has deteriorated. Klavdiya now has to lean on a stick when she walks — even when she goes to the well to get water. She takes a trolley to carry it home.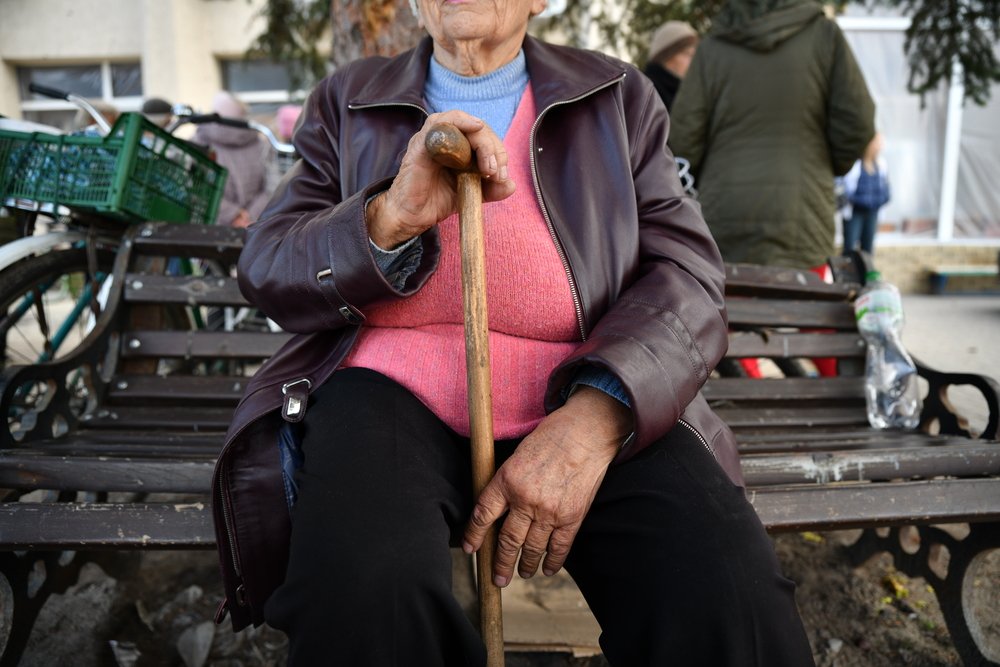 "There are no people in the neighbourhood who can help me; only a few elderly people stayed behind," she says.
Lyman was once a city of 27,000 people. Now only a fraction remains.
One of them includes Valentyna*; she looked after her 96-year-old neighbour who survived the Second World War.
"My neighbour had hearing problems," says Valentyna. "When there were explosions, she asked me, 'Daughter, what is this?' To avoid frightening her, I would say it was a thunderstorm." 
Once, she recalls, a shell landed in her neighbour's garden. When Valentyna came to see her, her face was covered with glass.  
"She died two weeks after that," says Valetyna. "Probably, her heart couldn't take it."
They buried her in the cemetery. But this was not the case for everyone who died. 
"People were simply buried under trees, on avenues, in gardens," says Valentyna. "Later [the Russian soldiers] allowed us to bury people in the cemetery. The bodies were dug up for reburial."  
Resident Marharyta* says because of all that happened, people are shocked and stressed. She, like many local people, did not want her real name or her face recorded. She is afraid that the Russian soldiers may return.
"People here, they lived in basements, without light or means of communication for months. There were also interruptions with food supplies," says Dr Anastasia Borysova, one of the MSF doctors who works in Lyman. "Life in basements does not lead to anything good. People in Lyman are mentally exhausted."
*Names changed to protect identity