Multitasking: Fighting measles in the time of COVID-19
In the shadow of the COVID-19 pandemic, three countries in sub-Saharan Africa are enduring some of the largest measles outbreaks in the world. But preventative measures to stop the spread of COVID-19 could jeopardise lifesaving measles vaccination campaigns.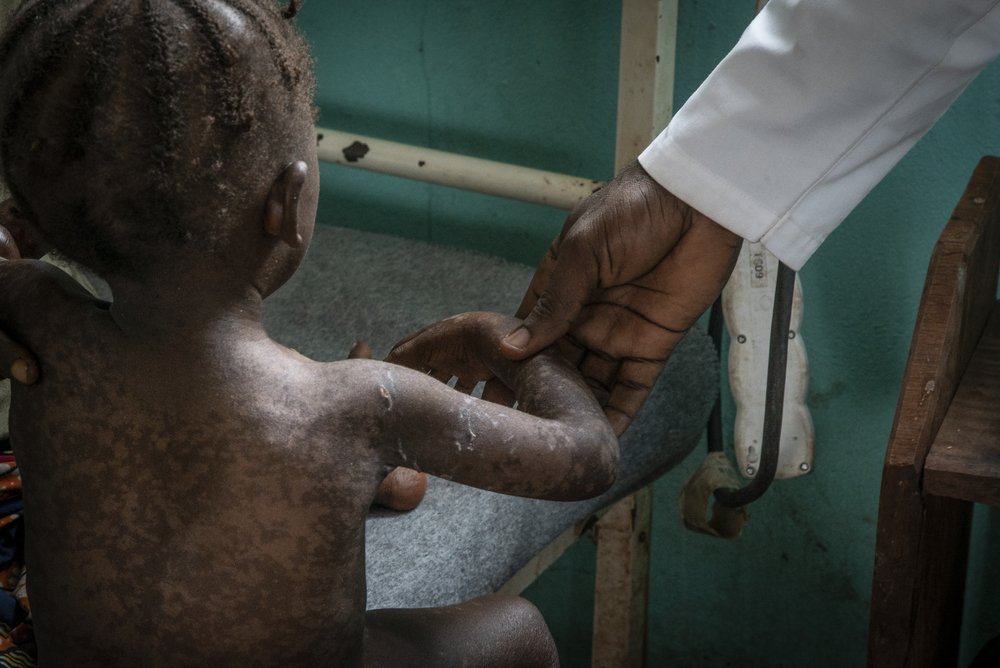 In the isolated village of Ndongue, in western Central African Republic, dozens of parents and young children line up at a Médecins Sans Frontières (MSF) measles and pneumonia vaccination post, set up under a large mango tree. Some children have pastes of mango bark and leaves on their faces; a traditional remedy for measles and other ailments. For most people living in this remote area, traditional medicine is the only option.
"Nobody here can afford to pay for a hospital, so we try to cure ourselves using traditional medicine," says Véronique, a local farmer who has come to get the youngest of her six children vaccinated. "As a last resort we go to traditional healers, and pay them with a chicken if we have no money. This is the first time we have heard about a vaccination.¨
When the Central African Republic's first cases of COVID-19 were confirmed in March, the country was already in the throes of the largest measles outbreak in decades. Now, as mass vaccination campaigns are put on hold due to COVID-19 restrictions, healthcare workers are faced with the challenge of fighting two different outbreaks at the same time.
Accessing essential healthcare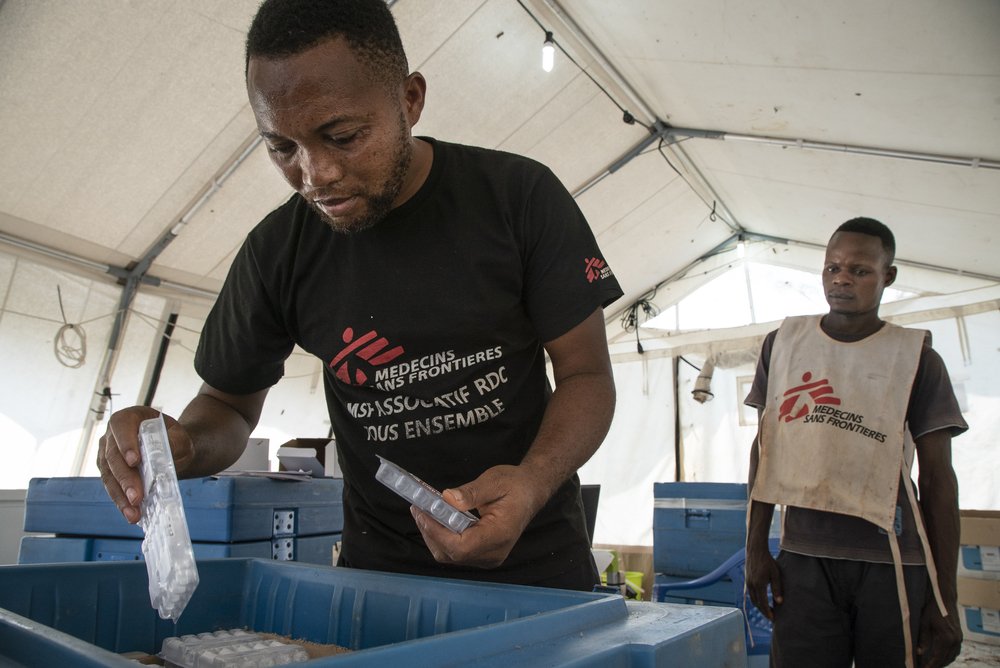 The number of patients with measles in sub-Saharan Africa has skyrocketed since the start of 2019. In the Democratic Republic of Congo, more than 6,600 children have died from measles since January 2019 and, despite government-led vaccination campaigns, the number of cases is still growing in some regions. The Central African Republic is enduring the largest measles outbreak in almost twenty years, and Chad remains gripped by a two-year measles epidemic that shows no signs of slowing down. In 2018, measles claimed the lives of more than 140,000 people worldwide, most of these young children.
Measles is a preventable disease, due to a safe and effective vaccine. But in remote rural communities, the journey to the nearest health service which might have a vaccine is often dozens of kilometres without roads or transport. In these conditions, preventable but highly contagious diseases, like measles, spread fast. To make matters worse, local hospitals often lack the capacity and supplies to treat severe measles cases.
"We've had a vaccine for measles for decades, and we need to make sure that as many children as possible have access to it."
In remote DRC, our teams work with a three-pronged approach to tackle fast-breaking measles epidemics: an epidemiological response to gather information on the outbreak and predict how it might progress, a vaccination campaign to protect the community, and medical support for local health facilities to treat patients early, to give them the best chance of recovery and reduce their risk of passing it on to others. 
Australian epidemiologist Fintan Thompson worked on an emergency measles response in two provinces of DRC, just prior to the COVID-19 pandemic.
"We travelled on motorbikes out to remote communities, talking to health staff and village leaders to get a reliable account of how the disease was moving," he says. "As we mapped the outbreak, we would see waves of the disease flying down 'axes' of human movement, such as roads and pathways to villages, and in areas of high population density. In areas where people hadn't had access to vaccination, this was particularly worrying. We tried to stay one step ahead of the outbreak: you need to respond before it gets out of hand."
In the Central African Republic, MSF teams are in the middle of a campaign to vaccinate more than 340,000 children against measles in seven health zones across the country. The logistical challenges involved in carrying out this campaign are significant – organising teams and deploying staff in remote areas is difficult, and keeping vaccines cold during transport poses additional problems. In Chad, the extreme climate—with temperatures sometimes exceeding 50 degrees Celsius—means ensuring the vaccines are refrigerated is highly challenging
"Children should not have to die of a preventable disease like measles," says Adelaide Ouabo, MSF Medical Coordinator. "Unlike for the new coronavirus, we´ve had a vaccine for measles for decades, and we need to make sure that as many children as possible have access to it."
Adapting healthcare practices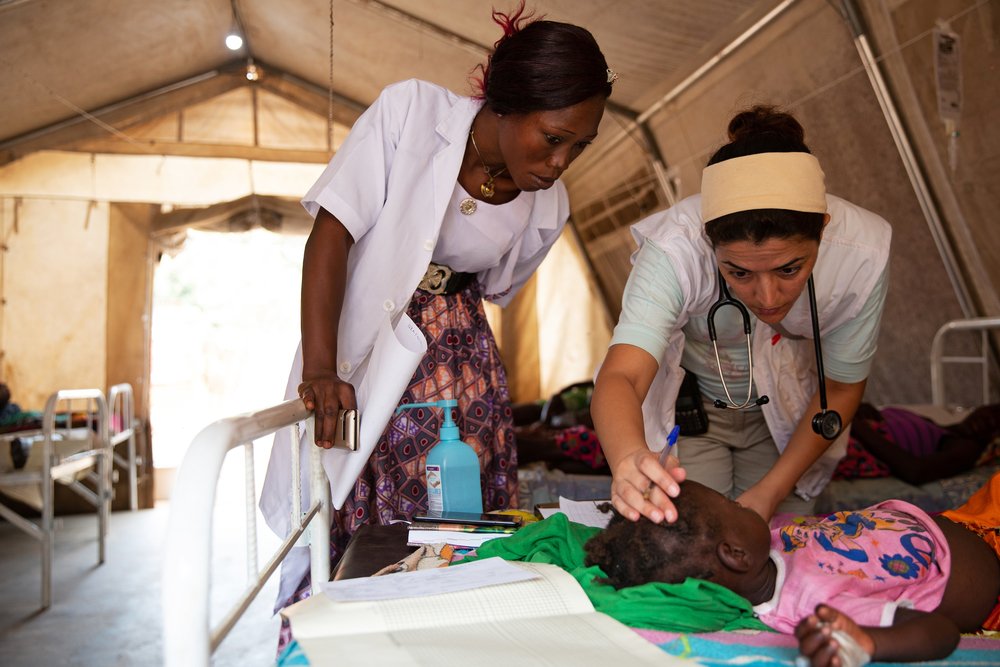 The COVID-19 pandemic has created extra barriers to vaccinating children against measles in regions where vaccination was already difficult. With many countries implementing strict lockdowns to prevent the spread of COVID-19, parents and children at risk are facing further challenges in accessing lifesaving vaccinations.
"Implementing preventive measures to reduce the spread of COVID-19 is vital to protect communities and health workers, especially in a country where the health system is very limited," says Emmanuel Lampaert, MSF Operations Coordinator in the Democratic Republic of Congo.
"Unfortunately, these measures are having an impact on the overall measles response, including transporting vaccines, assembling dedicated teams and launching vaccination campaigns."
"We need to make sure that COVID-19 containment measures do not jeopardise the battle against silent killers such as measles, malaria, pneumonia or malnutrition."
To ensure as many people as possible are still able to access the vaccine, MSF teams are considering methods of vaccinating people in their own homes, using a door-to-door vaccination strategy. Using this method would help limit gatherings and ensure vaccination campaigns do not contribute to the spread of the COVID-19 virus, but will require staff to take on greater risks and use more personal protective equipment than is currently available. MSF Vaccination Medical Advisor Barbara Saitta believes this extra effort is crucial.
"While maintaining immunisation services as much as possible right now may seem like an extra burden, the situation will be even worse if countries have to deal with both COVID-19 and one or more outbreaks of another disease," says Saitta.
The impact of disrupted vaccines
In Chad, a measles vaccination campaign supported by UNICEF and GAVI (a vaccine alliance founded by Bill and Melinda Gates) had been planned for this year, but fears of a large COVID-19 outbreak may mean this has to be postponed. The consequences of postponing could be severe.
According to the World Health Organization, 117 million children could miss out on measles vaccinations in the coming months as countries focus on averting the further spread of COVID-19. Reduced access to measles vaccinations will create dangerous immunity gaps, and there is a fear that this highly contagious, vaccine-preventable disease will rise in the coming months, leading to many more deaths.
"Children should not have to die of a preventable disease like measles."
"Every delay and every obstacle increases the risk of the epidemic continuing to spread, killing more children," says Lampaert. "Reducing vaccinations, nutrition support or malaria prevention in the face of a public health crisis will lead to other crises, making the situation even worse."
"We need to make sure that COVID-19 containment measures do not jeopardise the battle against silent killers such as measles, malaria, pneumonia or malnutrition," says Ouabo. "We know from experience that reduced access to medical services in times of emergencies leads to even more health crises."