Australia must stop stalling negotiations on landmark pandemic monopoly waiver
The Australian government needs to support formal negotiations on the landmark intellectual property waiver being discussed today at the World Trade Organization meeting, says the Public Health Association of Australia (PHAA) and Médecins Sans Frontières/Doctors Without Borders (MSF).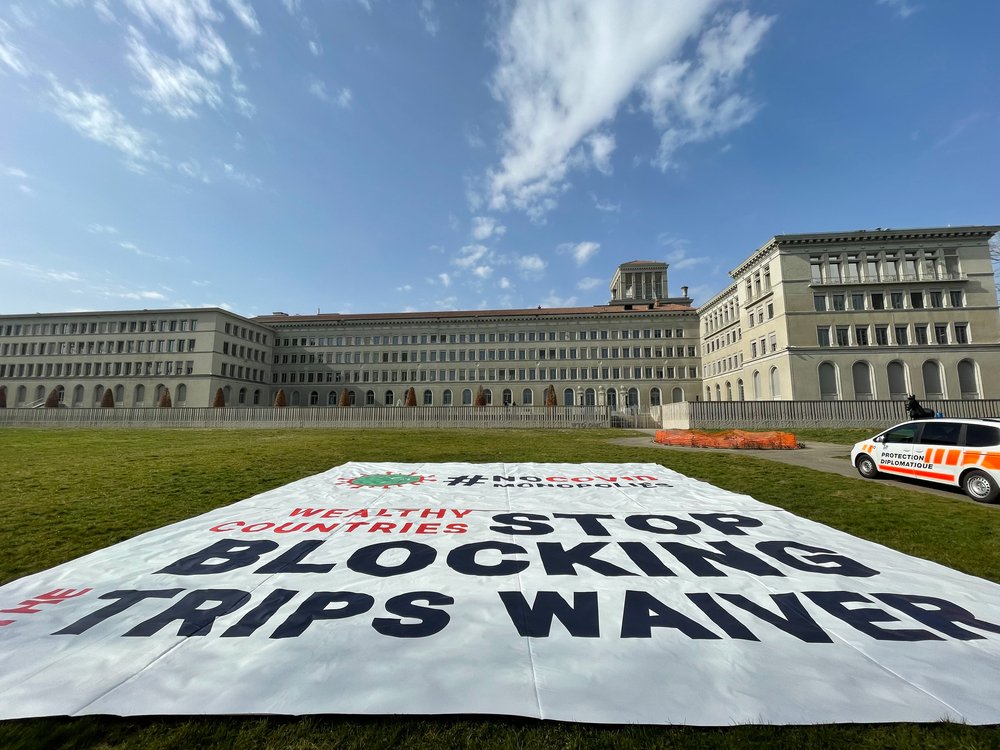 The TRIPS waiver will temporarily remove intellectual property (IP) barriers, allowing scale up of critical COVID-19 medicines, vaccines and other supplies. COVID-19 has already killed more than 3.5 million people across the globe and there are stark inequities between nations in access to COVID-19 medical tools.
One month ago, the US signalled its support for the waiver in a ground-breaking move. Australia's position so far has been ambiguous: the government has made statements that it 'does not oppose' the waiver but it remains one of a small number of countries that is stalling progress.
If adopted, the waiver would allow countries to develop policies to address IP barriers to increase collaboration in research and development, manufacturing, scale-up, and supply of COVID-19 medical products. Waiving monopolies would help level the playing field in this pandemic and ensure access to critical COVID-19 medical tools for everyone who needs them, regardless of where they live.
"In the last few months, we all helplessly witnessed how healthcare workers in countries like India, Peru and Brazil struggled to provide care for people with COVID-19," said Dr Maria Guevara, MSF's International Medical Secretary. 
"Their healthcare systems were on the verge of collapsing and it was very challenging to provide any supportive therapies to critically ill COVID-19 patients in hospitals, as the oxygen concentrators, ventilators and medicines remain in short supply. In addition to vaccines, the world urgently needs access to newer therapeutics and diagnostics to reduce the number of hospitalisations and deaths in this pandemic. Governments must do everything in their power to make sure that every country has the best chance to save as many lives as possible throughout this pandemic."
Australia and other nations opposing this waiver need to stop blocking countries' efforts to protect their populations in a public health emergency. 
Following the 5 May US announcement supporting the proposal and expressing willingness to engage in formal text-based negotiations, many more countries have shown an interest in moving forward with the discussions. However, Australia continues to stall: while the government says it is not blocking the waiver it remains part of a group of 12 countries who are asking for more time before agreeing on text-based negotiations.
Australia continues to seek to rely on voluntary measures by pharmaceutical corporations, which so far have shown limited success. Australia has also been insisting that countries resort to using an existing public health measure, 'compulsory licensing', to override patents product by product, to facilitate production of individual COVID-19 medical tools, rather than a waiver that addresses all IP barriers up front.
"Unfortunately, Australia seems to be buying the pharmaceutical industry's argument that it's not intellectual property that's causing global vaccine shortages, but a lack of raw materials and manufacturing capacity. In fact, intellectual property rights contribute to the shortages of raw materials by excluding competitors from the market for these products,' said Associate Professor Deborah Gleeson, spokesperson for the Public Health Association of Australia.  
The proposed TRIPS waiver would provide countries with an effective and expeditious way to remove key IP barriers in advance, rather than wait for barriers to hit and then scramble into action.
"Australia and other nations opposing this waiver need to stop blocking countries' efforts to protect their populations in a public health emergency. With new and more transmissible variants of the virus emerging in many countries, we cannot afford to delay the adoption of this waiver and other strategies needed to expedite a global solution for production scale up and diversification of supply, so that COVID-19 medical tools are accessible and affordable for everyone," said Jennifer Tierney, MSF Australia Executive Director.
"While we welcome the news that Australia has pledged an additional donation of funds to COVAX, the global initiative for delivering vaccines equitably based on public health needs, it still doesn't go far enough in addressing the problem," said Associate Professor Gleeson. 
"To do its fair share in correcting the gross inequities in global access to COVID-19 vaccines, Australia should immediately donate a fair share of our vaccine supply to COVAX. Australia must also support initiatives to increase the global supply of vaccines and other medical products to fight the pandemic, through licensing and technology transfer mechanisms, and waiving intellectual property rights." 
The governments co-sponsoring the waiver proposal recently submitted a revised proposal to the WTO outlining its scope and duration, with the objective of progressing to formal text-based negotiations. An increasing number of countries (63 as of today) are co-sponsoring the waiver and more than 100 nations have come out in support and welcome the waiver overall.
In late April MSF and PHAA and MSF co-wrote a letter addressed to Prime Minister Scott Morrison calling for Australia to show leadership to help end the COVID-19 pandemic. The letter was signed by 744 health professionals; including 166 academics, 207 doctors and 111 public health professionals. Signatories include top public health specialists from the PHAA, MSF, Burnet Institute, public health departments of leading Australian universities and the Central Australian Aboriginal Congress among others.