Stories From Patients & Staff
Emergency nurse with MSF: "An experience I will never forget"
On his first assignment with Médecins Sans Frontières/Doctors Without Borders (MSF) nurse Jacob Coleman, from Brisbane, was part of a team responding to COVID-19 in Mosul, Iraq. He shares his experience working in the intensive care unit (ICU), advice for other nurses, and his belief in equal access to healthcare for all people. 
Tell us a little about yourself, Jacob?
I am from Brisbane, and graduated from the Australian Catholic University as a registered nurse. I have had my sight set on working within the international aid sector for some years, with a specific organisation. Before becoming a registered nurse, I worked as a bartender in a nightclub and as a caregiver in a residential aged care facility.
My hobbies include hanging out with my dog and baking. My strong passion for equal access to healthcare for every person regardless of their background aligns with my nursing career. I believe that every person should have access to high quality healthcare that is safely delivered.
Why did you want to become a nurse?
I have always wanted to work in healthcare, I find it rewarding being able to support people in their most vulnerable states. I also sought a career that is versatile and can take me to places that many other careers can't. That's why I chose to become a nurse.  
How did you first hear about MSF, and what drew you to work abroad?
I think I first learnt about MSF during my research when I was looking at working within the humanitarian world. I looked at many different organisations, but for me, it was MSF that resonated the most, as I feel strongly about their principles being that their actions are guided by medical ethics, they're independent, impartial, and neutral, they bear witness and have strong accountability. Additionally, MSF is often one of, if not the first international humanitarian organisations on the ground to respond and to deliver medical aid to people affected by armed conflict, epidemics, natural disasters and exclusion from healthcare. 
The decision to work abroad was made even easier when reflecting on the Australian healthcare system. We see that it is advanced and well established, whereas in other countries, people are not as fortunate as us. I've seen firsthand what it means to have restricted access or be excluded from healthcare. Being able to go abroad to support projects meant that I am part of a network that offers safe, comprehensive, high-quality healthcare and impartial healthcare.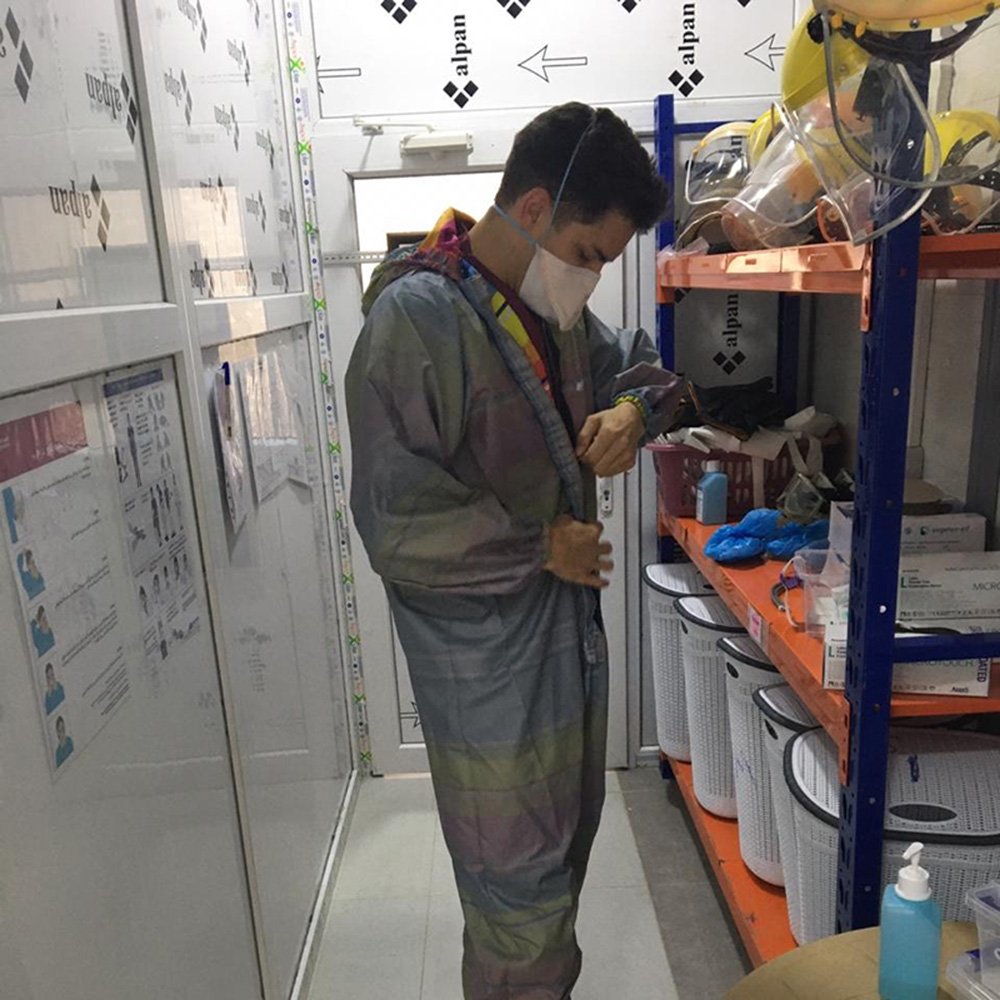 Tell us a little about the role you took whilst working for MSF.
When working with MSF you need to be flexible and adaptable (I can't stress that enough). During my first assignment I was the Nursing Activity Manager (NAM) in Mosul, Iraq.
As the NAM, I managed the inpatient, outpatient, surgical and critical care departments. Additionally, I managed the nursing services teams, infection prevention and control teams, health promotion teams and the surgical teams. Essentially, I was working with a massive team and had multiple departments to oversee.
When I first arrived in Mosul, I was managing the inpatient services for the hospital while we commenced the COVID-19 response. We provided tertiary level hospital care to over 1,000 COVID-19 positive patients during this period. It was incredibility busy and challenging, being in a period of unknown. I look back and commend the team for their hard work, dedication and willingness to work during such a 'dark' time. For people who have experience working with patients who are unwell with COVID-19, they can relate to his sentiment. It is an experience that I will never forget.
After some time, we reverted to our regular surgical services. Being a tertiary orthopaedic centre, we provide comprehensive orthopaedic care to patients who were affected by the war in Mosul. We treated cases involving osteomyelitis, broken bones, dislocations, chronic wounds, foreign body removal and burns along with plastic/reconstructive surgery and so much more.
The NAM position is a very busy position—you are not only managing human resources but also providing clinical leadership and governance. Being able to multi-task and respond rapidly is a skill that you definitely need when you're working in a large project. It is hard to define the role, however, the best description would be exactly as the name implies with additional responsibilities. 
What was a typical day for you in this role?
My typical day at work involved morning rounds of the patients admitted, workforce management, providing clinical support to staff and monitoring indicators such as infection control compliance. There was a huge demand on strong infection prevention and control because we were treating multidrug-resistant organisms  that are resistant to everything, organisms that we don't see in Australia.
I would be reviewing the resource consumption to ensure that our quotas provided enough supplies, conducting bedside and group training. I would also have emails to check, phone calls to make, meetings to be had, and policies to write, review and implement.
Personally, the feeling of doing something bigger, making a positive impact is such a rewarding feeling, being able to literally improve the quality of people's lives and reduce suffering.
Tell us about the surgical ICU that you started and managed?
Part of the role of a good manager is identifying the [patients'] needs and ensuring that these needs are met by the health service. The demands of working in a healthcare environment is always changing and to be able to meet the needs, we need to evolve and implement services within the hospital.
During my time in the project I noticed that as we expanded our surgical capacity, patient acuity increased, indicating the need for a higher-level care environment. This provided me with an opportunity to propose and help coordinate the opening of a Level 2 ICU. This unit provided support to the growing demand of the community. It was able to further allow us to take on more complex cases within our service.
What have been some of your most memorable experiences whilst working aboard?
Working abroad had an array of challenges and experiences that I would never have encountered if I hadn't taken this path. For me, the feeling of doing something bigger, making a positive impact is such a rewarding feeling, being able to literally improve the quality of people's lives and reduce suffering.
The teams that we work and live with also make a huge impact on the experience, I have had the opportunity to meet amazing people and form strong bonds. We go through hard times together, laugh and cry together – it is like having a second family.
What have you learnt about yourself and nursing as a profession whilst working aboard?
I have learnt that I am incredibly resilient and a strong person, also I have learnt what my weaknesses are and areas that I need to work on to improve. The joy of this type of work is you do a lot of self-reflection and you really learn a lot about who you are as a person and your identity.
Regarding the nursing profession, there are two main things that I have learnt. The first is that it's a universal skill, no matter where you go in the world, the very core of nursing is the same everywhere. The second thing I learnt about nursing is no matter where you are in the world, teaching someone to be a nurse is easy, but actually learning and becoming a nurse is not. You can tell the difference between people who are nurses and those that work as a nurse.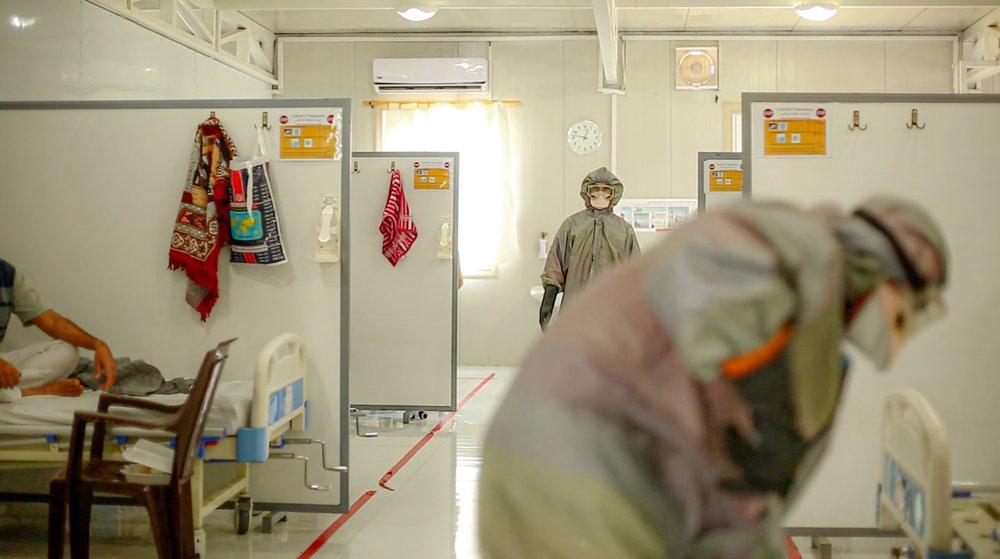 What has been the most difficult aspect of working aboard?
Working abroad is not easy, it can be long periods of emotionally and physically demanding work with minimal down time. It can also be very isolating. Some of the aspects that you will encounter are adjusting to different cultures and belief systems that are often very different to your own—this includes behaving differently, restrictions on food and drink you can consume and clothes that you wear. 
You will also miss out on celebrations and holidays with family and friends. One other big thing you will notice is that every time you come back, you're a little bit different, and common interests that you once shared with friends are no longer common.
Do you get to experience the local culture whilst working and in your downtime?
Yes! I had the opportunity to travel to Kurdistan on my long weekends and spend time relaxing and being a tourist, seeing the local culture and eating the amazing food that Iraq has to offer! I explored parts of Mosul and Baghdad. Every opportunity you have to explore and learn about the country and its culture really helps you to understand the context you are in. It really puts the whole experience into perspective.
As I was in a conservative country, the images that I have are limited, however, the food that I was able to eat was amazing! The culture was so rich and full of interesting history. You really see different aspects of life while you are exploring, you see a city that is functioning, as it would back home, with 9-5 jobs. However, the remnants of war are still very present and it's a constant reminder of your purpose, a very humbling experience.
MSF Australia is actively recruiting nurses with:
Significant experience in ER/ICU
Experience and /or qualification in Infection Prevention Control
Neonatal/Paediatric Nurses
MSF only recruits General Nurses who are bilingual in French/English and are available for 12 months.