Stories From Patients & Staff
Rescued from the sea: Survivors recount their stories
On 10, 11 and 12 June, teams on board the MSF-chartered search and rescue vessel, GeoBarents, carried out seven consecutive rescues of people from unseaworthy boats in distress in the central Mediterranean Sea. In less than 48 hours, our teams safely brought on board 410 men, women and children, including one pregnant woman and 91 unaccompanied minors. Some of the survivors recounted their harrowing stories of survival in attempting to cross the deadliest migratory route in the world.
"We have spent almost three days on the boat at sea with nothing to eat or drink. It was evening when we left Zuwara [in Libya]. The children on the boat with us were crying a lot. We were on the lower deck of this wooden boat and we could no longer breathe. We had fuel canisters that had just finished when MSF arrived to rescue us."
Man from Ivory Coast
"My third attempt to cross the sea was from Zawiya, Libya, in August 2020. We were approximately 50 people in a wooden boat. At 1:30 in the morning we went to the beach and we departed. We were at sea for one and a half days.
Then we got caught by the Libyan Coast Guard. They returned us to Al-Khoms [Libya]. Similar to the last two times I was returned, the coast guards were hitting and beating us. When we arrived at Al-Khoms port, my friends and I tried to escape. The police opened fire at us and two of my friends died. Three others were injured. They were my friends, but I had to run away, because if they caught me, I knew that they would kill me too."
Young man, from Darfur, Sudan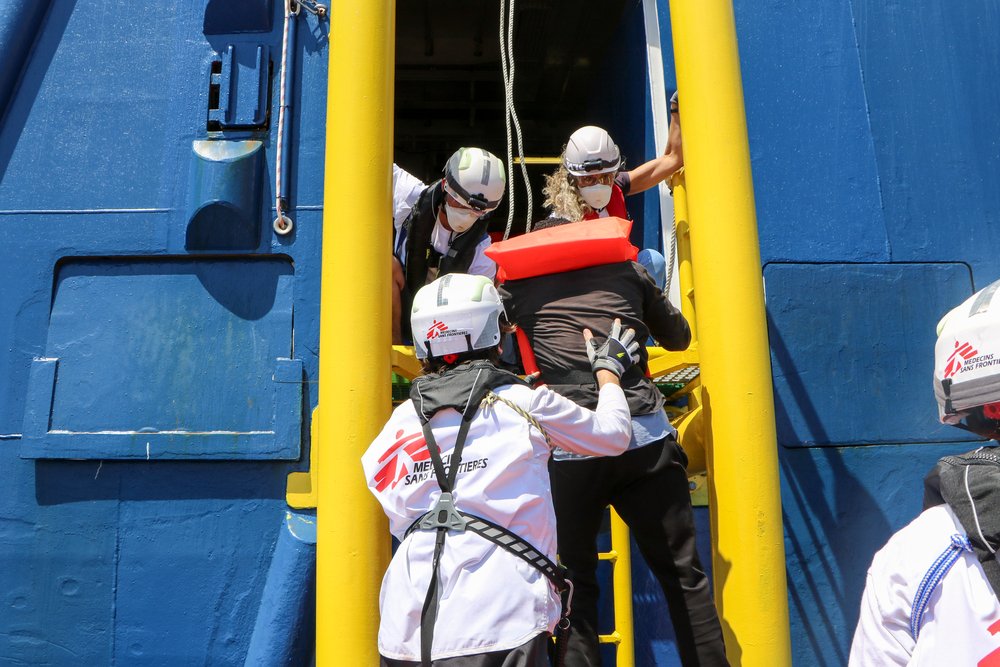 "Even four days in Libya is too long and dangerous. I was with a group of other Sudanese people from Darfur making the journey to Libya. First, we remained locked in a house, because it was too risky for Sudanese or black people to walk in the streets. Then I was trapped one month in a detention centre in Beni Walid. I had to pay for my freedom to get out and reach Al-Khoms.  
On the boat, with 75 other people at sea, we saw an airplane above us. It took photos. Two planes. One white, in the morning and one grey, at night. Just after that a boat came. A government [Libyan Coast Guard] boat came and took us back.
We were brought back to a camp, I do not know where we were, maybe Tripoli, they were beating us. All the people. We were in a room where we were kept in darkness and not allowed to raise our heads or else we were beaten even more. So, I do not know how many people were kept with me. All the Sudanese were kept in the same place, while others were somewhere else.
"Anything they would find they would hit you with. On the head, on the arms, on the legs – anywhere they could get you if people would not sit as they wanted."
They were beating us in the evening. Then they took us into a smaller room where we had to sit for two days. After, they took us in cars to a bigger place but still a place filled with 740 people. No windows, nothing. You know, no windows. 
Anything they would find they would hit you with. On the head, on the arms, on the legs – anywhere they could get you if people would not sit as they wanted or raised their heads. People sitting next to me had broken legs, arms and skulls from the beatings.
After 19 days in darkness and beatings, I asked the guards to free me. My leg hurt because it was infected. They told me that if I don't pay, I'd stay here and die. My family in Sudan managed to send me some money. When I was out, I did not know where to go.
I stayed in a house of another Sudanese person waiting for my family to send me more money. In Zuwara, on that Friday, when we entered the sea, there were 100 of us. Almost two days later we found the boat [Geo Barents].
Our water and food were long finished and only a few remaining canisters of fuel were left on board this overcrowded boat before we were rescued."
23-year-old man from Darfur, Sudan
Subscribe to hear more updates like this one
Our monthly e-newsletter is a great way to keep in touch with our activities throughout the world.