Stories From Patients & Staff
Women in the lead: "Take up space"
Gloria Mwambazi knows the importance of building up other women. As community engagement technical capacity manager, Gloria works with female sex worker-led community-based organisations to empower participants as part of a Médecins Sans Frontières (MSF)-supported project in Malawi. For her, leadership starts with a vision that's shared with others. 
Gloria's story is part of our coverage of women in leadership in MSF for International Women's Day.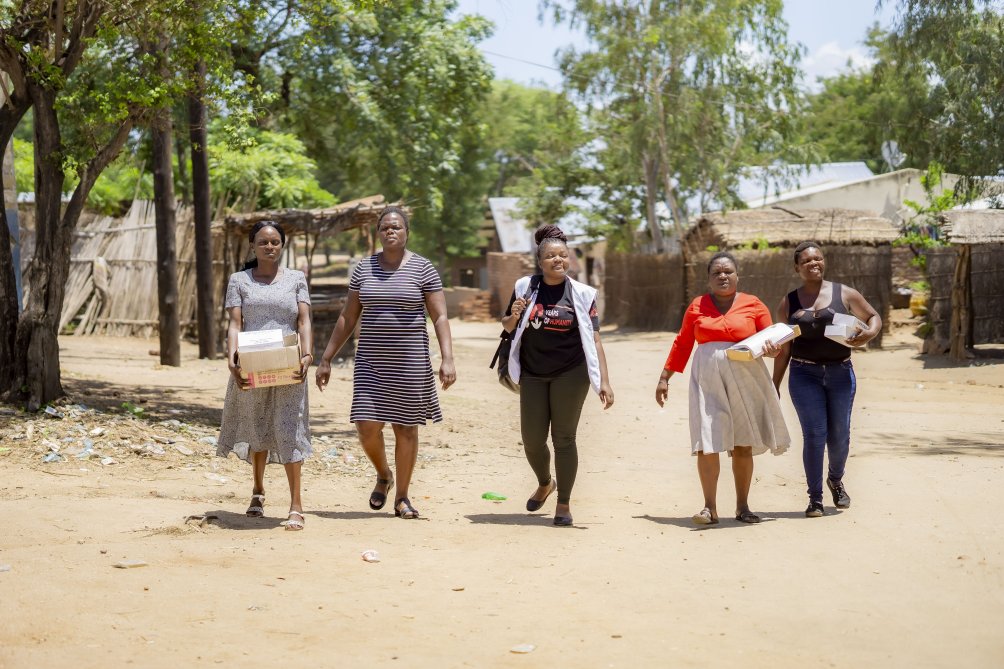 "It's about having a vision, then letting other people understand what this vision is, and having a discussion to say: I have this vision, and this is what I think," said Gloria. 
"Then having people understand what that vision is, and motivating them to work together with you towards attaining that vision." 
Her day-to-day sees her providing technical assistance and support to the grassroot organisations. 
"These community-based organisations are run by women who, education-wise, haven't gone very far with school. They need governance skills, administration skills. They should know how to budget money and how to apply for grants." 
Gloria started working with Médecins Sans Frontières (MSF) in 2018 as the first social worker attached to the Corridor project in Nsanje and Zalewa, which provided HIV, tuberculosis and sexual and reproductive healthcare to sex workers. Through her liaison, the sex worker community started to participate themselves in the delivery of care, shifting the project to a peer-led model with a strong self-managed care approach. MSF then handed over its activities to the Ministry of Health and a small number of community-based organisations formed by the peer sex workers themselves.  
Since then, Gloria has continued to work with the community-based organisations in a mentorship capacity to help ensure their organisational sustainability, and the sustainability of their services. 
"It's just about really being there with them when they have challenges that they need help with," Gloria explained. "I'm there to help them and help them to network. You know, who they can link with for them to really have a standing in the community."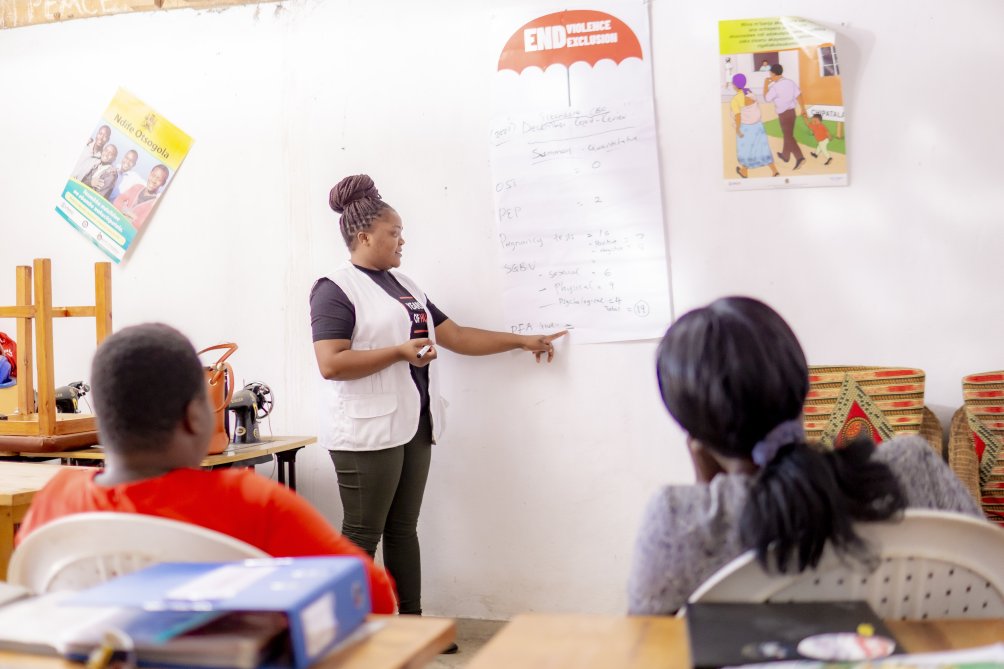 She believes a good leader should know the strengths and weaknesses of their team so they can best support them. 
"Knowing their strengths, you know the weaknesses so that you're able to have a balance to say this is what we can do best. 
"Being able to identify these weaknesses and then identifying opportunities where you can help empower other people in your team. 
"It's supporting your team as well in areas of development, because then you have empowered your team to have this sense of belonging, and a sense of ownership and importance as well.
"I think that leadership means having a proper two-way communication with the people who you are leading, to be able to give feedback and at the same time receive feedback from people. 
"Being a leader doesn't mean you know everything. You're learning as you're leading. I'd never started a community-based organisation before, so I was leading them and at the same time also learning from them. They thought they were learning from me, but I was also learning from them." 
DESTINED TO BE A "DIFFICULT WIFE" 
In Malawi, it's considered normal for women to take on roles as housewives and domestic carers.  
"I think the biggest problem, as women, is being undermined. Society will put limits on what you can do," Gloria said. "As a woman you cannot be too bold. You cannot be too loud." 
Gloria and many of the women she works with go against those societal norms. Gloria said people think she'd make a "difficult wife" because she buys the things she needs, such as a fridge or television, rather than waiting for a husband to buy them for her. 
"You want me to wait until I get married or a man to buy these things? It doesn't make sense." 
But though she is bold and speaks her mind, she acknowledges that she too has had to wrestle with a subconscious thought embedded within her not to be "out there". 
"You don't even realise it is affecting the way you think, the way you do things," Gloria said. 
"Sometimes when people doubt your abilities, you start thinking 'Ok, maybe I cannot do this'. Then you think 'maybe I shouldn't be here'." 
Gloria said women may try to overcompensate by working so hard to prove everybody wrong but it often leads to stress and burnout. 
"Where I can speak up, I am not speaking up only for myself but for others as well. I don't know who I'm speaking up on behalf of, but I know somebody, somewhere, maybe wanted to be heard." 
"For me it has been about realising what I can do, what impact my voice has, and realising there are some women out there who don't have a voice. 
"Where I can speak up, I am not speaking up only for myself but for others as well. I don't know who I'm speaking up on behalf of, but I know somebody, somewhere, maybe wanted to be heard." 
Gloria is learning to take up space and own her successes – something many women struggle with regardless of their background or where they live. 
"I've learned to evaluate my own successes. When I started there were no local sex worker-led community-based organisations. I started, and now, these women and their organisations are providing services. This is a huge success. I don't have to be a perfectionist, to really just overcompensate, just to prove to somebody that again I should be here."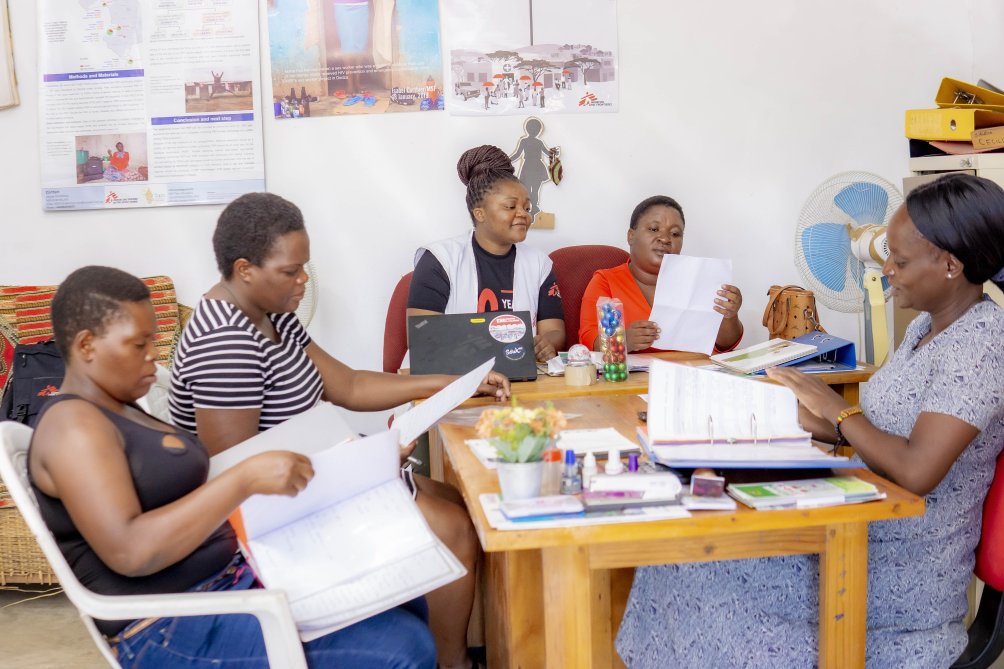 TAKE UP SPACE TOGETHER 
Gloria has a powerful message for other women. 
"Take up space because the world was set up with a whole lot of limits. Being a woman doesn't have to be a limitation," she said. 
Women also don't have to be alone in their boldness. 
"You're not alone because there are women doing similar things," she said. 
"Learn from one another. Have these networks, do not be afraid. Ask from people who are more experienced than you and it's OK to not know something because you learn as you go. 
"We're all learning. Don't be afraid to make mistakes and don't be afraid to forge new paths as well." 
Following the handover of Médecins Sans Frontières' HIV, tuberculosis and sexual and reproductive health project for female sex workers in Malawi at the end of 2020, the organisation continues to support its handover partners, including several new community-based organisations (CBOs) established by sex-worker peers who worked with MSF. This community engagement programme, a pilot under MSF's New Era of Working with Community Organisations initiative, is structured to strengthen the capacities of the CBOs and empower communities to sustain and develop project activities themselves. With iterations underway in Zimbabwe and Mozambique, MSF looks forward to implementing the programme more widely to build on community investment beyond project closures. 
Subscribe to hear more stories like this one!
Our monthly eNewsletter is a great way to hear the latest from our projects around the world.