Arunn Jegan, Médecins Sans Frontières Advocacy Coordinator, reflects on the state of the world's health and crises from an imagined vantage point a decade from now.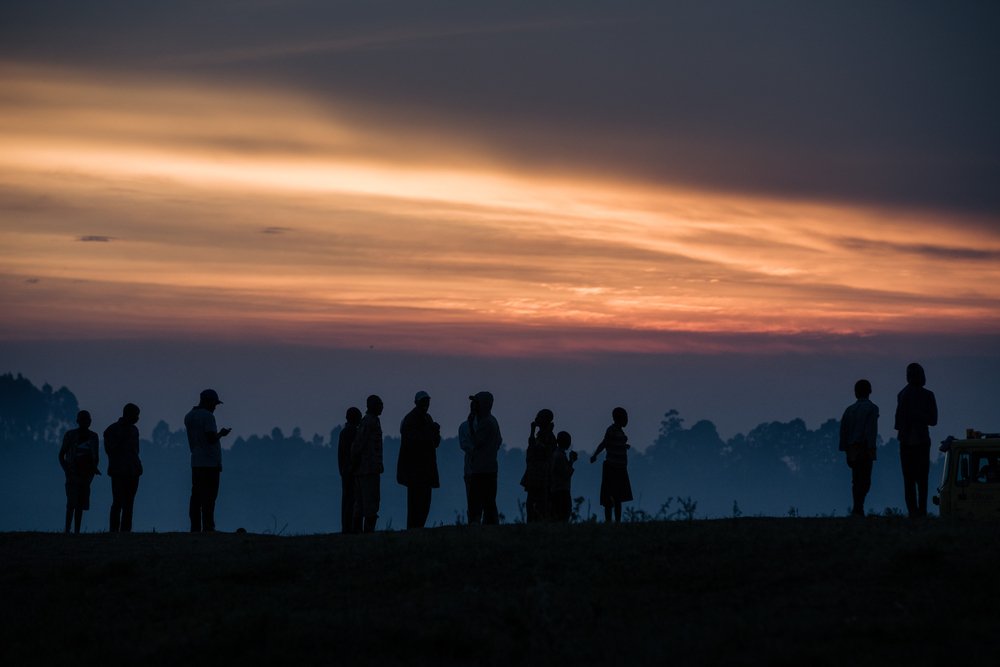 It is 2031, and I am waiting for my luggage at the international arrivals' terminal at Western Sydney Airport. Airports always remind me of 2021, the year I relocated to Australia after a decade working on humanitarian projects overseas. At the time, I took on a role with Médecins Sans Frontières Australia working on humanitarian advocacy. I remember flying into Sydney Airport, thinking about all the issues we were trying to address as humanitarians, and how, collectively, it felt as if we were failing.
It was such a critical time – 2022 was the year that changed everything. Governments, leaders, and society as a whole became fed-up with decades of human suffering and together overcame impossible odds. The COVID-19 pandemic continued to tear through the world as low-income populations remained unvaccinated. The Rohingya suffered generational trauma after being detained in camps in Bangladesh; while prolonged conflict plunged Afghanistan, Ethiopia, and Yemen into the largest humanitarian crises of our time. 
At that point, COVID-19 had already infected over 266 million people, of which 5.2 million had died, and showed no signs of abating with over 500,000 daily new infections. In the African continent, just one in four frontline health workers were vaccinated, and African countries received just 0.6 percent of the eight billion shots globally administered according to the World Health Organization (WHO). 
Meanwhile, domestically, Australia not only continued to detain asylum seekers and refugees in inhumane conditions, but it also inspired the United Kingdom and Denmark to pursue offshore processing policies after whitewashing it as a 'model of success'. All this against the backdrop of a warming planet, heading towards an apocalyptic 2.5-degree change in climate. We were living on borrowed time.
"It was such a critical time – 2022 was the year that changed everything." 
Yes, 2021 was unconscionable. We did not imagine that 2022 would bring about the monumental changes we enjoy today. Where health workers, globally, were fully vaccinated. Where Australia now has a morally justifiable and humane refugee policy, and when international pressure brought the unrelenting suffering of Yemenis, Tigrayans, and Afghans to a halt.
But how did we get here? Well in 2022, the United States took a leadership role and along with MSF and other civil society organisations, convinced the UK, Germany, and other European Union states to stop blocking the TRIPS waiver at the World Trade Organization (WTO). This allowed for a massive scale-up in production of COVID-19 vaccinations, drugs, and diagnostics. Pharmaceutical companies, like Pfizer and Moderna, were also forced to share the technological know-how of innovative life-saving outbreak and epidemic tools, like mRNA technology, after much pressure from civil society who took a stand and said: #NoCovidMonopolies.
In fact, the COVID-19 crisis sparked global investments in better disease surveillance systems, and in the decade that followed, we got better at early detection and containment of emerging infectious diseases. The TRIPS waiver also became a global treaty so that vaccine hoarding and profiteering were never prioritised over saving lives again.
Against this backdrop global health bodies like WHO and GAVI also focused their efforts on holistic COVID-19 responses to many of the under-resourced communities where MSF works through global mechanisms like COVAX. Contexts like Afghanistan, Ethiopia, and Yemen where relentless conflict, some rejection of vaccinations, and poorly functioning health systems required more localised patient-centred approaches than vaccination delivery alone. Inspired by the collective effort by health bodies, the United Nations Security Council finally prioritised saving lives over politics and placed enormous resources and energy into addressing and reducing the suffering in Afghanistan, Ethiopia, and Yemen, and quality medical care was available to all. But the devastating mental scars of years of conflict, loss, and life-threatening-malnutrition rates are still present and even in 2031, the international community must not shirk their humanitarian responsibilities yet.
"We tried, at the very least, for the sake of our children, to not live on borrowed time. And that made all the difference."
On the domestic front, 2022 was an election year, and both Liberal and Labor shifted their refugee and asylum seeker policy from criminalisation to a humanitarian lens. Both parties finally accepted the New Zealand deal to resettle refugees who had been held on Nauru and Papua New Guinea, ending a nine-year ordeal for hundreds of refugees.
This change occurred after much public pressure morally injured the politicians, compounded by the release of MSF's report 'Indefinite Despair' in 2018. This report demonstrated the alarming levels of mental health distress among asylum seeker and refugee patients was directly related to the indefinite nature of Australia's offshore processing policy. As a Tamil, it still makes me sorrowful when I think about the suffering my community went through and all the others who were detained after fleeing war or other desperate situations. 
When I look back at the federal election in 2022, all it took was for loud public pressure and the ensuing political will after Australia accepted the New Zealand refugee deal. Now one Tamil family rebuilds their life in Biloela, while the others live in Auckland along with more than 150 other refugees and asylum seekers that were detained offshore. Ten years on, Australia now has an ethical and legal humanitarian policy, which welcomes 25,000 refugees a year with predictable, well-resourced resettlement support, including high-quality medical care. 
It's 2031 right now, and whilst much progress has been made, over two million Rohingya remain stateless and continue to live in squalor in camp-like conditions all over Bangladesh, India, Malaysia, and across the Asia-Pacific region. Indeed, political apathy and weak international pressure on Myanmar to end discrimination of the Rohingya, continued generations of misery and worsening health outcomes persist in what has developed into a full-blown regional crisis.
Meanwhile, we are still staring down the barrel of 2 degrees of planetary warming, with devastating consequences, markedly better than the 2.5 degrees predicted in 2021. Though Australia is slowly de-carbonising; the government must now work with Pacific Island countries to address climate change displacement of coastal and islander communities. So how do we solve major humanitarian crises like climate change or the statelessness of the Rohingya? Precisely like we addressed the unfair global health system, inhumane refugee policies, and delivering medical aid to conflict zones. We committed to universal rights like access to quality healthcare for all, we listened to communities across the globe and together came up with patient-centred approaches. We committed to holistic local solutions in tandem with addressing global systems. We pulled together and we found our shared purpose to care for each other and the planet we live in.
We tried, at the very least, for the sake of our children, to not live on borrowed time. And that made all the difference.