The coronavirus disease (COVID-19) is a new viral disease that affects the respiratory system
As of 2 April, there are more than 905,000 cases worldwide, and more than 45,300 deaths.
As of 2 April, 4,976 cases of COVID-19 have been confirmed in Australia, according to the Australian Government Department of Health.
About Coronavirus disease (COVID-19)
How is MSF responding?
The World Health Organization (WHO) declared COVID-19 a pandemic on 11 March 2020.
More than 100 countries are now reporting cases. Roughly 80 percent of confirmed cases of COVID-19 experience a mild respiratory illness but it has a higher rate of severe complications for vulnerable people – such as the elderly and people with compromised immune systems – than other viruses such as flu. 
The high level of supportive and intensive care required has placed a heavy burden on some of the world's most advanced healthcare systems.  
Given this is a pandemic, MSF's ability to respond on the scale required will be limited, but we are currently responding in multiple countries.
We are deeply concerned about how COVID-19 might affect people living in precarious environments such as the homeless, those living in refugee camps in Greece or Bangladesh, or conflict-affected groups in Yemen or Syria.
We must do everything to prevent and delay further spreading of the virus. We know from our experience that trust in the response and health authorities is an essential component for outbreak control.
Clear, timely and honest communication and guidance is needed. People need to be empowered to protect themselves. 

What is the new COVID-19 coronavirus disease?
COVID-19 (short for "coronavirus disease") is caused by a virus discovered in early January in China. It appears to be transmitted through droplets spread by coughing. The virus affects the respiratory system. The main symptoms include general weakness and fever; coughing; and in later stages sometimes pneumonia and difficulty breathing.
Identified by Chinese scientists, the virus is now called SARS-CoV-2 because of its similarities to the virus that causes Severe Acute Respiratory Syndrome (SARS). The coronaviruses are a large family of viruses, most of which are harmless to humans. Four types are known to cause colds, while two other types can cause severe lung infections (SARS and MERS – Middle East Respiratory Syndrome), similar to COVID-19.
Like all viruses, SARS-CoV-2 needs the cells of living beings to multiply. This virus seems to target cells in the lungs and possibly other cells in the respiratory system, too. Cells infected by the virus will produce more virus particles, which can then spread to other people, by coughing for instance.
How dangerous is the disease COVID-19?
Our understanding of the virus and the disease is still evolving. The latest estimates are that 80% of the people who get infected will only suffer from a mild or moderate form of disease. 15% will develop a severe form of the disease, which requires hospitalisation. Some 5% will be critically ill.
Sophisticated health care systems may be able to cure even the most critically ill patients, but the danger is that healthcare systems get overwhelmed by the large number of patients to be hospitalised, so those patients can't access that level of care.
It's clear that there are also infected people who show no or almost no symptoms of the disease. There are no good estimates of what percentage of infections these asymptomatic or pauci-symptomatic people make up of the total number of infections.
The disease is more dangerous for elderly people or people suffering from other infections or ailments, as often is the case with infectious diseases. More than 80% of the people who died of COVID-19 were over 60 years old, and over 75% had underlying medical conditions. Children, on the other hand, seem to be less affected by the disease. The mortality rates vary a lot from place to place, so it's difficult to make a general point about how deadly COVID-19 is.
More than 80% of the people who died of COVID-19 were over 60 years old, and over 75% had underlying medical conditions.
How contagious is the disease?
Our understanding of the virus and the disease is still evolving. The virus certainly can be spread by the coughing of sick people. But it seems it can also be spread by people that have no or almost no symptoms. This doesn't make the disease more contagious per se, but it makes it much harder to get a good picture of the way it's spreading. It is unknown what percentage of all infections these 'asymptomatic' infections make up.
As more than 120,000 people have been reported to be infected in more than 100 countries, this virus has already spread widely. Many countries report exponentially growing figures of new cases, so the virus clearly has the potential to spread quickly. But many details about the infectivity of the virus are still unknown (how long it can survive in different circumstances outside the human body, how many viral particles are required for an infection, etc.).
How can I prevent myself from being infected?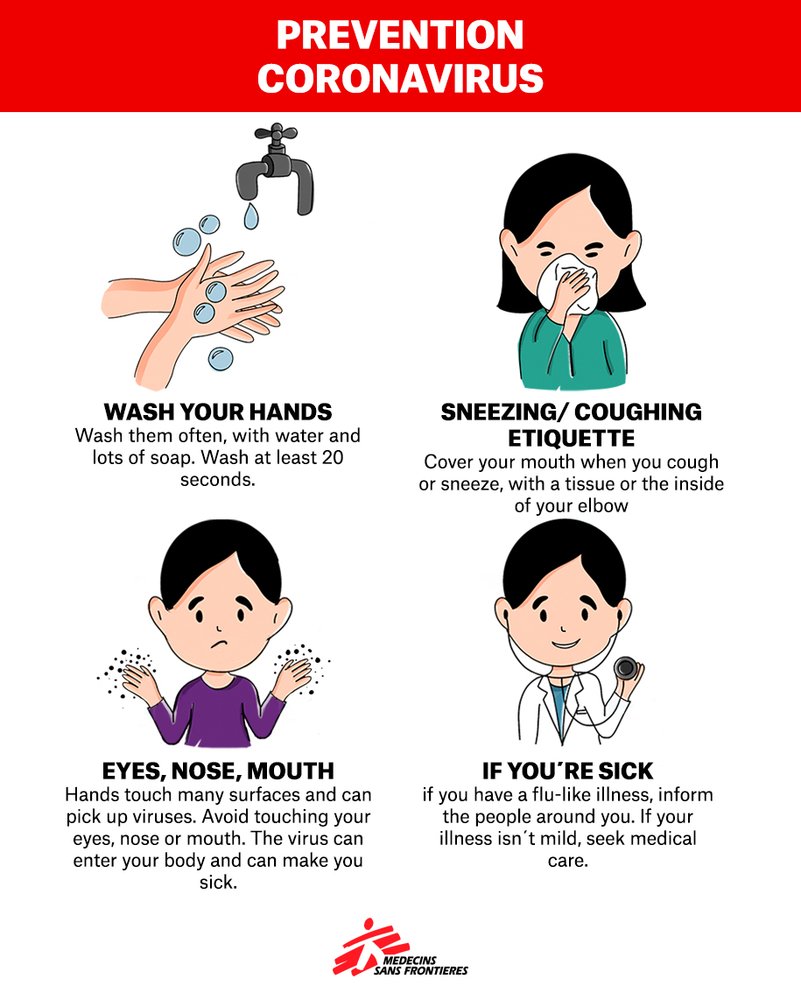 It's important to protect yourself and protect others too. As with other coronaviruses, droplet infection seems to be the main mode of transmission. The virus enters the human body through the mouth or nose. This can happen by breathing in infected droplets, or by touching with your hands a surface in which droplets have landed, and then touching your mouth or nose later.
Hence, simple infection control measures such as hand-washing and cough and sneeze etiquette are effective and important for prevention.
Hand hygiene is paramount, so wash your hands often with soap and water. Use enough soap, and make sure all parts of both your hands are washed. Spend at least 20 seconds washing your hands. If there's no visible dirt on your hands, an alcohol-based gel is also a good option.
In places with local transmission of the virus, social distancing is advised. As the virus is passed on from person to person, not being too close to other person can prevent infections. Avoid crowded places and large gatherings.
If you cough or sneeze, cover your mouth and nose with a tissue, or with the inside of your elbow. Put used tissues in the bin immediately and wash your hands.
Given the current problems with the supply of masks and other protective equipment, healthcare staff should be prioritised.
How is MSF responding?
Preparing for COVID-19
Protecting patients and healthcare workers is essential, so our medical teams are preparing for potential cases of COVID-19 in our projects.
In places where there is a higher chance of cases, this means ensuring infection control measures are in place, setting up screening at triage, isolation areas, and health education.
In most countries where we work, we are coordinating with the WHO and Ministries of Health to see how we can help in case of a high load of COVID-19 patients and are providing training on infection control for health facilities.
The next wave of the pandemic: Africa, the Middle East and Latin America
We see that this virus has crippled some of the most advanced health systems, in countries that have a social safety net where most people have access to running water and space to self-isolate. This is simply not possible for people in many of the countries where we typically work. Our greatest concern is if the virus takes hold in places with weaker health systems with vulnerable people who can't protect themselves. International solidarity will be crucial, whilst the response to COVID-19 will have to be tailored to every setting, community, and local capacities.
What needs to be done
We must do everything to prevent and delay further spreading of the virus. It is already straining some of the world's most advanced healthcare systems. 
Preserving access to healthcare, both for COVID-19 patients as well as for any other patient, is paramount. This means ensuring that hospitals don't become overwhelmed and that health staff can cope with the number of patients requiring intensive care and continue providing treatment to other patients who need it too.
Currently, much of our international staff are unable to travel to project sites, for example 50% of international staff are coming from Europe, and they're no longer going to projects, so we're trying to find ways to manage this, as it can particularly impact some projects needing specialist profiles such as surgeons. Having said this, international staff represent 8% of MSF global workforce, most of our projects are run by locally hired team members.
Protecting healthcare staff
Infections of healthcare staff can happen easily in places that are overwhelmed by large numbers of patients. Places dealing with limited supplies of personal protective equipment for staff and a probable reduced workforce (as healthcare staff will also be part of confirmed cases through transmission in the community) are also at risk. 
Infected healthcare staff will further reduce the capacity to admit and treat patients. Safety for healthcare workers should be a top priority in every healthcare facility.
We know from our experience that trust in the response and in health authorities is an essential component for outbreak control. Clear, timely, measured and honest communication and guidance is needed. People need to be empowered to protect themselves.  
To ensure that the medical tools urgently needed to respond to COVID-19 are accessible, affordable, and available concerned stakeholders including governments, pharmaceutical corporations and other research organisations developing treatments, diagnostics, and vaccines should take the necessary measures to:
prevent patents and monopolies from limiting production and affordable access;
guarantee access to repurposed drugs for patients suffering from disease;
prioritise the availability of the medical tools for protection and treatment of frontline healthcare workers; and  
improve transparency and coordination, making sure an evidence-based approach is put in place to continuously monitor the risk of the potential supply chain vulnerability on essential medical tools
Where is MSF responding to Coronavirus (COVID-19)?
Asia-Pacific
In out patient departments in our hospitals, we've put in place a specific waiting area for patients who show symptoms of COVID-19. A dedicated ward and isolation rooms have been put in place in one of our hospitals for eventual COVID-19 cases.
Tankred Stöbe, MSF emergency coordinator, visited several countries in South-East Asia to assess their preparedness for potential outbreaks of COVID-19 and the support MSF could provide at this stage. He participated in training sessions with healthcare staff in a hepatitis C clinic in Phnom Penh, Cambodia.
The team is contributing to the development of national guidelines for IPC and clinical care of COVID-19 –cases. Once validated, we'll roll out trainings in eight hospitals around the country which have been defined as referral hospitals.
An MSF team in Hong Kong opened a project at the end of January focusing on health education for vulnerable people. Community engagement is a crucial activity of any outbreak response and in Hong Kong, this focuses on groups who are less likely to have access to important medical information, such as the socio-economically disadvantaged. The team is also targeting those who are more vulnerable to developing severe disease if they are infected, such as the elderly.
"Our teams have already conducted 20 face-to-face sessions with street cleaners, refugees and asylum seekers and the visually impaired in recent weeks," says Karin Huster, who is in charge of MSF's project in Hong Kong. "We share up-to-date, evidence-based medical information, but perhaps even more crucially, we're there to listen and answer the many questions that this new disease has generated. Fear can often spread faster than a virus, so helping people manage their stress and anxiety is a key focus for us."
In addition, we're sending a donation of one tonne of personal protective equipment to the Hong Kong St John Ambulance service to help them carry over until their stocks can be replenished. The staff are transporting high-risk patients, and therefore, it is important to ensure that they have the specialised protection they need to work safely.
In addition, the team has also started providing "coping with stress and anxiety" workshops to the same target groups to address their mental health needs. A number of mythbuster videos on COVID-19 related topics have been produced, as well as a video providing tips to address stress and anxiety during this pandemic.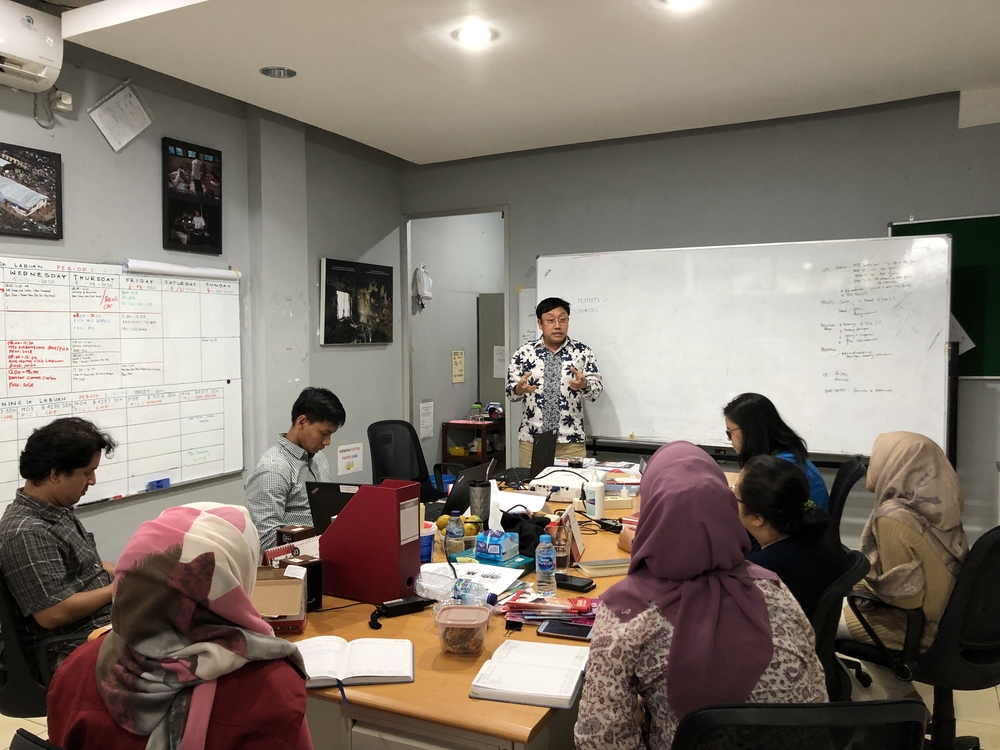 MSF's medical coordinator in Indonesia, Dr. Nyi Wynn Soe, facilitates a training on COVID-19 response for the organisation's staff in Labuan, Banten province. The training is part of MSF's emergency preparedness to respond to a possible COVID-19 outbreak. On 2 March, the Indonesian government announced 2 confirmed COVID-19 cases in the country.
We are ready to increase support to the national MoH and district authorities for contact tracing and testing. We have also issued a call to the Malaysian government to repeal a circular, obliging public health facilities to report irregular migrants, including refugees and asylum seekers.
In Penang, we are providing COVID-19 health education in different languages, including Rohingya and Burmese, and translations in hospitals. We've had to suspend mobile clinics, but patients reach us through our phone hotline. We have donated food supplements to 100 vulnerable families.
In Timurgara, the team is running the isolation ward, waiting for the Ministry of Health to dispatch human resources, as well as doing screening for the OPD, ER and MCH departments. 
Tankred Stöbe, MSF emergency coordinator, visited several countries in South-East Asia to assess their preparedness for potential outbreaks of COVID-19 and the support MSF could provide at this stage. He participated in training sessions with healthcare staff in a hospital in Port Moresby, Papua New Guinea, where MSF treats patients with tuberculosis. The training sessions helped to improve knowledge and reduce fear among the staff, two prerequisites for providing the best level of care to our patients.
Our regular tuberculosis activities are now on hold. Teams have started providing trainings, screening and triage in 22 provinces across the country.
Our regular activities have been put on hold, both in Manila and Marawi. We are conducting ongoing assessments for COVID-19 activities.
We are supporting organisations that work with vulnerable groups such as homeless people and undocumented migrants, with triage and IPC measures. Support to hospitals in case they get overwhelmed is being set up, as is IPC and medical support to closed settings such as homes for the elderly.
In total, MSF is supporting 7 facilities in Belgium with human resources, technical advice, and material.
We're setting up activities to help detect and manage COVID-19 cases among the most vulnerable populations in Paris and the surrounding region. MSF teams are currently working out the details of their activities with partner medico-social associations and the Ile-de-France Regional Health Agency. They are to include mobile consultations and screening to be able to reach out to the most vulnerable, and support with diagnosis, isolation and case management in both existing and prospective shelters.
Another team intervenes in screening homeless people on the street for COVID-19 or other medical conditions. Teams are also assessing the situation in some referral hospitals in Paris and elsewhere, exploring the possibility to provide support for case management.
People trapped in squalid camps at entry points for asylum seekers and refugees on the Greek islands are in especially high-risk environments for COVID-19 transmission and should be evacuated immediately. Earlier this week, a Greek citizen was confirmed to be the first case of COVID-19 on the island of Lesvos, making evacuation of the camps extremely urgent. MSF is urging for people to be evacuated as the sanitary and living conditions make prevention almost impossible, and accessing healthcare facilities are problematic.
In Samos, we're supporting isolation for simple cases and deployed an emergency prep team to help with PHC and screening. We have also prepared an emergency plan in case the refugee camp of Moria should the epidemic spread on the island. 
At the moment we are promoting health information to the camp residents and we have all procedures in place in order to support referrals of patients presenting symptoms related to COVID-19.
At the same time, we have adapted our facilities and procedures in order to ensure the safety of our patients and our staff, we are increasing the provision of water and sanitation services in the camp and we are scaling up our operations with the recruitment of extra medical, paramedical, support staff and the acquisition of the necessary equipment. We are in discussions with the ministry of health to see how we can coordinate action and offer more support.
In the week beginning 9 March in Italy, which is now the second-most affected country after China, MSF began supporting four hospitals in the epicentre of the outbreak with infection control, as well as patient care.
Outside the hospitals we are starting activities to support family doctors and healthcare workers assisting people under isolation at home, and the staff of a nursing home for the elderly where cases have been detected.
We have also started activities in one of the five most affected regions, Marche in central Italy, where the number of cases is increasing. We support a network of nursing homes in several cities, to prevent cases to spread in such vulnerable locations, which have no specialized medical staff to manage the patients. Today there are about thirty MSF staff involved in the response to coronavirus in Italy
In one hospital we are providing psychological health support (to psychologists to support their own staff), including stress management for groups and individuals. We are monitoring the situation for homeless people across the Netherlands (including asylum seekers living on the streets following rejected claims), ready to support if needed.
In Norway we're providing strategic advice and IPC support to a hospital hosting 10-12% of the hospitalised patients in Norway, situated geographically in one of the main clusters in the country.
We're stepping up our response in Spain by starting medical, logistical and strategic support activities. We will be leveraging our experience and expertise in managing epidemics in fragile contexts, in working in the country.
Following the green light from Madrid's Regional Government, we've set up a 100-bed temporary hospital to accommodate people with moderate symptoms at the University of Alcalá de Henares, located 31 kilometres east of the capital. Treatment of patients will be handled by the staff of the nearby Hospital Príncipe de Asturia, relieving pressure on the hospital's emergency department, where severe patients that require hospitalisation in the intensive care unit will be sent to.
We have established another temporary hospital in a sports centre near the Hospital Severo Ochoa in Leganés, 11 kilometres southwest of Madrid. These two hospitals will be operational by the first week of April. We're also offering support and advice on the decongestion models to several other hospitals in Madrid.
In Barcelona, we participated in the design of the external structures and patient circuits of the main hospitals in Barcelona, including Fira de Barcelona with a capacity of 300 beds. We are also operating in the area of central Catalonia, attending to the needs of municipal hospitals. In the Basque country, the support is extended to homes for the elderly, and includes providing advice on circuit and sessions on PPE for their personnel.
We're providing logistician and sanitation support to areas where vulnerable people are living targeting 1,300 families in Geneva.
We have an ongoing exchange of medical expertise with the University teaching hospital in Geneva (HUG), with a MSF medic there focusing on case management and management of medical teams. We're also providing support in the management of dead bodies (evaluation and recommendations).
We have expanded our health education activities for all our patients and staff, providing them with information on how to prevent transmission of the virus, and we are increasing infection control measures at our project locations and in our offices in Ukraine.
Our teams are supporting the authorities with technical advice and assessing the situation in Herat where cases have been declared.
After an assessment in the Afghanistan-Japan Hospital in Kabul, which is the referral hospital for COVID cases, we're providing IPC training. We intend to looking into ways to support case management in Herat.
In Kyrgyzstan, we are working closely with the Ministry of Health, and offering our support for COVID-19 preparedness planning, with a specific focus on our areas of operation in Kadamjay Rayon and Batken Oblast. Today, we provided the Ministry of Health with personal protective gears including N-95 masks and gloves, thermometers, chlorine tablets and alcohol pads.
People with TB are some of the most vulnerable to COVID-19. In Karakalpakstan, we have started a health promotion campaign directed at TB patients with messages related to TB and COVID-19 in Karakalpak language, using Telegram.
We're offering patient support in Fada health centre as needed.  MSF is also training of Ministry of Health staff regarding best practices in responding to the COVID-19 pandemic. We're also surveillancing the community as part of our regular activities and health promotion.
We are adapting triage and infection prevention control measures on our projects of Djibo, Kaya and Barsalogho (not yet affected by COVID-19), and train staff, as concerns are high with the number of displaced people in Northern, Central and Eastern part of the country. The team is also assessing the capacity for patient treatment in Ouagadougou and discussions with the health authorities to support the response are on-going.
We are setting up an isolation ward for maximum 20 beds in Buea regional hospital. The first phase ,with 10 beds, will be ready by the end of the first week of April. This includes training for ICP and medical staff as well as the management of suspect or confirmed cases of COVID-19. Health promotion is also being carried out across the projects.
In Yaounde, we are supporting the health authorities in the general hospital, where 20 beds have been deployed to receive patients for treatment. We are also implementing a safer patient circuit as well as infection prevention control measures.
We are also preparing the Djongolo facility for COVID-19 cases, with a capacity of 54 beds for now. We also started the construction of 4 rooms with 20 beds, in order to increase the bed capacity up to 134 beds. We will provide support in case management.
The Democratic Republic of Congo
In Kinshasa, an isolation unit has been set up and is being readied for use at the Centre Hospitalier Kabinda for COVID-19 isolation of HIV-positive patients followed up by us.
We are providing support to the ministry of health by assisting with infection control and triage at health facilities. We are also part of technical advisory groups to the ministry of health, and are implementing adjusted models of care for patients living with HIV, TB and non-communicable diseases in order to reduce their risk of infection.
In Abidjan, MSF supported the Ministry of Health at a transit centre to screen and refer people with COVID-19 symptoms to the care centre. In Bouake, training activities for health workers and screening at the different entry points to the city are already underway. Water and sanitation activities are also being implemented.
Since Monday 16 March MSF medics provided two first trainings on COVID-19 infection control and case management to nurses and doctors of Tripoli hospitals, in an effort to support the Libyan health authorities in confronting the outbreak : prevention and preparation are key.
MSF supports the management of a COVID-19 unit in Bamako, within the grounds of the hospital where we run our oncology programme. Eight ICU beds, 100 individual IDP capacity have been set up by Ministry of Health. We're providing a team to help. We are also doing some water and sanitation work in the triage and isolaton zone of the Hôpital du Mali.
In and around Niono, we have instigated awareness raising activities and has installed water points for hand washing at the referral hospital and in the outlying health centres where we have activities. In the area of Tominian on the border with Burkina Faso we have installed a tent for isolation of suspect cases and a hand washing point. A
In Mozambique, we are implementing infection prevention and control measures and triage for respiratory symptoms in all health facilities were we work, including 16 new hand washing points. We have also adapted our models of care in order to decrease health facility frequentation allowing our patients and staff to comply with physical distancing measures. Our teams are also working with local authorities to improve patient flows by providing logistic and technical support for 2 referral hospitals in Maputo.
We are adapting triage and infection prevention control measures on our activities in Magaria, where we run a 450- beds paediatric hospital with particularly vulnerable patients when the seasonal peak for malaria and malnutrition. Isolation capacities are also developed here and on the external axis, where we run preventive decentralised care each year. In Niamey, a 45-bed treatment centre is currently in construction, close to the Hôpital National Lamordé. We are also planning to provide training for health workers on COVID-19 preparedness and started health promotion activities both in Niamey and Magaria.
We are working to maintain its operations in Nigeria, teams are also establishing isolation facilities in projects, adapted triage processes, additional community-based health promotion activities, and setting up hand washing points and isolation areas in local communities and IDP camps. In Ngala, our teams are focusing efforts on the reinforcement of infection prevention control.
In Dakar, we are supporting the health authorities in the Hopital Dalal Jamm, in the northern part of Dakar, where we are giving training as well as a support for WASH activities.
MSF has re-purposed existing project staff from all 4 projects to COVID-19 responses in Gauteng, KwaZulu-Natal and Western Cape provinces. Our staff members are assisting with contact tracing, both physical and telephonic, the development and dissemination of health promotion materials, the decanting of health care facilities, and we are now making plans for potentially partnering on triage, isolation and treatment interventions.
We are also ensuring HIV/TB patients get medicine refills delivered at home. Interventions for vulnerable asylum seekers and elderly homeless are active in Tshwane to mitigate the impact of the national 21 day lockdown, as well as an exploratory mission among vulnerable populations in Johannesburg.
Our teams are in touch with the federal Ministry of Health (MoH) and support the preparedness of a response including infection prevention control measures, setting up treatment centre, trainings for MSF and MoH staff, HP and basic logistics.
Our health promotion team in Nduta camp, Tanzania, are working to sensitise and educate the community on hygiene and best health practices, to improve preparedness for a potential threat of COVID-19 within the camp. MSF is the main healthcare provider at Nduta refugee camp in Western Tanzania, which hosts over 73,000 Burundian refugees.
Currently MSF teams on the ground are strengthening systems and implementing measures to enhance our capacity for a potential outbreak of COVID-19 in the camp.
We are supporting case management of COVID-19 cases who are in isolation in Harare and upgrading facility capacity to 164 beds, while WASH team provides additional support in communities.
We're providing support through case management, as there are two confirmed cases of COVID-19 over the past weekend (21/22 March).
23 March - In Iran, we have sent a 50-bed inflatable treatment unit and an emergency team of nine people to Isfahan, the second worst affected province in Iran, to increase hospital capacity for treating the critically ill. An MSF emergency team comprised of nine emergency and Intensive Care Unit (ICU) medical doctors and logisticians will run the unit. The team will work with local medical staff and in close coordination with the Iranian health authorities.
The situation is on hold for now and we're meeting with authorities for ongoing for clarification. We are not sure whether we will deploy in the end.
We've started supporting Baghdad's Ibn al-Khatib Hospital, one of three quarantine hospitals designated by the Ministry of Health to deal with COVID-19 cases in the city. MSF has been donating necessary personal protective equipment (PPE) to the hospital with training about protocols for use.
In Mosul, a hospital that has been rebuilt by us is now being used as the main COVID-19 patient referral hospital in all Ninawa Governorate. We have also equipped a building for isolation. Meanwhile, our existing projects in Ninanwa, Diyala, Kirkuk and Baghdad are continuing to provide life-saving healthcare to our patients, and to reinforce their capacity to identify patients, support infection and prevention control, refer cases to MoH hospitals; according to the protocol established by the health authorities.
In northwest Syria, we are reviewing the triage systems and patient flow in some of the hospitals that we support, to ensure fast detection of potential COVID-19 cases and isolation from the rest of the patients. In these hospitals we have set up hygiene committees and we have donated protective equipment to the staff. In some of the camps we intervene in, we have adapted the triage system of our mobile clinics and have implemented social distancing measures and reviewed our protocols to be able to continue Non-Food Items (NFI) distributions and healthcare services to some extent, while diminishing the risk of contamination.
In Al Salama hospital (Azaz) and in supported facilities in Idlib, our teams are carrying out COVID-19 and PPE training for medical staff. Isolation units, sample and case referral pathways are being identified and IPC guidelines are being implemented in IPD and ER of the hospital and these supported facilities. In the camps, our medical mobile clinics are implementing isolation procedures of suspected cases. We have increased our distributions of NFIs and hygiene kits, and continue providing water tanks, potable water and hand washing facilities in the camps. Health Promotion has been increased focusing on hygiene, social distancing and the known symptoms.
An MSF team is providing support Ministry of Health in Aden as they set up an isolation facility.
We are currently conducting three exploratory missions in San Paolo, Rio de Janeiro, and Mina Gerais, to see about protection of health care staff, with focus on vulnerable groups.
We're working with the Ministry of Health to respond to the COVID-19 pandemic by increasing ambulance services coverage & capacity in order to deal with the non-COVID-19 cases. We are also adapting mobile clinics services in neighborhoods & the exploring the potential of switching to home-based care services.
We are also doing assessment statuses of deported people from USA & Mexico, who are confined in hotels, to identify needs regarding IPC/isolation/diagnosis/treatment and how a response can be made.
As the virus continues to spread, we're monitoring the country's health needs, while organising our response to maintain and scale up the comprehensive medical services being provided in Mexico. However, we are concerned with the impact that this pandemic will have in a context where people do not have regular access to medical services and are living in precarious conditions that facilitate spreading the virus.
We've increased medical activities in Matamoros due to the lack of comprehensive care inside the camp, where around 2,000 asylum seekers live. We are providing physical and mental health services, and health promotion activities in a precarious environment.
How our pre-existing projects are being affected
On any given day we are treating hundreds of thousands of patients for a variety of illnesses. We need to ensure we can continue to provide adequate and life-saving medical care in our ongoing projects.
This is challenging because current travel restrictions are limiting our ability to move staff between different countries.
Establishing future supplies of certain key items, such as surgical masks, swabs, gloves and chemicals for diagnosis of COVID-19 is also of concern.
There is a risk of supply shortages due to lack of production of generic drugs and difficulties to import essential drugs (such as antibiotics and antiretroviral drugs) due to lockdowns, reduced production of basic products, exportation stops or repurposing/stocking of drugs and material for COVID-19.
"This is what matters in the end: doctors and nurses need to be equipped to provide the best possible care to patients in what might be a chaotic situation."
Can you make a donation to support our COVID-19 response?
Right now, Médecins Sans Frontières is providing much needed support and medical care in over 30 countries to counter the COVID-19 pandemic.
Our teams are also gearing up to confront potential outbreaks in the hundreds of areas we were already working before the pandemic struck. We are deploying medical staff, sending supplies and applying nearly 50 years of experience fighting epidemics to protect the most vulnerable and save lives.
 
Can you help increase our capacity to respond by making a donation to our COVID-19 Crisis Appeal?