Stories From Patients & Staff
Mediterranean migration: who 'deserves' protection?
Working in the Central Mediterranean since 2015, Médecins Sans Frontières/Doctors Without Borders (MSF) teams continue to bear witness to an unacceptable and preventable loss of life on Europe's borders. 
Australian communications manager Eloise Liddy and Belgian psychologist Hager Saadallah both recently worked on board our search and rescue ship, Geo Barents.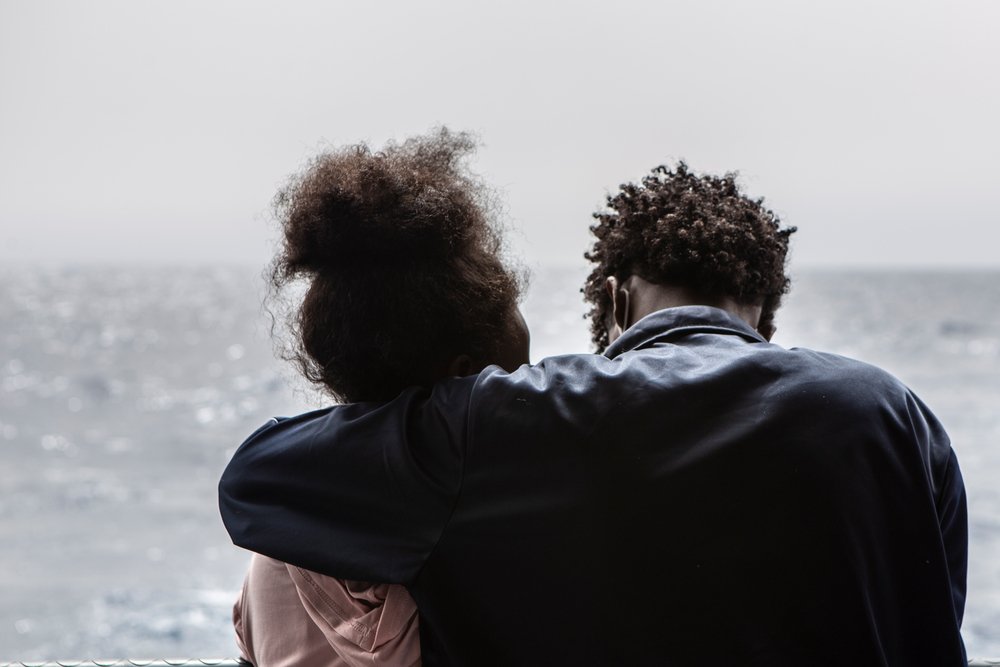 Eloise: In 2022, countries have rightly opened their homes, schools and workplaces for Ukrainians. So why is it that on the other side of Europe, people seeking safety from other wars and human rights abuses are condemned to drown?
During the two months I was on board Geo Barents, our team rescued almost 1,000 people from overcrowded rubber and wooden boats in the Central Mediterranean. As well as surviving a traumatic sea crossing, they had all fled Libya, many after being held captive in a network of detention centres and prisons. 
Almost all had experienced and witnessed physical or sexual violence, extortion and other severe abuse—like one young Cameroonian woman Aissatou*, who showed me a large scar on her chest, a reminder of being stabbed with a metal pole by a guard as she escaped a prison in Libya. "I suffered a lot," she said. "When I entered Libya, I didn't have any scars. Now, my whole body is covered in scars." 
My role was to document survivors' stories and assist them and our team to continue to speak out about the denial of rights of the people crossing this sea—and the policy changes that would enable these people to achieve the futures they deserve.  
"It's a system willing to use any means to prevent certain refugees from reaching Europe's shores; not unlike Australia's decade-long commitment to holding refugees and asylum seekers offshore in Nauru and Papua New Guinea, and in onshore hotels."
So far this year, at least 644 people have lost their lives trying to reach Europe via the Mediterranean. More than 3,000 others have been intercepted and returned to Libya by the Libyan Coast Guard: pawns in an illegal pushbacks system funded in millions by the European Union. 
It's a system willing to use any means to prevent certain refugees from reaching Europe's shores; not unlike Australia's decade-long commitment to holding refugees and asylum seekers offshore in Nauru and Papua New Guinea, and in onshore hotels, destroying hundreds of lives in the name of 'stopping the boats'.
This suffering is often framed as inevitable. But we have the ability and tools to afford everyone assistance and protection. A humane response is possible. 
Hager: As the psychologist on board Geo Barents, I was offering mental health support to rescued people to restore a sense of safety, respect and dignity, and to allow them to cope with the traumatising events they had just experienced. Most survivors displayed symptoms of distress, including nightmares, panic attacks, anxious ruminations, hopelessness and stress.
What they had been through, whether in Libya, in their country of origin or throughout their journeys, had affected their physical and mental state to the point that many experienced traumatic dissociation. They often told me, "I don't recognise myself anymore." Often, they dreamt of their future life, in safety, to stay hopeful and to endure their current situation. 
But the reality offered under European policies, in terms of protection and care for refugees, is different. Psychological recovery cannot begin for people before they reach a place of safety. Europe delays and prevents this: damaging the mental health state of these already vulnerable people even further.
An unaccompanied minor from Senegal, Adama*, was rescued by our team in March. He was travelling with another young friend, and they were supporting each other after experiencing violence and sexual abuse in detention centres in Libya. Adama's friend tried to cross the Mediterranean before him but died trying. 
Adama now carries the dreams of his friend: a teenager who dreamed of safety and a better life but lost his life in the sea. Once rescued, Adama had to wait more than ten days on board Geo Barents, unsure of what would happen to him next, while Italy and Malta delayed granting a place of safety. As Adama could not offer a proper burial to his friend, he wrote him a letter that he later symbolically threw in the water, the unmarked grave of all the unnecessary deaths that keep happening in 2022.
*Names have been changed.
Join us and #VoteForHumanity this election
MSF has been providing assistance to asylum seekers and refugees affected by humanitarian crises, violence and persecution and exclusion from healthcare for the last 50 years.
Over the past 10 years, successive governments have reduced Australia's aid budget, decreased its refugee intake, and have not provided a solution for hundreds of refugees and asylum seekers held in limbo.
We know that Australians value support for all people fleeing violence and seeking shelter, no matter where they come from. As wars and crises rage on in Myanmar, Bangladesh, Afghanistan, Ethiopia, and Ukraine, we must remind our candidates that we will not accept inhumane policies towards refugees and asylum seekers.